Gantry Cranes Mobile
+ Add to Quote Request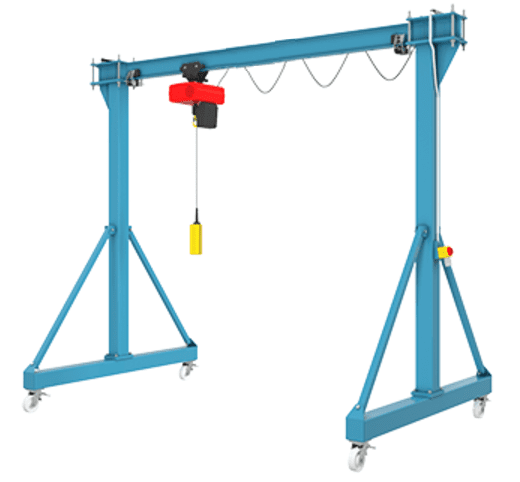 Gantry cranes are a phenomenal tool in today's workplace. Lifting and materials handling problems can be quite complex and in some cases a forklift, crane or other overhead lifting solution can become expensive. Our Mobile Gantry Crane provides a cost-effective lifting solution that is reliable and versatile.
The crane is made to order, so it can be customised to suit a wide range of possibilities and applications without cost penalty. The engineered design makes the device incredibly easy to use, simple to assemble and extremely practical as it can be used virtually anywhere (indoors and outdoors).
Simply choose the required lifting capacity and dimensions of the gantry crane to suit your needs, then let us do the rest!
Additional Information
More than meets the eye!
Gantry cranes are the professional choice for your lifting activities. The heavy-duty castors allow the device to be effortlessly transported around a workplace and shifted into position for quick access. Mobile Gantry Cranes are designed and built locally and in accordance with Australian Standards. You choose the height and span required and we supply the complete solution to fit!
Our Mobile Gantry Cranes can be made to handle up to 10 tonnes and span up to 8 m. This allows the unit to be extremely versatile when in use.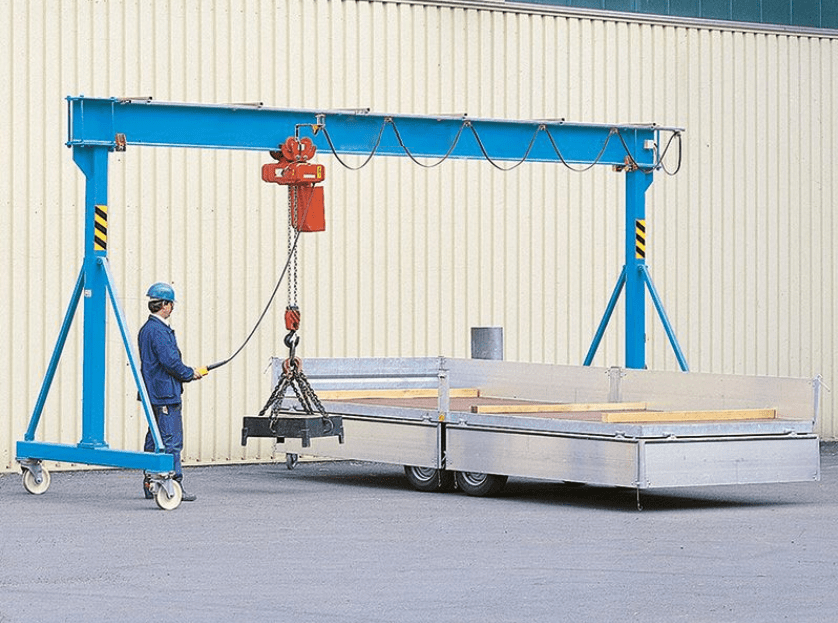 Gantry cranes are an ideal solution for lifting activities that require completion without the expense of a restrictive fixed-position structure. These units cost less than an overhead crane system and are completely versatile – they can be moved directly to the job at hand. Cranes 1000kg x 5m span and all sizes above have bolt on upright braces. See the PDF drawing above MH – Mobile Gantry Cranes L Specifications.
Choose the gantry crane that suits you!
A variety of options are available to ensure your gantry crane suits your needs. Choose from a number of options including:
Engineered steel construction
Lifting capacity up to 10,000 kg
Manual chain block or electric hoist
Manually pushed, geared or electric beam trolley (for hoist travel)
Motorised (powered drive) wheelbase
See our range of Electric, Air and Manual Chain Hoists that are the perfect partner for your selected Gantry Crane. The Mobile Gantry Crane is customised and designed to your requirements. Please contact our sales representatives for further information.
Require a portable solution allowing you to transport from site to site?
Check out our Portable Aluminium Gantry Cranes and see if they fit!
Click the PDF button to learn more.
Product Variations
Image
Description
Product Code
Price (excl. GST)

Mobile Gantry Crane
500kg 3m span

LHG053035

Mobile Gantry Crane
500kg 4m span

LHG054035

Mobile Gantry Crane
500kg 5m span

LHG055035

Mobile Gantry Crane
500kg 6m span

LHG056035

Mobile Gantry Crane
1000kg 3m span

LHG103035

Mobile Gantry Crane
1000kg 4m span

LHG104035

Mobile Gantry Crane
1000kg 5m span

LHG105035

Mobile Gantry Crane
1000kg 6m span

LHG106035

Mobile Gantry Crane
2000kg 3m span

LHG203035

Mobile Gantry Crane
2000kg 4m span

LHG204035

Mobile Gantry Crane
2000kg 5m span

LHG205035

Mobile Gantry Crane
2000kg 6m span

LHG206035

Mobile Gantry Crane
3000kg 3m span

LHG303035

Mobile Gantry Crane
3000kg 4m span

LHG304035

Mobile Gantry Crane
3000kg 5m span

LHG305035

Mobile Gantry Crane
3000kg 6m span

LHG306035

Mobile Gantry Crane
4000kg 3m span

LHG403035

Mobile Gantry Crane
4000kg 4m span

LHG404035

Mobile Gantry Crane
4000kg 5m span

LHG405035

Mobile Gantry Crane
4000kg 6m span

LHG406035