Pallet Wrapping Machine Semi-Auto
+ Add to Quote Request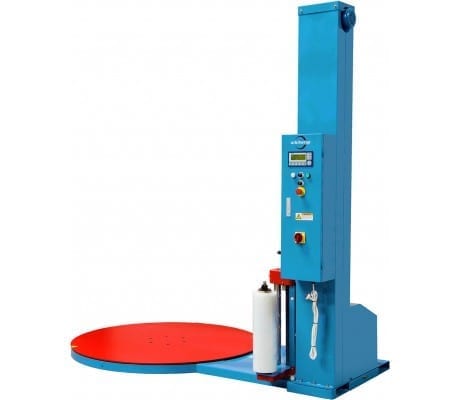 Our POR series semi-automatic pallet stretch wrappers have been designed with efficiency and safe operation in mind.
These stretch-wrapping machines will give you all of the capabilities needed to wrap pallet loads quickly and efficiently. They can vastly increase efficiency and profitability with lower film cost per load compared to manual stretch wrapping. A powered pre-stretch model, POR2000 is also available, capable pre-stretch ratio up to 250%.
They eliminate the need for labour-intensive, inefficient manual hand wrapping. Have rugged steel construction for long-term reliability. Fitted with a photocell eye for automatic height detection. The forklift relocation slots make for easy machine transportation and include a 1070mm wide x 1325mm long ramp for pallet truck access. They all have automatic and manual wrapping programs and user-friendly 'Soft Touch' controls.
Available options are a larger 1800mm diameter turntable size, a black photocell eye to detect black film or dark products and an integrated platform scale with a digital weight indicator.
Additional Information
SPECIFICATIONS:
Turntable diameter 1520 mm
Turntable speed adjustable up to 10 RPM
Stretch film size  500 mm
Load capacity 2000 kg
Power supply 240V single phase
Warranty 1 Year
Machine weight 450 kg
We have a number of Stretch Wrapping solutions to assist with your packaging requirements.
Product Variations
Image
Description
Product Code
Price (excl. GST)

Platform Scale option

OR-SCALE

Ramp for Pallet Wrapper

ORRMP

Pallet Wrapper
2200mm wrap height
1500mm diameter turntable

POR1000

Pallet Wrapper
2500mm wrap height
1500mm diameter turntable

POR10027M

Pallet Wrapper
Powered pre-stretch
2500mm wrap height
1500mm diameter turntable

POR2000