Dangerous Goods Storage Cabinets Heavy Duty
+ Add to Quote Request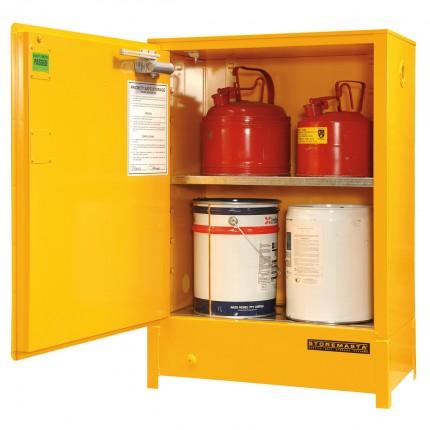 Our Heavy Duty Dangerous Goods Storage Cabinets easily store large quantities of flammable liquids and corrosive substances. Featuring a robust design, the cabinets are perfect for spill containment, especially with high volumes of dangerous materials.
Each cabinet features an innovative sequential door closing functionality, with a spark-proof, self-latching locking system. This ensures the utmost security, protecting workers from dangerous goods. Additionally, the containers are constructed with reliable double-walled sheet steel and are manufactured in Australia. These safety cabinets are commonly used in demanding environments within the mining, defence, engineering, airport and warehousing industries.
Additional Information
Heavy Duty Dangerous Goods Storage Cabinets feature large capacities for storage
These cabinets are perfect for internal use to store dangerous goods including Class 3 – Flammable Liquids and Class 8 – Corrosive Substances. Meeting all relevant safety codes and Australian Standards, these units store materials up to 850 L in capacity (representative of what the unit can hold). Each cabinet has corner legs to ensure the containers are clear of the floor and can be accessed by forklifts.
These cabinets are available as standard with adaptable shelving, self-closing and self-latching doors, and vents with spark arrestors.  The cabinet is powder-coated and comes with a drain plug on its spillage sump.
Features: 
Heavy-duty construction manufactured from 25% heavier materials than the minimum requirement.
Vent openings and built-in flame arrestor.
Spark-proof self-closing doors with an ergonomic handle and lockable system.
Manufactured in Australia and fully compliant with Australian Standards for storage and handling.
Drain sump on spill containment sump for safe disposal of chemical spills.
High capacity sump maintained via a fixed suspended perforated floor.
Continuous stainless steel pin hinging for maximum strength, reliability and durability.
Complete with safety signs and warnings for storage.
PVC spill trays.
Available for storing Class 3, Class 5.1, Class 5.2, Class 6.1 and Class 8 hazardous materials.
Specifications: 
Code
External Dimensions (mm)
Weight (kg)
Storage Levels
Max. Capacity
H
W
D
DPS450
1880
1386
804
220
3
450 L
DPS650
1880
1986
804
295
3
650 L
DPS850
1880
2588
804
375
3
850 L
DPS1000
1610
1384
1386
255
2
1000 L
Please Note: Contents and Drums are not included.
Need an alternative storage solution?
Continue browsing our wide range of Drum Storage cabinets.
Product Variations
Image
Description
Product Code
Price (excl. GST)

Flammable Liquids storage
Class 3 Flammable Liquids

DPS450
$6,169.00

Flammable Liquids storage
Class 3 Flammable Liquids

DPS650
$6,922.00

Flammable Liquids storage
Class 3 Flammable Liquids

DPS850
$8,847.00

Flammable Liquids storage for 1 pallet
Class 3 Flammable Liquids

DPS1000
$8,847.00

Oxidising Agent storage
Class 5.1 Oxidising Agents

DPS080A

Oxidising Agent storage
Class 5.1 Oxidising Agents

DPS160A

Oxidising Agent storage
Class 5.1 Oxidising Agents

DPS161A

Oxidising Agent storage
Class 5.1 Oxidising Agents

DPS250A

Oxidising Agent storage
Class 5.1 Oxidising Agents

DPS251A

Organic Peroxide storage
Class 5.2 Organic Peroxides

DPS16052

Organic Peroxide storage
Class 5.2 Organic Peroxides

DPS16152

Toxic Substances storage
Class 6 Toxic Substances

DPS0806

Toxic Substances storage
Class 6 Toxic Substances

DPS1606

Toxic Substances storage
Class 6 Toxic Substances

DPS1616

Toxic Substances storage
Class 6 Toxic Substances

DPS2506

Toxic Substances storage
Class 6 Toxic Substances

DPS2516

Corrosive Substances storage
Class 8 Corrosive Substances

DPS0808

Corrosive Substances storage
Class 8 Corrosive Substances

DPS1608

Corrosive Substances storage
Class 8 Corrosive Substances

DPS1618

Corrosive Substances storage
Class 8 Corrosive Substances

DPS2508

Corrosive Substances storage
Class 8 Corrosive Substances

DPS2518

Heavy Duty Dangerous Goods Storage Cabinet
Class 8 Corrosive Substances

DPS4508
$6,538.00

Heavy Duty Dangerous Goods Storage Cabinet
Class 8 Corrosive Substances

DPS6508
$7,340.00

Heavy Duty Dangerous Goods Storage Cabinet
Class 8 Corrosive Substances

DPS8508
$9,264.00

Heavy Duty Dangerous Goods Storage Cabinet 1 pallet
Class 8 Corrosive Substances

DPS10008
$9,249.00

Toxic Substances storage
Class 6 Toxic Substances

DPS3506

Corrosive Substances storage
Class 8 Corrosive Substances

DPS3508

Oxidising Agent storage
Class 5.1 Oxidising Agents

DPS350A

Flammable Liquids storage
Class 3 Flammable Liquids

DPS350