Electric Vehicles Zallys
+ Add to Quote Request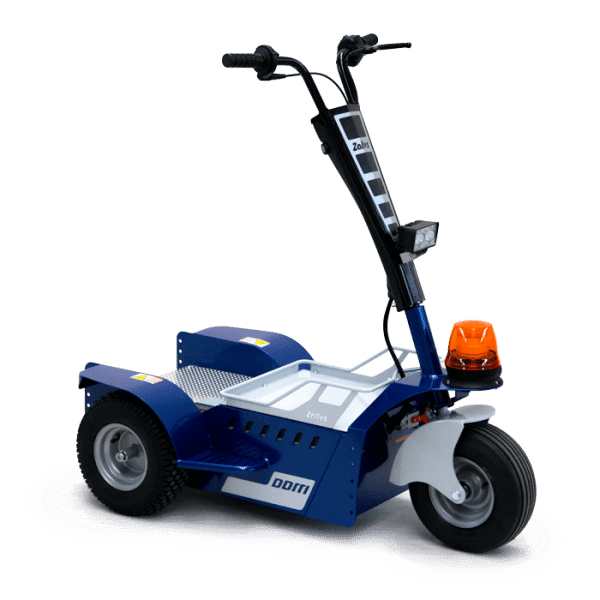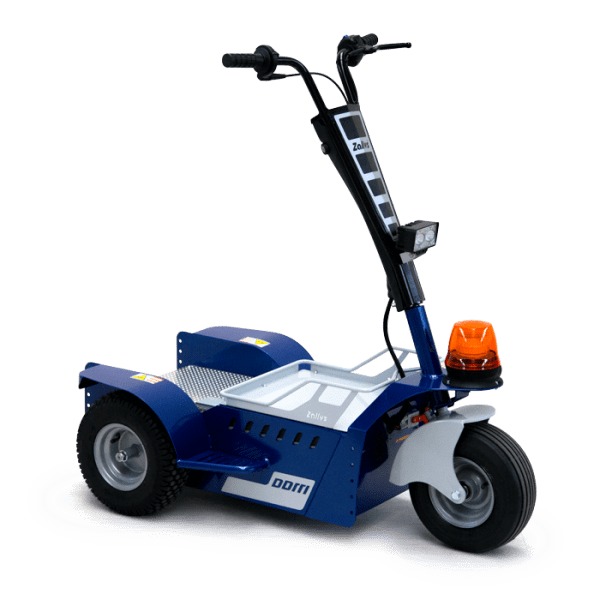 Battery electric vehicles are very handy materials handling devices. These power drive utility vehicles are suitable to be used in production plants, warehouses and in any other application that moves heavy loads.
Zallys is an Italian company producing a range of battery-powered trolleys and electric vehicles for the operator to sit or stand on. The electronic system that controls the forward and reverse speed is guided by an accelerator making the work easier and safe even in narrow places.
A wide range of accessories is available to ensure maximum versatility in any kind of application.
Additional Information
MJACK has a tray deck for loading and is also capable of pulling heavy loads. The low footboard and the high seat make stepping on and off particularly comfortable and quick whilst performing continuous order picking duties. The operator and the multi-purpose platform in the back of the vehicle can be easily accessed from the driving seat. The tray deck may be removed for custom fitting of other size trays or the fitting of other equipment.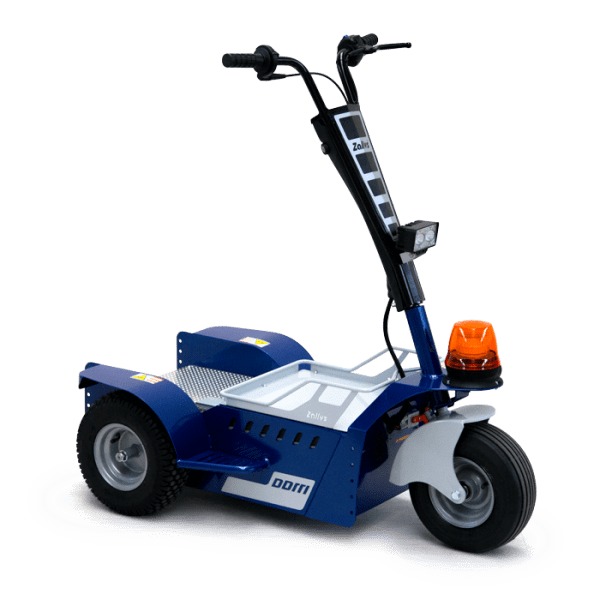 DDM is a three-wheel, stand-on electric personnel carrier that is ideal for transporting personnel and small bulky goods, for maintenance and inspection activities inside hospitals, warehouses, airports, markets or shopping centres. Carrying capacity is one person plus 50 kg and at the same time can tow, up to 500 kg, on flat ground. Low maintenance, silent running, easy to use it comes with a standard display showing battery level, an acoustic signal indicating when batteries need to be recharged, on/off key and a forward/reverse button. Its compact dimensions make it ideal to be used inside industrial elevators.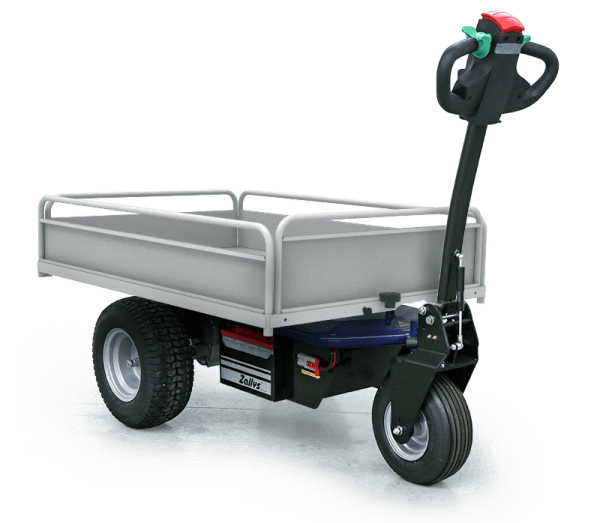 HT is a three-wheel motorised trolley that can be equipped with various types of load cages and platforms, easy to be installed and interchanged. Ecofriendly and silent, it guarantees transfer speed in all types of stocking and warehousing works. This electric trolley is easy to handle while carrying up to 500 kg is the best solution even in narrow spaces. The swivel tiller head is made with a safety sensor which allows working only in the presence of assigned personnel. The motor is equipped with an electromagnetic brake that blocks off the HT preventing accidental slipping. HT can work in any kind of internal/external or on uneven ground.


R4 is a four-wheel drive electric vehicle designed to be used on difficult grounds like sand, mud or snow. Equipped with 2 x 600W motors, it has a maximum load capacity of 400 kg on flat ground and a maximum towing capacity of 5000 kg. Both motors are equipped with an electromagnetic brake, to ensure the safety of the operator.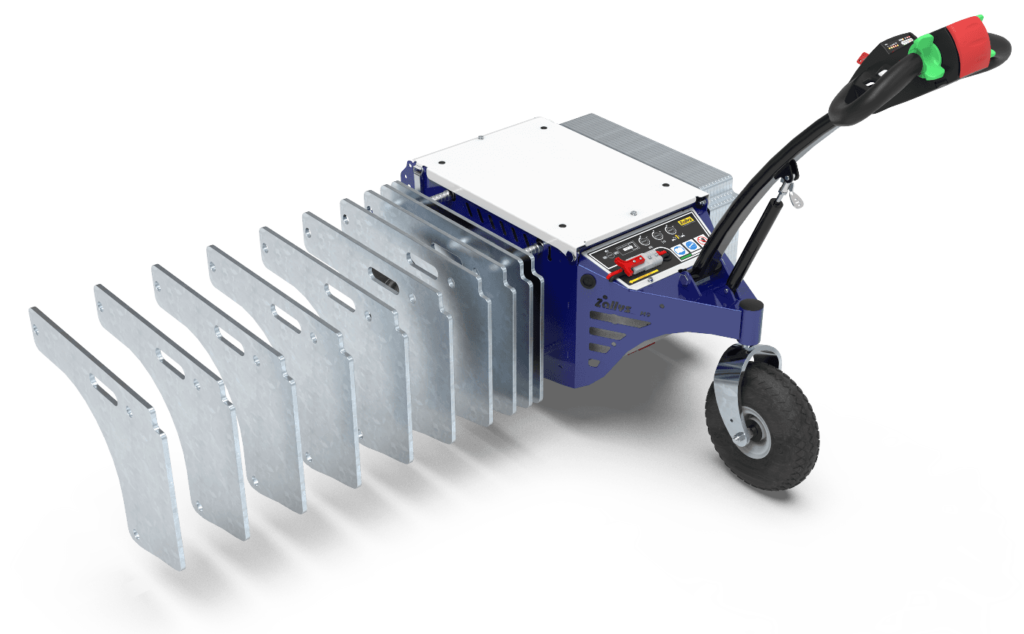 Applications that require towing or moving heavy loads up steep slopes or inclines can find improved traction by adding optional ballast plates to the vehicle.
Click the PDF button to learn more.
Product Variations
Image
Description
Product Code
Price (excl. GST)

Battery electric vehicle
Capacity 50kg load + operator
Towing capacity 500kg
Maximum speed 14km/h

DDM

Battery electric vehicle
Capacity 500kg load + operator
Towing capacity 1500kg
Maximum speed 10km/h

MJACK

Battery electric vineyard vehicle with side-seat position
Capacity 250kg load + operator
Maximum speed 5 km/h

JAY800

Battery electric vehicle
Capacity 1000kg load
Towing capacity 3000kg
Maximum speed 5km/h

JESPI

Battery electric order picker
Capacity 500kg load + operator
Maximum speed 10km/h

K5

Battery electric vehicle
Capacity 500kg load
Maximum speed 5km/h

HS

Battery electric vehicle
Capacity 600kg load
Maximum speed 5.5km/h

HS4

Battery electric vehicle
Capacity 500kg
Maximum speed 5km/h

HT

Battery electric vehicle
Capacity 400kg load
Towing capacity 5000kg
Maximum speed 5km/h

R4

Battery electric vehicle
Capacity 800kg load
Towing capacity 6000kg
Maximum speed 5km/h

R6

Battery electric vehicle for cemetery
Capacity 450kg load
Maximum speed 4.5km/h

XT505