Spring Balancers – Endo
+ Add to Quote Request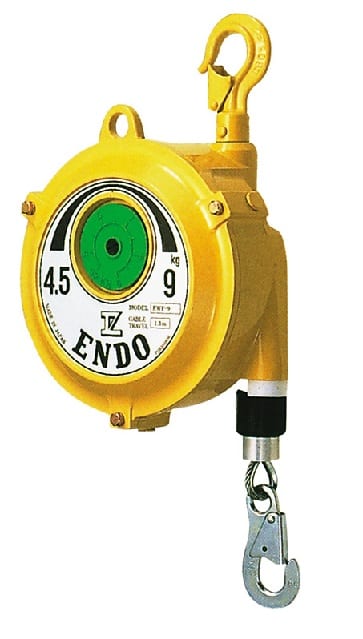 Our Endo Spring Balancers are a user-friendly materials handling device that suspends electric or pneumatic power tools, parts or welding equipment during manufacture. Not only do they improve production efficiency and reduce worker fatigue, but they optimise a workspace, workstation or assembly line. 
When installed, the tool or equipment item becomes almost weightless for an operator, making it easier and safer to use. This flexibility allows for consistent and efficient placement of tools while eliminating potential industrial accidents, injuries or strains.
Additional Information
The closed body concept ensures better safety and they are able to support weights up to 105kg and with stroke lengths up to 2.5m. They are extensively used in engineering, manufacturing, abattoirs, process lines and job shops.
We have an extensive series of spring balancers. LEK light series 0.5 to 1.5kg x 1m stroke – LEW standard series 1 to 5kg x 1.3m stroke – LEWF large  series 4.5 to 105kg x 1.5m stroke – LELF long stroke series 5 to 70kg x 2.5m stroke.
Also view our Food Grade X-Series balancers on the PDF below. These are ideal for abattoir applications.
Product Variations
| | | | | |
| --- | --- | --- | --- | --- |
| | 0.5-1.5kg x 1m cable | LEK-0 | | |
| | 0.5-1.5kg x 0.5m cable | LEK-00 | | |
| | 1-3kg x 1.3m cable | LEW-3 | | |
| | 2.5-5kg x 1.3m cable | LEW-5 | | |
| | 4.5-9.0kg x 1.3m cable | LEWF-9 | | |
| | 9-15kg x 1.3m cable | LEWF-15 | | |
| | 15-22kg x 1.5m cable | LEWF-22 | | |
| | 22-30kg x 1.5m cable | LEWF-30 | | |
| | 30-40kg x 1.5m cable | LEWF-40 | | |
| | 40-50kg x 1.5m cable | LEWF-50 | | |
| | 50-60kg x 1.5m cable | LEWF-60 | | |
| | 60-70kg x 1.5m cable | LEWF-70 | | |
| | 70-90kg x 2m cable | LEWF-90 | | |
| | 85-105kg x 2m cable | LEWF-105 | | |
| | 1.5 -3kg x 2.5m cable | LELF-3 | | |
| | 3.0-5.0kg x 2.5m cable | LELF-5 | | |
| | 5-9kg x 2.5m cable | LELF-9 | | |
| | 9-15kg x 2.5m cable | LELF-15 | | |
| | 15-22kg x 2.5m cable | LELF-22 | | |
| | 22-30kg x 2.5m cable | LELF-30 | | |
| | 30-40kg x 2.5m cable | LELF-40 | | |
| | 40-50kg x 2.5m cable | LELF-50 | | |
| | 50-60kg x 2.5m cable | LELF-60 | | |