AeroTec Dock Fan
+ Add to Quote Request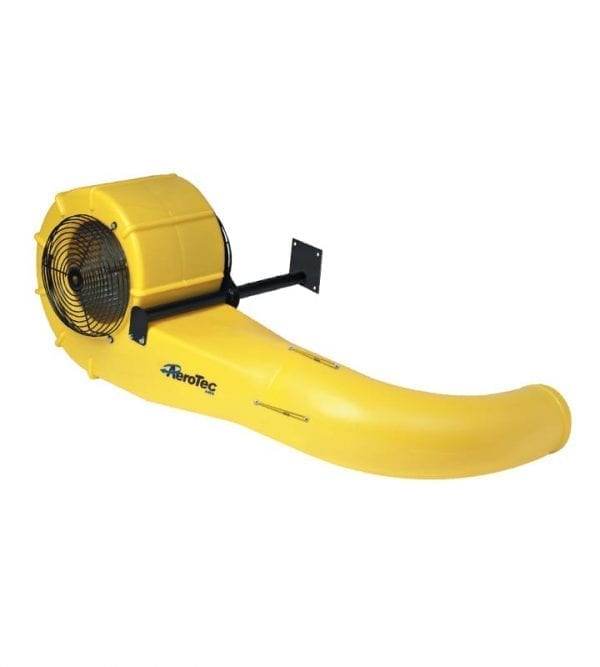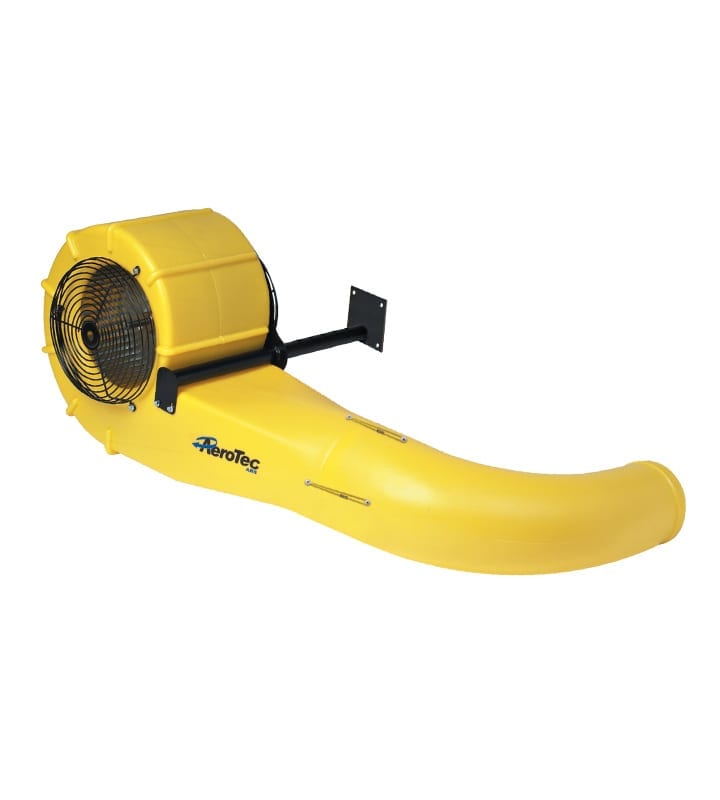 Increase safety and comfort with the AeroTec Dock Fan! An innovative ventilation solution, this unit improves a working environment by replacing the air inside trailers, containers, trucks and enclosed areas. 
As an air exchanger, the AeroTec Dock Fan cools and removes hazardous gases within seconds. Its unique design ensures a continuous cycle of fresh air – pulling in new air and pushing out the old air. Ordinary truck fans only pressurise the air in the trailer, not allowing for adequate air exchange. This state-of-the-art technology makes other fan systems obsolete as the AeroTec saves time, money and energy!
The aerodynamically designed AeroTec Dock Fan is ideal for fumigated containers and it takes up less space than conventional arm-supported block fans. Easy to install and adjustable for different door styles and sizes. Keep areas ventilated and improve your dock worker safety with this unique and convenient solution.
Additional Information
Save time and money with the AeroTec Dock Fan!
The AeroTec Dock Fan is not your average dock fan as it does so much more than conventional or similar products. Mounted to a door frame it conveniently sits out of the way from incoming traffic. The unit successfully pivots around the frame to accommodate larger loads or can be securely stored when not in use. With a break-away design, if obstructed, the fan can easily be reattached by any worker – there are no extra maintenance costs required.
AeroTec Dock Fans can cool an entire trailer!
Utilising the sidewall and top of a trailer, the AeroTec bounces fresh air off these components to create a ventilated environment. It is easily mounted via a bracket and can be adjusted thanks to its pivoting functionalities and flexible design.
Choose the right model for your application.
Dockworkers can encounter significant temperatures when working inside a trailer. Breathing fresh air and working efficiently is a priority for a number of organisations. AeroTec successfully combats this issue to provide an effective solution to dock safety. Aerotec Dock Fan's come in two models:
M700 – utilises a 0.25kW motor and is the more energy conscious model.
M750 – utilises a 0.37kW motor and is our super system.
Optional Wind Sock Extensions are also available (codes MAT5041 and MAT5044).
When combined with some of our other products, like the Safety Signal, Dock Eye or Smart Chock, the unit becomes part of an integrated safety system. Wasteful energy consumption is eliminated, as the AeroTec can be configured to turn on (when a door is opened) or off (when a door is closed).
Features of the AeroTec air replacement system
The AeroTec Fan has a range of features to improve the safety at any loading dock. Designed to replace hot air with cool air, it really ensures a safe working environment.
Quick cooling
The AeroTec system is designed to quickly cool loading docks, trucks and other enclosed spaces. Thanks to a high velocity column, the air is circulated throughout the length of the room or vehicle at an enhanced rate ensuring that the temperature is cooled in record time. Nothing quite moves air like an AeroTec.
Safe operation
You can enjoy peace of mind with your installation of an AeroTec air replacement system. Offering reliable functionality and completely safe operation, this system is compliant with all national regulations and exceeds standards for quality.
Air exchange
Many air systems in the market are designed to merely pressurise the air already existing in your container, truck or workspace. The AeroTec actively exchanges air. This means that new air is being pulled in and old air is being pushed out to ensure fresh air is available at all times.
Compact system
This air replacement system isn't just a good investment today, it's a good investment for tomorrow as well. Its smaller and compact size means it won't get in the way of processes. That is, it's less prone to collisions and accidents compared to systems positioned in the opening doorway of a vehicle or truck. The system pivots out of the way to accommodate pallet loads and trucks.
Reduce maintenance requirements
Thanks to the innovative elbow design of the AeroTec Dock Fan, you don't have to worry about any costly fan replacement. This design allows moving parts to be placed out of harm's way. If a truck accidentally knocks or hits the fan, the support arm neatly peels and snaps off. You don't have to worry about a whole-system replacement, saving you time and money. The breakaway elbow can be easily reattached.
Quiet operation
This air replacement system doesn't just replace the air efficiently, it does so quietly too! Due to its modern design and quality manufacturing, the AeroTec system emits significantly less noise than other systems on the market.
Pivot function
If you're putting this air system in your truck, you'll enjoy the added functionality of a slide and swivel system on the swing arm. This allows you to pivot the system out of the way of extra pallets or other items being transported, and position to most efficient placement.
Easy operation
Despite its high level of performance, there's no high level of operation required. Designed to be easy to use whenever you need, the AeroTec air system is the best solution for all your enclosed workspace and vehicle needs.
Overheating protection
Thanks to an expertly engineered split capacitor motor and thermal cut outs, the AeroTec models won't overheat. No matter how long and how much you use the air replacement system, you can rest assured that you won't be risking burn out of your machine.
Multiple models
With both the Standard Model 700 and the Super Model 750 available from Materials Handling, you're bound to find the perfect air system for your specific application. Both models come with different levels of flow, velocity, fan speed and horsepower.
If you're not sure which one is right for you, make sure to speak to our team today for more information. Also, learn more about how  Reckitt Benckiser used the AeroTec Dock Fan in their workplace.
Click the PDF button to learn more.
Product Variations
Image
Description
Product Code
Price (excl. GST)

AeroTec model 700
0.25kW – 240V 50HZ

M700

AeroTec model 750
0.37kW – 240V 50HZ

M750

Optional AeroTec Wind Sock (760 mm)

MAT5041

Optional AeroTec Wind Sock (900 mm)

MAT5044