MegaBin Pallet Bin
+ Add to Quote Request

The MegaBin is the original Australian pallet size bulk bin. Manufactured from food grade polypropylene and high-density polyethylene, it exceeds safety expectations as a leading plastic bin with its considerate design.
Certified to the requirements of AS2070-1999 Plastics Materials For Food Contact Use, the MegaBin is an ideal solution for fruit and vegetable movement, handling and retail high performance. With rounded corners/edging and smoother interior surfaces, the MegaBin prevents damage to produce and protects the quality of valuable goods.
Compatible with most bin handling equipment, the MegaBin Pallet Bin is available in a variety of designs to service a number of applications.
Additional Information
The MegaBin is a versatile pallet-sized container that can fit into any storage application!
The MegaBin features a self-palletising design that is durable and sturdy. It is considerably lighter than timber bins and is a quick and safe solution to storage. The unit has a non-porous surface made from UV stabilised polyethylene in a solid construction. The air vented bins provide superior airflow and exterior pads, on all options, prevent scratches or damage. The MegaBin has double-wall corner and centre posts, with two comfortable handholds for easy lifting and smooth interior surfaces.
These bins are available with either vented or non-vented sides, lids, tipping bars (for rotating upside down), liquid drainage bungs and can also be hot-stamped with any company logo. The unit features a unique moulded label holder (for cards and tags) and an interlocking foot design for secure and fast stacking.
MegaBin Specifications:
Width – 1165 x 1165 mm
Height – 780 mm
Internal – 1082 x 1082 mm
Weight (approx.) – 46 kg
Cubic Capacity – 755 litres (approx.)
Made from high density polyethylene (HDPE)
UV Stabilised, Fully Recyclable and Food Grade Approved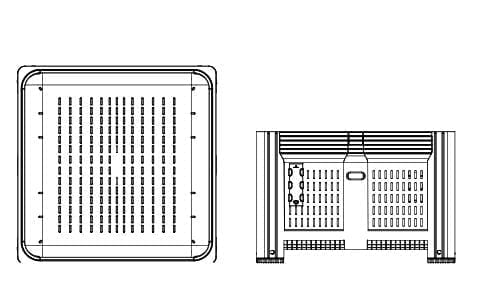 Stacking Capabilities:
5000 kg on level ground in cold storage
3800 kg on level ground at temperatures less than 35°C for

less

than 1 month
3400 kg on level ground at temperatures less than 35°C for

more

than a month
Fork Lift Entry Requirements:
143 mm opening with patented slide entry
90 mm Pallet Jack clearance when empty
Two handholds for lifting
Optional Features and Extras:
All models are available with either vented or solid design
Hot foil stamping can add custom logos for clear ownership
Sequential Numbering
Barcoding
Extended Height feet for storage in pallet racking
Lids Available
Tipping Bars (for upside-down rotation)
Liquid Drainage Bungs
Strong Bin Cover
The MegaBin is compatible with most bin handling equipment including our Forklift Mounted Hydraulic Bin Tipper (Code MBT), our Forklift Mounted Mechanical Bin Tipper (Code MFBTSH) or our Mobile Stillage Bin Tilter. The portable MegaDumper can also be modified to tip these bins.
Click the PDF button to learn more.
Product Variations
Image
Description
Product Code
Price (excl. GST)

MegaBin with solid sides
Cubic capacity 780L

SMS7800

MegaBin with vented sides
Cubic capacity 780L

SMS7810

MegaBin lid

SMSLID

MegaBin with solid sides
Fitted with extended feet for use in pallet racking

SMS7800EXT

MegaBin with vented sides
Fitted with extended feet for use in pallet racking

SMS7810EXT

MegaBin Rotator Base with Wheels

WMBRB-W

MegaBin with solid sides and drainage bung

SMS7800BUNG

MegaBin with solid sides
Fitted with galvanised tipping bars

SMS7800GALVTBAR

MegaBin with vented sides
Fitted with galvanised tipping bars

SMS7810GALVTIPBAR

MegaBin foot only

SMSFOOT