Pallet Bin Base and Rotator Frame MegaBin
+ Add to Quote Request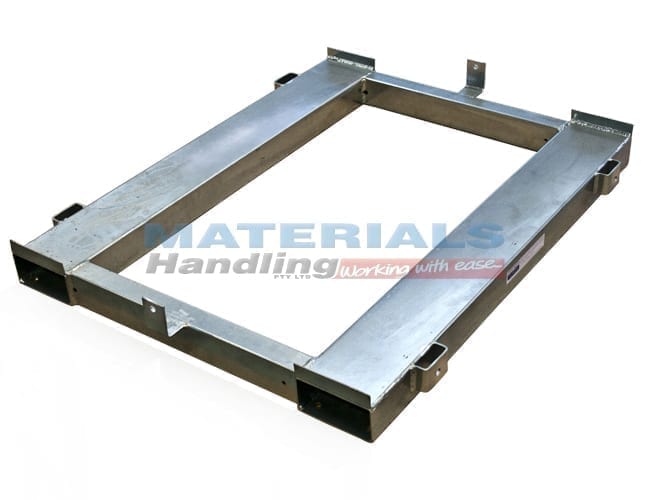 Designed to bolt onto a standard MegaBin, the MegaBin Mobile Base is perfect for waste handling and emptying. An incredibly incredible and uniquely strong solution, this attachment makes MegaBin mobile and able to be rotated. Such functions significantly improve productivity in a workplace. They allows bins to become more flexible and versatile.
The MegaBin Mobile Base attaches securely to the frame of a MegaBin (via bolts in 6 positions, with fasteners supplied). This then allows the MegaBin to be easily transported or wheeled around a workshop. The robust design of the frame also allows for complete rotation of the bin if necessary (where a forklift is fitted with a 180o or 360o degree rotating attachment).
Additional Information
Rotate bins with our MegaBin Rotator Base!
The MegaBin Mobile Base is equipped with a zinc-plated construction to ensure longevity (free from scratches, chips and no rust) and heavy-duty swivel castors for easy movement. The base is modular and compact and adds no extra height to the bin as it fits snug underneath it.
Specifications and Features:
Working Load Limit (WLL) – 500 kg
Dimensions (mm) – 107 x 84 x 10
Unit Weight – 30 kg
Fork Pocket Size – 140 x 68 mm
Fork Centres – 688 mm
Zinc-plated finish
Heavy-duty swivel castors can be supplied
Easy attachment and use
Accessible and mobile
MegaBin is not included, only shown for demonstration purposes
Want more?
Continue browsing our amazing Storage Equipment range and view our Pallet Bin solutions.
Click the PDF button to learn more.
Product Variations
Image
Description
Product Code
Price (excl. GST)

MegaBin Rotator Base

WMBRB
$290.00

MegaBin Rotator Base with Wheels
[Base only – bin sold separately]

WMBRB-W
$450.00

MegaBin with solid sides
Cubic capacity 780L

SMS7800
$573.00

MegaBin lid

SMSLID
$324.00