Pallet Bin Tippers Forklift Mounted
+ Add to Quote Request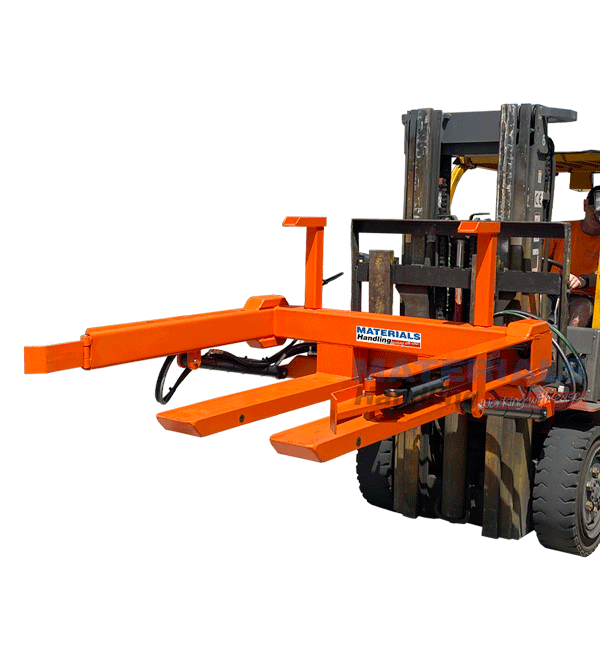 Our Hydraulic Forward Mega Bin Tipper handles and empties mega bins with ease. Perfect for agricultural, manufacturing and warehouse applications, it features an extensive Working Load Limit (WLL) of 1000 kg.
The slip-on attachment quickly mounts a forklift within seconds. Using hydraulic mechanisms, the device clamps onto a bin and rotates it for emptying. A forklift driver doesn't need to leave their seat during operation. Our Hydraulic Forward Mega Bin Tipper is suitable for bins up to 1200 mm square, with heights ranging between 700-900 mm. 
Additional Information
How does the Forward Mega Bin Tipper work?
The slip-on attachment fits a forklift in seconds. The MFBTSM includes one hydraulic sequence valve reducing the risk of dropping the bin as rotation only commences after the bin is clamped. Operation and bin rotation will not commence until a bin is firmly restrained and clamped securely. The MFBTFH has two hydraulic functions and is best suited for fast and high-volume tipping. The clamp arms are designed to hold the bin with a strong grip, however, they are gentle in their action to avoid any damage. 
Specifications:
Working Load Limit – 1000 kg
Load Centre – 880 mm
Rotation Angle – 124o
Lost Load – 300 mm
Unit Weight – 350 kg
Fork Pocket Size – 155 x 55 mm
For Pocket Centres – 540 mm
Horizontal C of G – 600 mm
Vertical C of G – 75 mm

Suitable for bins up to 1200 mm square, with height ranging between 700-900 mm. 

Maximum Tine Size:  150 x 50 mm

Non-standard size and capacity attachments can be manufactured. 

Enamel Paint Finish
Check out our other Forklift Mounted Bin Tippers…
View the MBT Forklift Mounted Hydraulic Bin Tipper or the MFBTM Mechanical Bin Tipper, which is made to suit specific bin sizes with no hydraulic connection required.
Click the PDF button to learn more.
Product Variations
Image
Description
Product Code
Price (excl. GST)

Forward Bulk Bin Tipper- Hydraulic
Requires 2 hydraulic functions from the forklift

MFBTFH
$8,880.00

Forward Bulk Bin Tipper- Hydraulic
Fitted with sequencing valve (requires 3rd hydraulic function only)

MFBTSM
$8,980.00