Ball Fence Handrail System
+ Add to Quote Request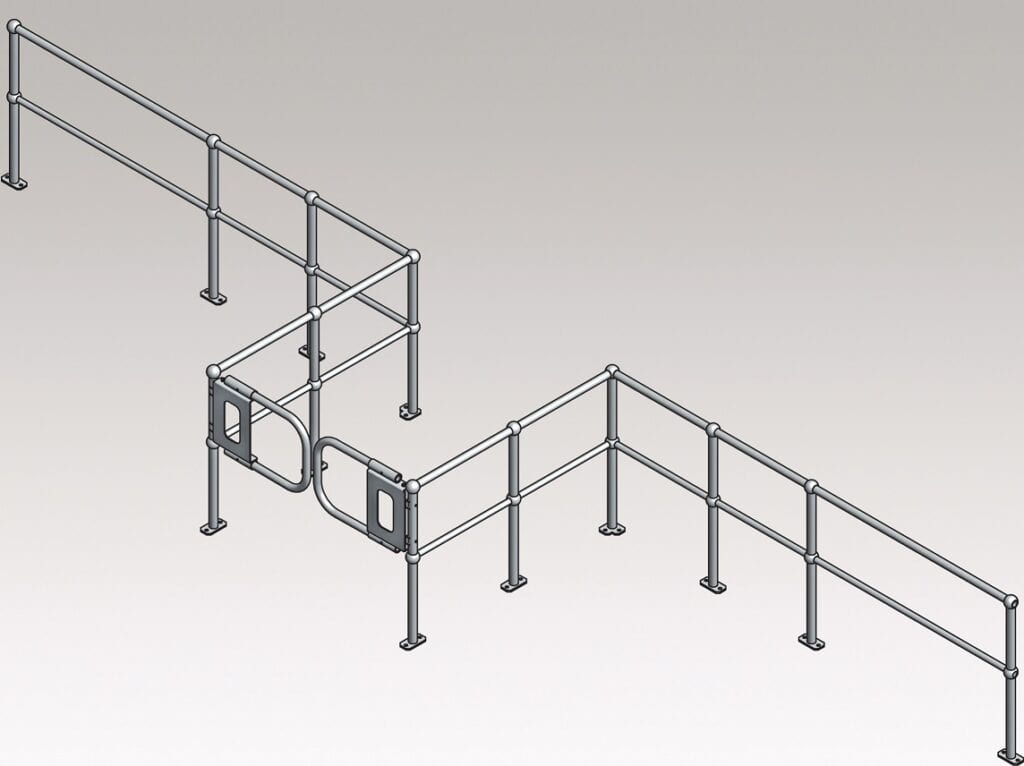 Ball Fence is a galvanised, tubular handrail system that can be used in a range of configurations due to the versatile design. The post components add support and its strength comes from the top rail (handrail – 42mm OD pipe) and centre rail (knee rail – 33 OD pipe) combination. One of the features of this product is the assembly can be completed by almost anyone on site.
The Ball Fence complies with the Australian Standard AS1657 and is the perfect choice for safety. It is suited for internal and outdoor use.
Additional Information
Specifications:
Material

:

Post – 48.3mm OD (40mm N.B) 3.2 mm wall thickness
Handrail – 42.4mm OD (32mm N.B) medium gauge tube
Kneerail – 33.7mm OD (25mm N.B) medium gauge tube

Height:

Ground to Centre of Handrail 1017 mm
Ground to Centre of Kneerail 560 mm

Spacing: Max post spacing is 2 metres (centre to centre)
Finish: Hot Dip Galvanised
Click the following for details on the Ball Fence Swing Gate.
Product Variations
Image
Description
Product Code
Price (excl. GST)

Ball Fence Handrail 32NB per metre – Galvanised

BFHR

Ball Fence Kneerail 25NB per metre – Galvanised

BFKR

Ball Fence Handrail Bend 32NB 90 Degree – Galvanised

BFB32

Ball Fence Kneerail Bend 25NB 90 Degree – Galvanised

BFB25

Ball Fence Horizontal Closure Bend – Galvanised

BFCB

Ball Fence Through Post Surface Mounted – Galvanised

BFTP-SM

Ball Fence Corner Post Surface Mounted – Galvanised

BFCP-SM

Ball Fence End Post Surface Mounted – Galvanised

BFEP-SM

Ball Fence Through Post – Side Mount – Galvanised

BFTP-S90

Ball Fence Toe Board Saddle Clamp – Galvanised

BFTBSC-G

Ball Fence Toe Board Corner Clamp – Galvanised

BFTBCC-G

Ball-Fence toe board 100 x 6 x 6 metres – Galvanised

BFTB-G

Ball Fence Slip Joint to Suit 32NB Handrail – Galvanised

BFSJ32

Ball Fence Slip Joint to Suit 25NB Kneerail – Galvanised

BFSJ25

Ball Fence 90 degree Swing Gate
Span Width – Maximum 1750 mm; Minimum 600 mm

BFSG

Roller Gate 1500mm Opening – Powder Coated Safety Yellow

BFRG1500-PA

Roller Gate 1500mm Opening Yellow Gate Body with Mill Finished Aluminium Hoop

BFRG1500-MFA

Roller Gate 2500mm Opening – Powder Coated Safety Yellow

BFRG2500-PA

Roller Gate 2500mm Opening Yellow Gate Body with Mill Finished Aluminium

BFRG2500-MFA