Handrails Ball Fence
+ Add to Quote Request
Ball Fence is a galvanised, tubular handrail system that can be used in a range of configurations due to its versatile design. It provides a protective safety barrier, which defines walkways and separates pedestrians from moving vehicles and forklifts. It allows people to access pathways safely while also safeguarding building assets or valuable equipment.
The Ball Fence Handrail Systems comply with relevant Australian Standards (like AS1657:2013) and is the perfect choice for safety. It is suited for both internal and outdoor use. The post components add support and are modular. Barrier strength derives from the combination of the top rail (handrail – 42 mm OD pipe) and centre rail (knee rail – 33 mm OD pipe).
Ball Fence components are usually constructed on-site or delivered to the job site in parts for easy installation. Assembly is quick and easy and can be completed by anyone on site.
Additional Information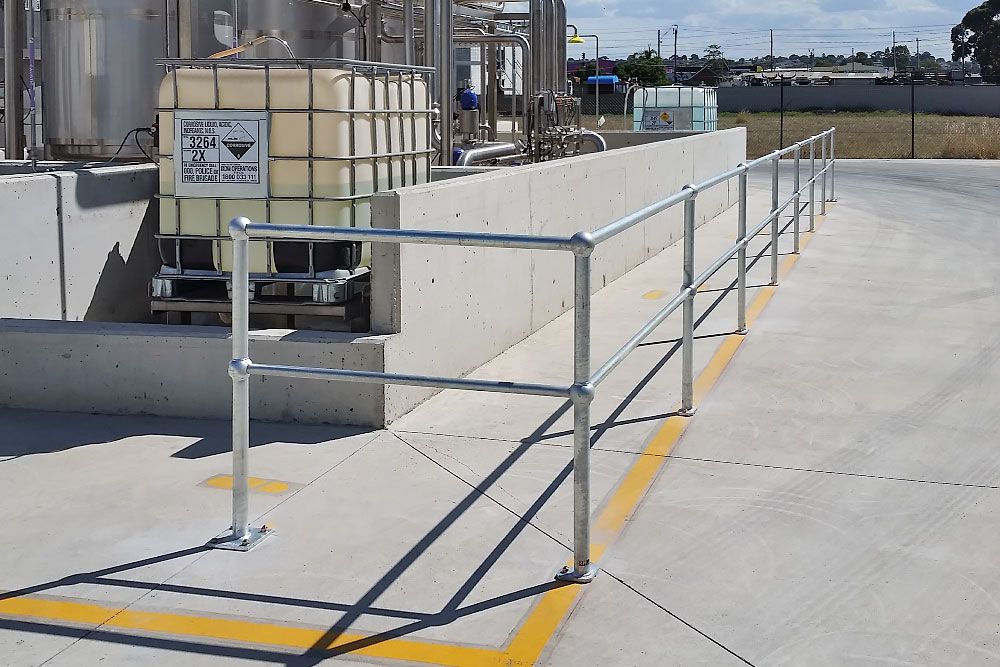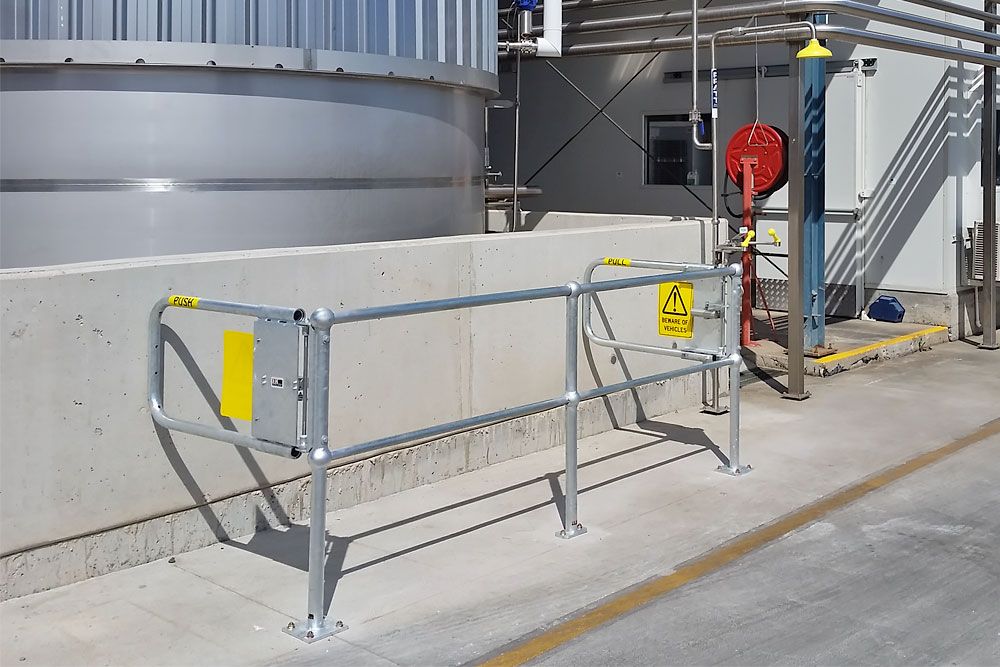 A barrier system that provides strong protection!
The Ball Fence is an excellent device for separating forklifts and pedestrians. When forklifts are in operation, the fence clearly defines paths and protects pedestrians and bystanders. This system features rails and posts made of hot-dipped galvanised, making it extremely strong. As a result, they may be used in both indoor and outdoor settings and are ideal for warehouses, factories, distribution centres and similar workplaces.
Features: 
A modular handrail system, which includes stanchions in a range of configurations.
Components can be constructed on-site or partially completed at our warehouse and transported to the job site in sections for quick installation.
Components are all constructed in hot-dip galvanised.
Complies to Australian Standards like AS1657:2013 for f

ixed platforms, walkways, stairways and ladders. 

Suitable for indoor and outdoor use.
Self-closing gates are also available.
Specifications:
Material

:

Post – 48.3mm OD (40mm N.B) 3.2 mm wall thickness
Handrail – 42.4mm OD (32mm N.B) medium gauge tube
Kneerail – 33.7mm OD (25mm N.B) medium gauge tube

Height:

Ground to Centre of Handrail 1017 mm
Ground to Centre of Kneerail 560 mm

Spacing – Max post spacing is 2 metres (centre to centre)
Finish – Hot Dip Galvanised
Add a Safety Gate to your Ball Fence system!
View our Ball Fence Swing Gate or Ball Fence W-Beam Guardrails, which completes this Handrail System. 
Product Variations
Image
Description
Product Code
Price (excl. GST)

Toe-Board Clamp to suit 48mm Post

TBC48-A
$14.00

Ball Fence Handrail 32NB per metre – Galvanised

BFHR
$30.00

Ball Fence Kneerail 25NB per metre – Galvanised

BFKR
$22.00

Ball Fence Handrail Bend 32NB 90 Degree – Galvanised

BFB32
$37.00

Ball Fence Kneerail Bend 25NB 90 Degree – Galvanised

BFB25
$29.00

Ball Fence Horizontal Closure Bend – Galvanised

BFCB
$55.00

Ball Fence Through Post Surface Mounted – Galvanised

BFTP-SM
$87.00

Ball Fence Corner Post Surface Mounted – Galvanised

BFCP-SM
$87.00

Ball Fence End Post Surface Mounted – Galvanised

BFEP-SM
$87.00

Ball Fence Through Post – Side Mount – Galvanised

BFTP-S90
$99.00

Ball Fence Toe Board Corner Clamp – Galvanised

BFTBCC-G
$20.00

Ball-Fence toe board 100 x 6 x 6 metres – Galvanised

BFTB-G
$310.00

Ball Fence Slip Joint to Suit 32NB Handrail – Galvanised

BFSJ32
$9.00

Ball Fence Slip Joint to Suit 25NB Kneerail – Galvanised

BFSJ25
$4.00

Ball Fence 90 degree Swing Gate
Span Width – Maximum 1750 mm; Minimum 600 mm

BFSG
$764.00

Roller Gate 1500mm Opening – Powder Coated Safety Yellow

BFRG1500-PA
$1,680.00

Roller Gate 1500mm Opening Yellow Gate Body with Mill Finished Aluminium Hoop

BFRG1500-MFA
$1,527.00

Roller Gate 2500mm Opening – Powder Coated Safety Yellow

BFRG2500-PA
$1,845.00

Roller Gate 2500mm Opening Yellow Gate Body with Mill Finished Aluminium

BFRG2500-MFA
$1,645.00