Economy Pallet Inverter
+ Add to Quote Request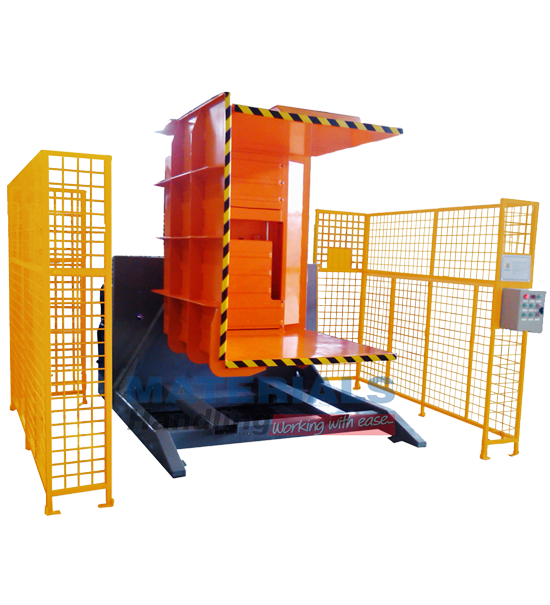 Our Economy Pallet Inverter is ideal for a range of applications where the exchange of pallets (or inversion) is required.
Its safe and robust design allows for effortless rotation of pallets and heavy loads.  This completely removes the risk of potential unloading and loading injuries.  Manual handling of goods can be time consuming and reduce productivity in the workplace if strains occurs.  The Economy Pallet Inverter negates these hazards and makes pallet exchange and inversion incredibly seamless.
This device is suitable for food manufacturer or 'dust-sensitive' applications – allowing timber pallets to be swapped for 'clean room' compliant steel or plastic pallets to be used in processing areas. There is also our MPI15D version that can also be used for freezer spacer removal. The machine tilts to 90degrees, the clamp is then marginally released and freezer spacers or pallets can easily be pulled out or replaced. This also allows transfer of boxed , bagged or canned goods to pallet or slipsheet, damaged carton replacement.
Additional Information
Many ideal applications!

Not only is it perfect for manufacturers and 'dust-sensitive' applications, but its designed efficiently to extract damaged goods from the bottom of palletised stacks. Goods can quickly be exchanged from in-house pallets to export friendly pallets (or slip sheets) or vice versa. It's an easy method for straightening and squaring palletised loads.
Incredibly efficient for handling pallets!
The Economy Pallet Inverter increases productivity and effectively performs within a workplace.  Its quick exchange and safe 180-degree rotation of goods, ensures loads aren't damaged during loading and unloading activities.
Technical Specifications and Data
Load Limit – 2000kg
Operating Range – 920-1600mm
Max. Load Height – 1600mm
Platform Size – 1300 (W) x 1300mm (D)
Rotation – 180-degrees
Controls – Push button pendant, semi-automatic
System HYD. Pressure: 16MPA
Rotation Time – 15 seconds (approx.)
Clamp Time, Full Travel – 18 seconds (approx)
Power Supply – 3 Phase + Neutral / 415V / 20A
Motor Size – 7.5kW
Weight – 2700kg
Size with Safety Screens:  4000 (L) x 2700 (W) x 2450mm (H)
Shipping Size – 2300 (L) x 1900 (W) x 2250mm (H)
The Economy Pallet Inverter is supplied with safety screens as standard and an optional safety light curtain is available.
Not what you're after?
We are happy to provide you a detailed quote regarding your specifications.  Alternatively, if this isn't the right solution check out our Floor Level Pallet Inverter.
Product Variations
| | | | | |
| --- | --- | --- | --- | --- |
| | PALLET INVERTER 180 DEGREES | MPI20D | | |
| | PALLET INVERTER 90 DEGREEs | MPI15D | | |
| | OPTIONAL LIGHT CURTAIN | MLC | | |