Look Out Office Door Monitor
+ Add to Quote Request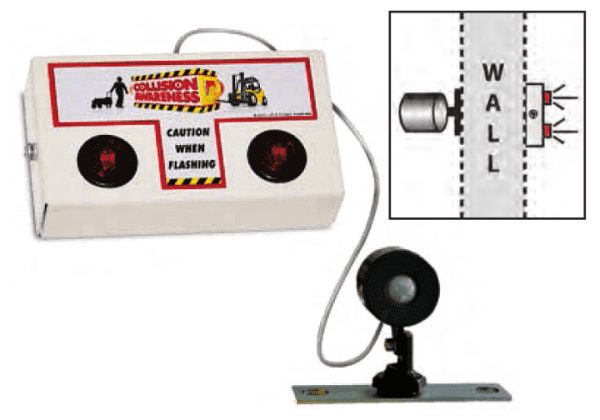 The Look Out Office Door Monitor provides the ultimate protection for office doorways, preventing pedestrians and individuals walking into forklift traffic.  Before they pass through the door, the unit detects motion on the other side and signals an alert to advise of the potential hazard.
These units are your primary line of defense as they help create awareness at doorways.  Perfect for any office that leads out to a frequently trafficked area, where potential collisions can occur.
Additional Information
Alert your office of a hazard!
The  Look Out Office Door Monitor will have your workplace operating safely and efficiently.  Its informative sensor system alerts office personnel of forklift activity before they enter a warehouse or facility.  The system flashes its lights to acknowledge the hazard on the other side of the wall.
How does it work?
The unit can be mounted over any doorway.  Its remote sensor is installed on the opposite side of the door.  When movement is detected on the trafficked side, the sensor is activated and begins flashing.  This alerts the pedestrians on the other side of wall know of the potential hazard before they have even opened the door.  This response system prevents accidents from occurring as the flashing LED captures any staff members attention. This set up is depicted in the below diagram.
Installation is incredibly easy with the Look Out Office Door Monitor, as you simply plug the unit into an outlet and you're ready to go.  To function, the unit requires a 24 V plug-in wall for power.
Require a different type of alert system?
sThen view our wide range of Look Out Collision Awareness products, that are designed for easy recognition of hazardous situations.
Click the PDF button to learn more.
Product Variations
Image
Description
Product Code
Price (excl. GST)

Office Door Monitor
Lights – 2 small
Sensors – 1 remotely mounted
Boxes – 1 micro enclosure

ODM