Portable Safety Zone
+ Add to Quote Request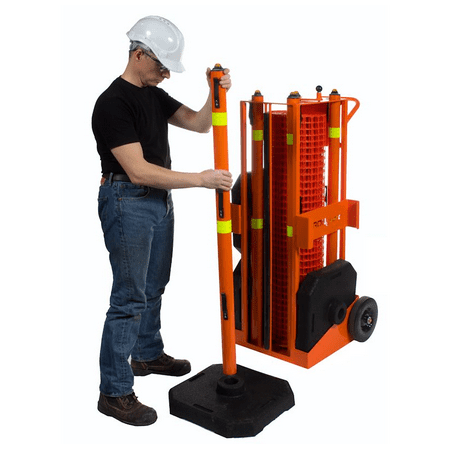 Create a safety barrier anywhere and at anytime, with the Portable Safety Zone. This system allows you to construct a temporary and complete safe and fenced in barrier zone. It can be used in any indoor or outdoor application as it's easy to construct and move. Protect employees and personnel with this highly visible and convenient barrier system.
It's that easy to secure zones and increase safety in your workplace. The Portable Safety Zone is simple and quick to set up/take down. The unit has a unique slim design that allows the barrier to be easily stored (as it takes up little space) and it can be transported anywhere in the workplace, maximising workplace efficiency.
Additional Information
Protect people and increase personnel safety!
Secure unexpected danger zones with this effective barrier system that personnel cannot move through. The Portable Safety Zone is perfect for indoor and outdoor applications as it easily rolls into position and can be set up with ease. All it takes is one operator to install this high visibility barrier.
When not in use, the system can be wound back up into its convenient cart and moved into a corner. It takes up minimal space and can be stored away effectively.
It's incredibly easy to operate!
The Portable Safety Zone is manually transported. Simply move the unit to your desired set up location and position the posts, base pads and magnetic clips at the selected points of the area that needs to be enclosed. Unlock the fence and extract the barrier around the posts, finishing by locking the fence into position. When the temporary barrier needs to come down, it's as simple as doing the prior actions in reverse.
Features and Specifications:
Easy to use.
Lightweight construction.
Easily transported by one person.
Robust design that comes in a 'safety orange' powder coated steel.
System comes complete with 30 metres of safety orange fencing, 4 posts, 4 rubber base pads and 4 magnetic fence clips.
Has a unique locking system that ensures sturdy construction.
Easily fits through doorways.
Optional LED beacons for safety awareness are available.
Patent pending design.
Overall size – 686mm (D) x 635mm (W) x 1372mm (H)
Weight (approximately) – 116kg
Discover more!
View our range of other portable barrier solutions to help you safely secure your workplace.
Click the PDF button to learn more.
Product Variations
| | | | | |
| --- | --- | --- | --- | --- |
| | Portable Safety Zone | PSZ | $1,250.00 | |