Vaculex TP Vacuum Tube Lifter
+ Add to Quote Request
The Vaculex TP Vacuum Tube Lifter is ideal for rapid material handling tasks for goods up to 65 kg. It grips goods from any side and easily rotates a full 360º to place and position them where required. It also is a unique vacuum lift that can be configured for many tasks. 
The Vaculex TP is specially designed for express parcel, package and carton handling activities. An extremely versatile unit, this vacuum lifter can handle a wide variety of items, sizes, shapes and weights. They are most suitable where fast, safe and effective handling is required.
Fast and reliable

Safe, ergonomic and user-friendly

Lightweight and versatile

Increases productivity and reduces risks

Low investment cost

Low service cost

Reduced risk of parcel damage

Available in stainless steel
Additional Information
The Vaculex TP Vacuum Lifter handles a great variety of goods!
Clients from a number of industries have benefited from this robust vacuum tube lifter. Many industries are improving productivity as the Vaculex TP integrates effectively into any organisation. Use this device for transport, postal, food, meatworks, warehousing, aviation and other diverse applications. It's incredibly user-friendly, lightweight and very easily managed.
Extremely Ergonomic Lifting.
Vaculex TP is ergonomic to use. All control functions are built into a compact handle with suction cup. The unit can rotate 360° and tilt by 90° to pick up loads. No effort is required during this lifting process, as the unit enables an operator to move freely whilst using their hand to manipulate the load.
Incredibly Versatile Functionality.
Vaculex TP can handle goods in a variety of sizes, shapes and weights. The device easily grips the object from any side and lifts it. As mentioned, the unit rotates to place goods where required.
Decreases injuries and strains in any workplace.
Vaculex TP puts no heavy strain on posture, that normally results from poor manual handling activities. The unit does not require a user to pick up heavy objects themselves. Its simple suction cup locks securely onto an object, raising it to the required destination with a simple touch. All movement is within the hand, no muscles required!
Many models and accessories are available.
Patented with inbuilt height technology, Vaculex TP can be utilised and customised for many different tasks. The lifter can be installed in areas with low ceiling height, which makes it incredibly flexible. Available in stainless steel, it can be equipped with a number of accessories (like remote controls, energy-saving systems, different types of suction feet) to suit your business workplace needs. The Vaculex TP is designed for fast material handling activities and can lift goods up to 65 kg.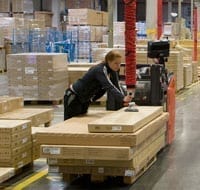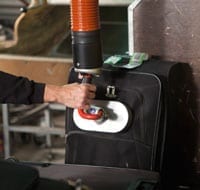 See the Vaculex TP in action!
See a selection of videos below that all utilise the Vaculex TP Vacuum Tube Lifter in their operations.
Distribution & Order Picking
How to operate the Vaculex TP?
The Vaculex TP is extremely easy to use. Check out our User Guide Diagrams below for information.





Step 1: Right or Left Handed Operation
Detach the release button and insert into the anchorage point on the opposite side. User can make selection (depending on whether operator requires right or left handed use).
Step 2: Control Lever
Attach suction cup onto load. Decreased pressure raises lift. To lower, increase pressure on control lever. Without load, the lift is ready in its pre-set balancing position.
Step 3: Rotate the Load
The control unit is ready to be rotated. If goods need to be placed in a specific space, rotate the load when the control unit is held stationary.
Step 4: Gripping Angles
Attach goods via any side of the heavy load. This unit can acquire goods of different shapes and sizes. If gripping from a side angle, hold the suction cup and angle it forwards.
Step 5: Release Button
Release the load into position by pressing the release button. This will disengage the unit from the goods. Very useful if you don't want to wait for a parcel to reach a solid support.
Technical Data: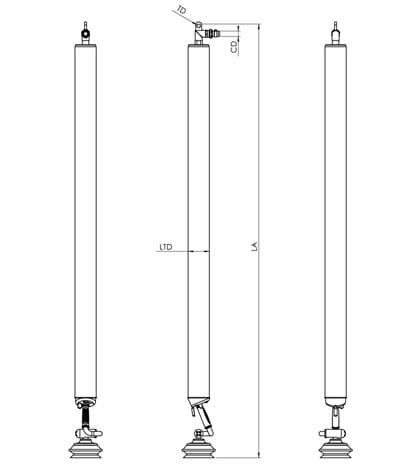 Pump Unit, Electric
802
902
50 Hz
50 Hz
Power
1,25 kW
2,4 kW
Voltage
415 V 3 phase
415 V 3 phase
Weight
73 kg
107 kg
Dimensions LxWxH (mm)
815 x 515 x 540
870 x 560 x 575
Sound Level (dBA)
54
63
Lift Unit
TP100
Recommended Max Load (KG)
40
Weight (kg)
6
Sound level (dBA)
54
Pump Unit, pneumatic
100
150
Air Consumption (Nl/h at 6 bar)
420
630
Sound level (dBA)
60
60
Find out more about this product by visiting Vaculex or alternatively, see how this product can be customised to support Airport Baggage Handling.