Palift – Palletising Tables
+ Add to Quote Request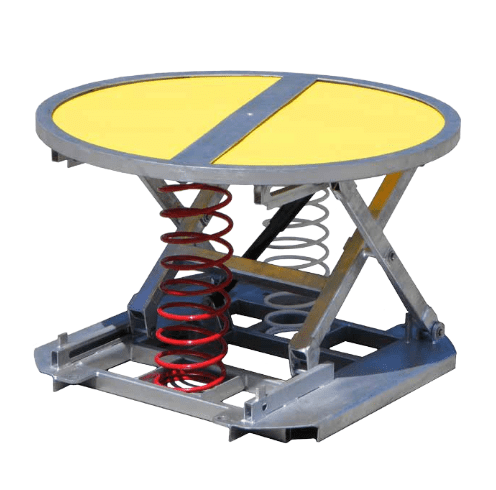 Our Palift Palletising Table is an extremely cost-effective solution that reduces manual handling injuries and increases user productivity when loading and unloading goods. Also known as a Pallet Leveller or Work Positioner, the Palift automatically ensures that loads are at an optimum working height, reducing risks associated with heavy lifting and reaching.
Like a Scissor Lift Table, the Palift features a platform top base, which is connected by a pair of scissor legs. It eliminates workers bending and stretching when palletising or depalletising deliveries. By keeping the pallet at an ergonomic height, this device dramatically reduces the effort required to load and unload goods.
The Palift is durable and tough. It is commonly used in production areas, at the end of conveyors and production lines, in warehouses and distribution centres or any location that pallets are broken down or built up.
Additional Information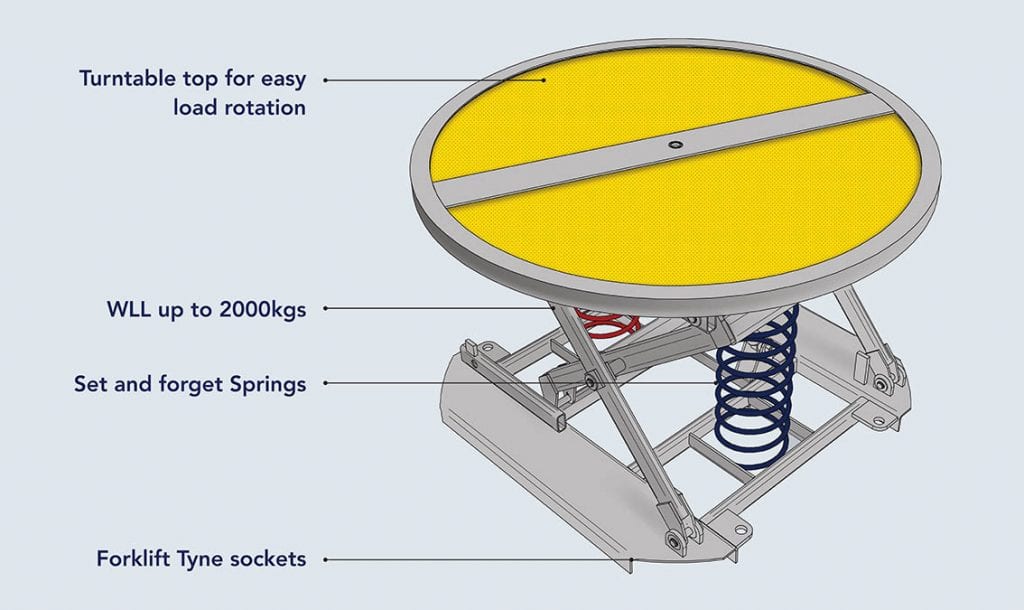 The Palift is the best way to load and unload pallets!
Palift's are incredibly robust and very long-lasting – up to 15 years of use with minimal maintenance. The design resembles a scissors lift, with a top platform and a base connected by a pair of scissor legs. Engineered springs help ensure the weight and height of a product is levelled at all times. Setting the load is extremely easy to do as most springs are never changed. The unit is fitted with a shock absorber to prevent unnecessary movement or bouncing. Each work positioner is supplied in a heavy-duty galvanised finish and bulletproof in design.
Applications:
Manual palletising and depalletising;
Factories and warehouses;
Wash down and harsh environments;
Suitable for use with pallets, skids, stillages, pallet cages, large bins, stacks of sheets, boards and other containers.
Stainless steel versions are available for food and pharmaceutical environments.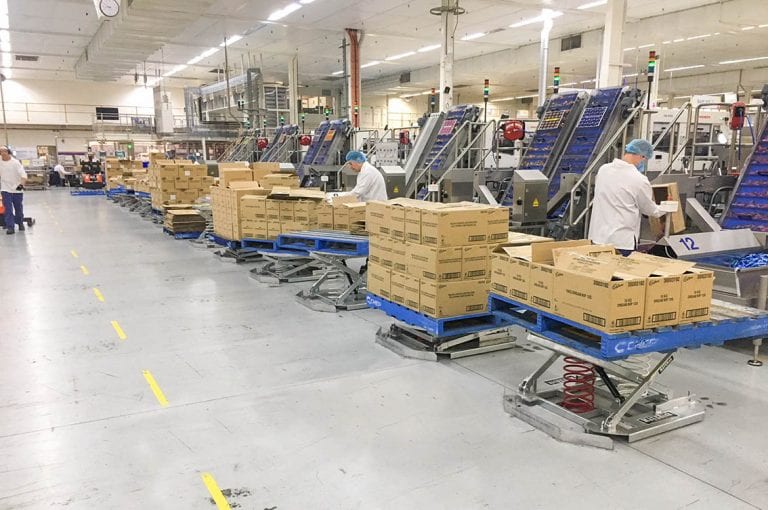 The Palift promotes safe loading and unloading processes in any workplace. The automatic levelling means no buttons need to be pressed as the unit is completely intuitive. Unnecessary reaching and bending whilst loading are completely eliminated due to the integrated turntable top. The unit ensures confidence in any organisation with a lifetime spring warranty and 3-year product warranty.
Features:
Highly efficient and very safe to use.

Able to load goods at waist level.

Eliminates employees bending, stretching or straining.

No ongoing running costs or maintenance.

No dangerous power supply cable or hydraulic lines.

Completely automatic and instantaneous, no levers or controls.

Simple to operate and easy to use.
Specifications: 
| | | | | | |
| --- | --- | --- | --- | --- | --- |
| Code | Max. Working Capacity | Max. Height (Extended) | Min. Height (Compressed) | Platform Top Dimensions | Product Weight |
| MCH1 (Square Top) | 2000 kg | 709 mm | 225 mm | 1046 x 1060 mm | 150 kg |
| MCH3 (Turntable Top) | 2000 kg | 709 mm | 239 mm | 1100 Ø | 150 kg |
The MCH3 model features a turntable top, while the MCH1 has the fixed square top frame. In particular, MCH3 is one of the most popular models on the market. An optional mobility dolly base MCH9 and handle are also available for both Palifts. This optional extra is strong and easy to use and can be separated from the Base Frame and stored when required. The MCH9 allows users to quickly position the Palift to any desired location.
Benefits of using a pallet leveller
Reducing workplace injuries is a priority for employers, which is why the Palift is so popular in Australia. In simple terms, the ergonomic palletising table ensures that pallets and stillages are kept at the optimum working height to prevent injuries. So when pallets and stillages are loaded and unloaded in the warehouse, employees don't need to bend or lift unnecessarily. The design of the Palift has been repeatedly market tested and has proven to be both robust and fit for purpose. It's the simplest and most effective design for manual handling problems when loading and unloading pallets.
Ergonomically safe loading and unloading with the Palift
With the Palift, employee injuries are eliminated as they can easily reach all the boxes without overextending and whilst standing in an ergonomically safe position. The turntable top can also be locked in position, so that it can't be accidentally rotated when loading and unloading. This prevents an employee being injured when a tabletop inadvertently moves causing the employee to slip, overbalance and fall over (this locking mechanism is available as an additional option).
Other benefits include engineered springs that require minimal adjustment. This makes using the pallet leveller very easy and efficient, as time is not wasted adjusting the springs for different weight pallets and stillages. The top turntable can also be easily rotated, so that pallet loads can be accessed from all sides of the Palift. This ensures that employees don't need to bend over the table to reach boxes further back or to the side.
Great safe and innovative design
The design of the Palift ensures that an optimum working height is maintained at all times, thus eliminating operator bending, stretching and lifting when loading and unloading pallets or stillages. This is because the height of the spring loaded pallet leveller rises and lowers automatically, depending on the weight of the boxes on the tabletop. This occurs without any effort on the part of the employee, ensuring that they always work at an ergonomically optimum height.
To prevent hands and fingers becoming trapped in the tabletop as it rotates, a plastic safety top covers the top of the pallet positioner. In addition, an optional mobility trolley allows the entire pallet leveller to be moved from one area to another very easily and without too much effort. There are also a set of four adjustable feet to ensure that the table is always maintained in a level position, regardless of the underlying surface. This ensures that the table is always level and that none of the boxes can be tipped accidentally when an unbalanced table suddenly moves, potentially injuring employees. A balanced table also makes it easier to load and unload the pallet or stillage, ensuring that employees do not overextend and injure themselves.
Eliminates injuries due to tripping over cables
Since the spring loaded pallet platform is a self-contained unit, there are no cables running across the floor to power points. This eliminates any possibility of employees tripping over power cables; employees are kept safe, whether loading or unloading pallets or walking around the warehouse floor. As a self-contained unit, the Palift pallet leveller provides exceptional safety factors for employees operating in warehouses, factories, distribution centres or any installation where pallets or stillages are loaded or unloaded.
Need something else?
Click through our range of Pallet Lifters and Turntables or alternatively, contact one of our sales representatives today!
Click the PDF button to learn more.
Product Variations
| | | | | |
| --- | --- | --- | --- | --- |
| | Square Top Palift- galvanised | MCH1 | | |
| | Turntable Top Palift- galvanised | MCH3 | | |
| | Mobile Base Frame for Palift (no handle) | MCH9 | | |
| | Palift handle for mobility kit | MCH10 | | |
| | Palift Adjustable feet [set of 4] | MCH11 | | |
| | Palift Turntable Rotation Lock | MCH12 | | |
| | Stainless Square Top Palift | MCH1SS | | |
| | Stainless Turntable Top Palift | MCH3SS | | |