Palift – Palletising Tables
+ Add to Quote Request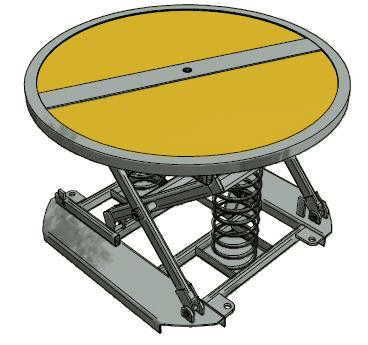 Our Palift Palletising Table is an extremely cost-effective solution to reduce exposure to injury and increase productivity when loading and unloading goods. Also known as a Pallet Leveller or Work Positioner, Palift automatically ensures that loads are at an optimum working height, reducing manual handling risks associated with heavy lifting and reaching.
The Palift completely eliminates workers bending and stretching when loading or unloading a pallet. The load remains at an optimum height throughout the handling process.
The Palift is often used in production areas, at the end of conveyors and production lines, in warehouses and distribution centres or any location that pallets are broken down or built up.
Additional Information
A great materials handling aid!
Palift are incredibly robust and very long lasting – up to 15 years of use with minimal maintenance. The design resembles scissors lifts in appearance with a top platform and a base connected by a pair of scissor legs. Engineered springs help ensure the weight and height of a product is levelled at all times. Setting the load is extremely easy to do as most springs are never changed.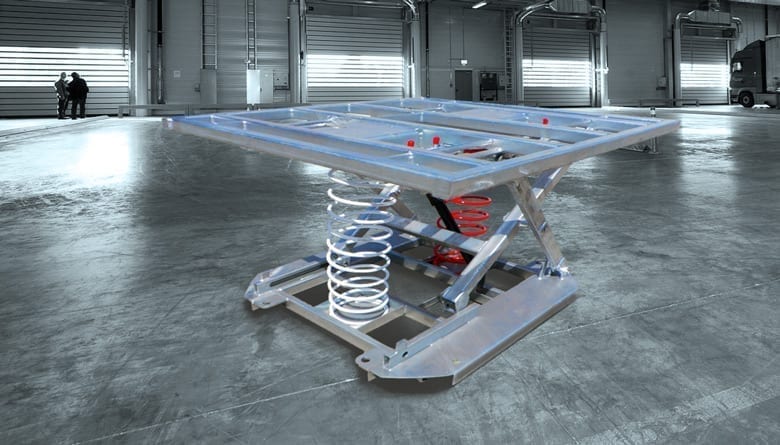 The unit is fitted with shock absorber to prevent unnecessary movement or bouncing. Each work positioner is supplied in a heavy duty galvanised finish.
Product Features
The Palift promotes safe loading and unloading processes in any workplace. The automatic levelling means no buttons need to be pressed as the unit is completely intuitive. Unnecessary reaching and bending whilst loading is completely eliminated due to the integrated turntable top. The unit ensures confidence in any organisation with a lifetime spring warranty and 3 year product warranty.
Typical Applications:
Manual palletising and depalletising
Factories and warehouses
Wash down and harsh environments
Suitable for use with pallets, skids, stillages, pallet cages, large bins, stacks of sheets, boards and other containers
These work positioners are fully galvanised and bulletproof in design. Stainless steel versions are available for food and pharmaceutical environments. Palift has a raised height of 709 mm and a collapsed height of 239 mm.
A range of benefits for you to easily handle heavy loads!
The unit has a range of benefits, including:
Highly efficient and very safe to use

Able to load goods at waist level

Eliminates employees bending, stretching or straining

No ongoing running costs or maintenance

No dangerous power supply cable or hydraulic lines

Completely automatic and instantaneous, no levers or controls

Simple to operate and easy to use
Find the right model for your requirement. The MCH3 features a turntable top while the MCH1 has the fixed square top frame. Model MCH3 with turntable top is the most popular model by far. An optional mobility dolly base MCH9 and handle is available for both the MCH1 and MCH3 models. They are available in stainless steel versions for the food and pharmaceutical industries.
Need something else?
Click through our range of Pallet Lifters and Turntables or alternatively, contact one of our sales representatives today!
Click the PDF button to learn more.
Product Variations
| | | | | |
| --- | --- | --- | --- | --- |
| | Square Top Palift- galvanised | MCH1 | | |
| | Turntable Top Palift- galvanised | MCH3 | | |
| | Mobile Base Frame for Palift (no handle) | MCH9 | | |
| | Palift handle for mobility kit | MCH10 | | |
| | Palift Adjustable feet [set of 4] | MCH11 | | |
| | Palift Turntable Rotation Lock | MCH12 | | |
| | Stainless Square Top Palift | MCH1SS | | |
| | Stainless Turntable Top Palift | MCH3SS | | |