Flex Impact Column Protection – Post & Rail
+ Add to Quote Request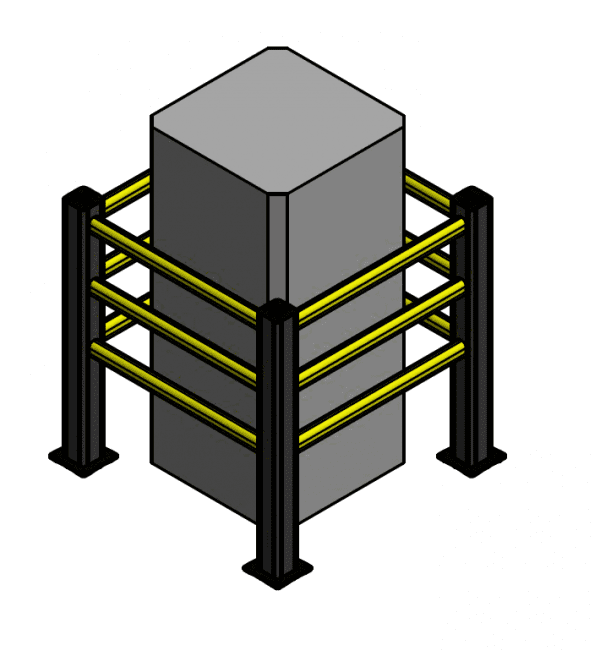 Flex Impact Polymer Column Protection incorporates the innovative technologies of our Handrail systems for Post and Rail protection. It is a safe and modular way that barriers four corners protecting valuable assets or buildings. Flex Impact systems are so successful they make conventional steel barriers obsolete!
Columns are very common in most facilities as they provide structural support. In factories, warehouses, car parks and airport environments, columns are often closely located to vehicle traffic, and therefore an impact can have serious effects on structural integrity and can cause significant damage that is costly to repair.
Flex Impact Column Protection provides a safe, flexible support system that ensures the desired item is secured and all four corners are protected. Designed with innovative technology, polymer barriers, posts and rails spring back into shape when impacted. This saves in expenses and improves workplace efficiency.
Additional Information
Flex Impact Column Protection guards the structural elements of a building!
Flex Impact Column Protection is incredibly versatile in size. The unit is mounted independently from any building structure and does not depend on it for support. It stands on its own – surrounding and protecting the asset. Due to the incredible polymer technology of Flex Impact, these barrier systems are able to absorb impact with ease and require very little maintenance.
There are many advantages of our Flex Impact polymer barrier systems. Watch the short video below or alternatively, continue browsing our entire range.
Click the PDF button to learn more.
Product Variations
| | | | | |
| --- | --- | --- | --- | --- |
| | Flex Impact column protector- post and rail Up to 800mm post centres | 021-0001 | | |
| | Flex Impact column protector- post and rail Up to 1600mm post centres | 021-0002 | | |