iDimension PLUS Dimensioning System
+ Add to Quote Request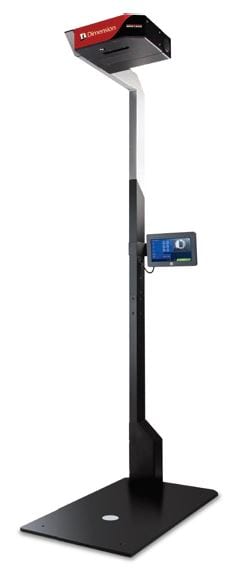 The iDimension Plus static dimensioning system automatically measures parcels and irregular packages in less than 0.2 seconds to help determine if the package shipping fees will be determined using a dimensional or actual weight used in outbound shipments.
A small footprint allows for easy integration into current workstations, tables or shipping desks found in shipping environment or in retail counter applications. It is supplied standard with a 1.5metre pole assembly. The model with a 1.2metre pole assembly is Code 200972. .
 Refer to the PDF below for scales, options, accessories and parts.
Additional Information
Standard Features
• Easy to assembly with limited operator training required, up and running within 30 minutes
• Displays dimensions in less than 200ms
• Requires virtually no special alignment or special handling while placing a package to increase throughput with adjustable scan zone and area of interest
• Includes 180mm USB Touch Screen Monitor:
Displays dimensions, image, status and weight if scale is directly attached
Initial set-up and configuration wizard
Access to operator controls and functions
• Dimensions parcels at 5mm legal for trade accuracy
• Dimensions irregular, shaped packages, polybags and uneven shapes to 1cm legal for trade
accuracy using automatic recognition
• Legal for trade measurements do not determine the minimum and maximum measurement capabilities available, see website for measurement capabilities
Images:
• Included low resolution colour image captures overhead photo of every item, available in .bmp or .jpg format through XML API integration
• High resolution colour image, 2880 x 2160 pixels, available via the iDimension Plus 4K with a 4K (ultra high definition) camera Code 200966 with 1.5m pole and Code 200967 with 1.2m pole 
Peripherals:
• Optional powered USB Hub for use of more than one peripheral and UPS Worldship interface
• Optional USB barcode scanner with keyboard wedge emulation will manually trigger dimensioning
• Weighing Systems, 150kg listed below but 30 and 75kg versions with various size weigh platforms are also available
Have a look at the interesting array of all our iDimension products.
Check out the entire range!
Continue browsing the complete iDimension and Weighing products range.
Click the PDF button to learn more.
Product Variations
Image
Description
Product Code
Price (excl. GST)

iDimension Plus 4K high resolution 1.5M Pole Mount System

200966

iDimension Plus 4K high resolution 1.2M Pole Mount System

200967

iDimension PLUS with 1.5m pole assembly

192380

iDimension PLUS with 1.2m pole assembly

200972

75 x 0.02kg stainless scale 450 x 450mm platform

202189

75 x 0.05kg scale 450 x 450mm
Roller conveyor weigh platform

202191

150 x 0.05kg stainless scale 600 x 600mm platform

182399

150 x 0.05kg scale 600 x 600mm
Roller conveyor weigh platform

182402