Drum Spill Pallet with Lid
+ Add to Quote Request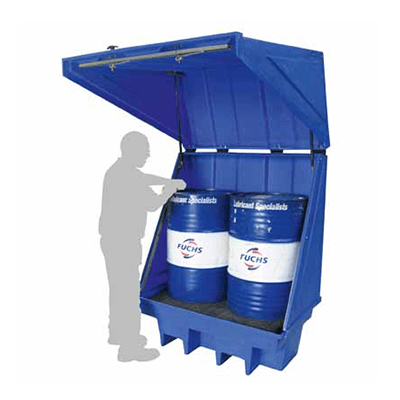 The Drum Spill Pallet Lockable Storage Unit is an incredibly secure and robust solution. Ideal for outdoor use, the system features a hardcover, flip-up lid with heavy-duty gaskets. To improve drum handling security, it can be locked at two individual points. It also comes with a built-in spill tray – making it a perfect choice for storing 205 L Drums safely and away from other chemicals.
The Drum Spill Pallet container is completely Australian made and constructed with tough polymer materials. It also meets relevant regulations and Australian Standards and prides itself on being resistant to most chemicals, built from superior materials and featuring a long service life. The design has also been field test proven.
Additional Information
A secure Drum Spill Pallet with a lockable, hardcover lid! 
These units feature additional security during spillage control. They are great solutions for outdoor decanting areas, as the structure is weatherproof. The lockable hinged lid is convenient for extra protection. Forklift and pallet truck access is also easy.
DMXP3005 Specifications: 
Suitable for two Drum Bund; 2 x 205 L Drums
Dimensions (mm) – 1310 x 950 x 1720
Fully compliant bund capacity – 240 L
Flip-up, hinged lid
Locked via two individual locks
Tough polymer construction
Removable fibreglass grate for easy cleaning and maintenance
Forklift pockets for easy relocation when bund is empty
Please Note: Drums are not included with the storage unit.
Find an alternative solution!
View our wide range of Drum Storage products!
Product Variations
| | | | | |
| --- | --- | --- | --- | --- |
| | Lockable Drum Spill Pallet with a lid | DMXP3005 | | |