Timber Pallet Collars
+ Add to Quote Request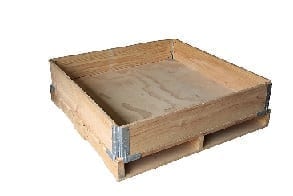 Pallet Collars efficiently transform Australian standard 1165 x 1165mm and 1200 x 800mm Euro timber & plastic pallets into usable shipping containers. The renewable plantation softwood timber construction makes them strong and durable, yet light weight and easy to handle & the galvanised steel hinges lock the Pallet Collar into position. When not in use Pallet collars can be folded up decreasing storage space by up to 90%.
There are two versions each weighing 9.5kg.
STANDARD 193mm high with 4 hinges that allow the unit to fold down to 2335 x 45 x 193mm.
CENTRE HINGE 193mm high with 6 hinges that can collapse to their own length when not in use. It folds down to 1180 x 100 x 193mm.
Pallet Collars can also be supplied in custom sizes or have company name/logo printed on the sides so they don't get lost.
Product Variations
| | | | | |
| --- | --- | --- | --- | --- |
| | Standard (4) hinge to suit pallet 1165 x 1165mm | SPCS1165 | | |
| | Standard (4) hinge to suit Euro pallet 1200 x 800mm | SPCS1200 | | |
| | Centre hinge (6) to suit pallet 1165 x 1165mm | SPCC1165 | | |