Pallet Collars Timber
+ Add to Quote Request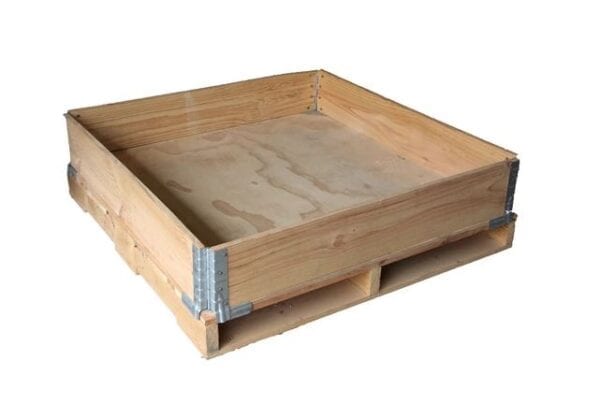 Pallet Collars are durable, reliable and completely Australian made. They are designed to protect cargo and goods from damage, dust and deterioration, which commonly occurs in long-term storage or transport. Each collar can be stacked on top of one another to increase space and improve warehouse organisation, safety and efficiency. When not in use, the collars can be collapsed.
Brackets and dividers can help to partition pallets into smaller sections. This is great for organising projects, separating small parts, and presenting displays. A range of accessories can help enhance the advantages of each collar. ​Efficiently transform Australian standard 1165 x 1165 mm and 1200 x 800 mm Euro timber and plastic pallets into usable shipping containers.
Additional Information
Pallet Collars ensure great organisation and protection!
The Pallet Collars renewable plantation softwood timber construction makes them strong and durable, yet lightweight and easy to handle. Galvanised steel hinges lock the collar into position. If not required, each Pallet Collar can be folded to decrease space by up to 90%, which in turn improves storage incredibly.
Pallet Collar lids are also available to turn your wooden pallets into a sealed box, covering goods and protecting them from dust and rodents. Lids can also be used as a sturdy base for your pallets.
Choose the model best for your organisation. 
There are two versions available each weighing 9.5 kg.
Standard – 193 mm high with 4 hinges that allow the unit to fold down to 2335 x 45 x 193 mm.
Centre Hinge – 193 mm high with 6 hinges that can collapse to their own length when not in use. It folds down to 1180 x 100 x 193 mm.
Pallet Collars can also be supplied in custom sizes or have a company name/logo printed on the sides so they are easily identifiable.
Features of Pallet Collars: 
Store products safely; in transport, warehouses, static spaces and pallet racking. 

Increase usable space in warehouses and improve storage processes. 

Reduce waste by reducing consumable packaging. 

Ensure warehouses are organised and streamlined.
Multi-benefits for a pallet, which can be turned into a storage box or crate. 

Improve the safety of valuable products, especially during transportation.
Protect products from dust, damage or deterioration. 
Try our new Trolley Boxes!
With a Trolley Box, your pallets can now be moved quicker than before. This base makes transportation easy, as users won't need a forklift or pallet jack. Simply assemble, then push the pallet where you want it to go. It's simple, it's safe, it's cost-effective and it will save you from having a forklift.
What is in the Trolley Box? 
1 x Heavy duty hardwood pallet forms the base of the box that can carry up to 800 kg. It's fitted with 4 x swivel castors making the box easy to push around on a sealed surface. Two of the castors feature a locking brake so the box will stay put when locked.
1 x 12 mm plywood base. This makes sure nothing falls through the pallet.
3 or 4 x Australian made pallet collars, make up the sides of the Trolley-Box.
Require another solution? 
View our range of Pallet Cages and Converters for other great products.
Click the PDF button to learn more.
Product Variations
Image
Description
Product Code
Price (excl. GST)

Standard (4) hinge to suit pallet 1165 x 1165mm

SPCS1165
$85.00

Centre (6) hinge to suit pallet 1165 x 1165mm

SPCC1165
$103.00

Standard (4) hinge to suit Euro pallet 1200 x 800mm

SPCS1200
$89.00

Standard (4) hinge Half Euro pallet 800 x 600

SPCS800
$75.00

Plywood lid or base with pressed metal corners
1165 x 1165mm

SPLID1165
$88.00

Vertical divider full pallet width
1105 x 193 x 19mm L x H x T

SDF
$14.00

Vertical divider half pallet width
534 x 193 x 19mm L x H x T

SDH
$12.00

Galv. bracket for timber divider
(2 required per divider)

SDB
$15.00

Hold down bracket for 1 pallet collar

SHD1
$12.00

Hold down bracket for 2 pallet collars

SHD2
$18.00

Trolley box 3 collars high

SCTB3
$838.00

Trolley box 4 collars high

SCTB4
$921.00

Pallet Softwood Medium Duty (7 top boards 3 base boards 3 bearers) 1165 x 1165

PM1165
$90.00

Pallet Softwood Heavy Duty (8 top boards 5 base boards 3 bearers) 1165 x 1165

PH1165
$100.00