EasyCrane with Vacuum Lifter
+ Add to Quote Request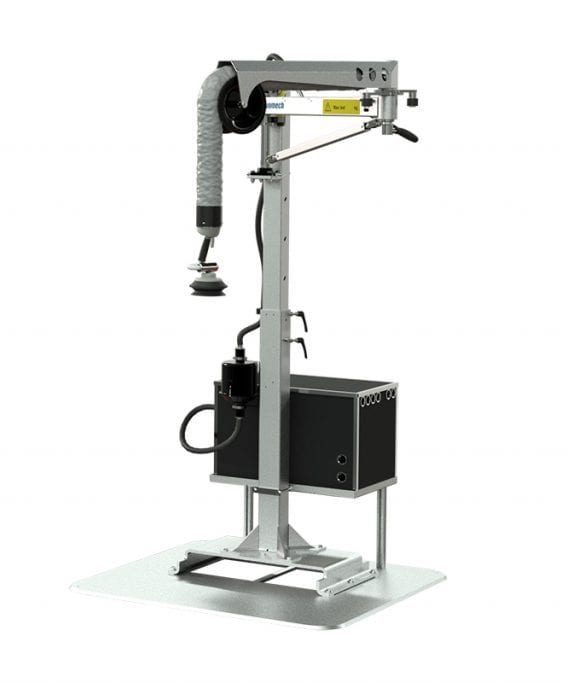 Ensure easy handling with the EasyCrane – a flexible articulated jib crane integrated with a vacuum lifter. This stand-alone lifting solution features a generous range of suction feet, meaning it can lift loads with different sizes, shapes and weights. Its height-adjustable floor pillar also makes the crane adaptable to most workplaces.
With its flexible and intuitive design, the EasyCrane allows users to handle heavy loads of up to 45 kg. This includes cardboard boxes, sacks, panels, barrels and furniture. No bending, stretching or exerting manual handling is required. Loads can be grabbed horizontally and vertically and rotated freely, allowing users to work quicker and more productively.
Additional Information
The EasyCrane is easy-to-use for lifting and handling objects!
It's no secret that the EasyCrane is easy-to-use. For quick and portable lifting, this device uniquely combines a jib crane with a vacuum lifter to handle products effortlessly. Adding a mobile platform or manual pallet truck will allow additional flexibility to move the device between workstations.
Offering many safety benefits and advantages, this unique solution allows your personnel to operate more productively, faster and efficiently. It's also an innovative system, which features low headroom, flexibility and is highly adaptable to specific requirements.
Product Features:
Quick and effortlessly lifting of heavy loads up to 45 kg.
A mobile platform that requires no installation.
Complete flexibility when performing handling and lifting action.
Loads can be accessed horizontally or vertically and rotated freely.
Variety of suction cups and vacuum yokes available to suit varying products.
Quick attachment connection for replacement or change of suction cup or tool.
Adaptable to most workplaces.
Performs various lifting functions on many diverse objects.
Low headroom and great workplace flexibility.
The EasyCrane is equipped with a vacuum lifter, which is connected to a pump located on the shelf behind the crane. The Crane's tower is adjustable in height and can be mounted on a mobile footplate or attached directly to the floor. It also has an inner and outer jib arm that can be locked in rotation. On the inner jib is a parking brake that can be used to prevent the arm from 'walking' from the position. Between the jibs are two rotational limiters restricting the rotation angle.
Technical Specifications: 
Maximum Load Crane – 50 kg
Maximum Load Vaccum Lifter – 5-45 kg
Jib Arm Reach – 2000-4000 mm
Work Temperature – 5-40°C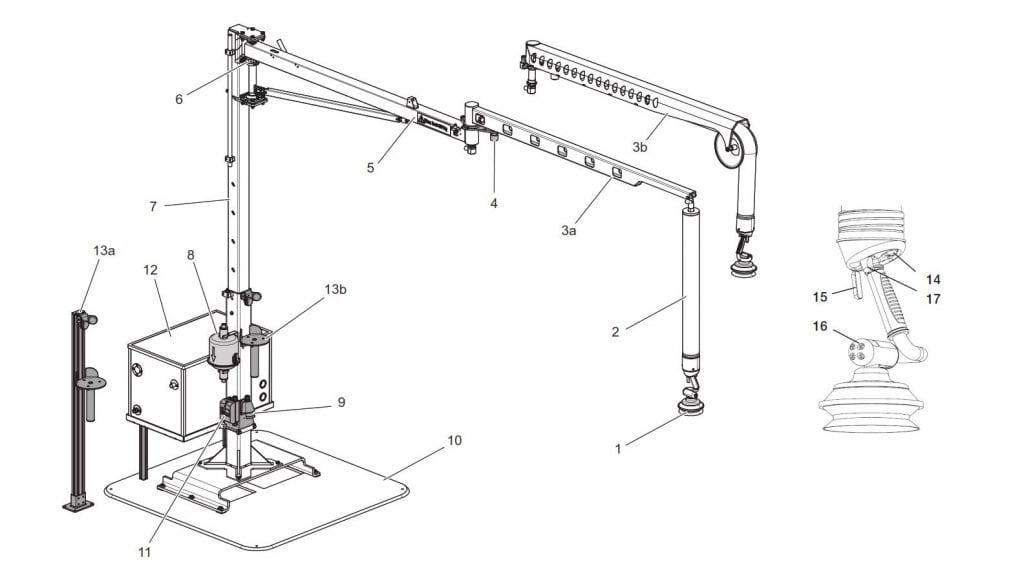 1. Vacuum Cup
2. Lifting Hose
3. (a) Jib Arm EC25
(b) Jib Arm TPH
4. Rotation Limiter
5. Inner Jib
6. Inner Brake
7. Mast
8. Filter
9. Electrical Connector (400 V, 16 A)
10. Mobile Footplate
11. Vacuum Pump Switch
12. Vacuum Pump
13. Parking in running-mode
(a) Floor model
(b) Mast-mount model
14. Balance Control
15. Control Lever
16. Joint 90°C
17. Release Button
Looking for an alternative lifting solution? 
View our incredible range of Jib Cranes for some great choices!
Click the PDF button to learn more.