Vaculex VL Vacuum Tube Lifter
+ Add to Quote Request

The Vaculex VL Vacuum Tube Lifter is a classic design typically suited to loads between 30-250 kg. The modular design makes it easily adapted to specific applications and is our most successful, general purpose vacuum lifter.
One of our strongest models, the Vaculex VL is versatile and user-friendly. The operation is intuitive and while it can be described as a two-hand control only one hand is actually required to operate the raise-lower-release function. The Vaculex VL can lift almost everything! An extremely cooperative device, this Vacuum Tube lifter makes any object feel weightless. Workloads become easier, more efficient and more enjoyable as Vaculex does the heavy lifting!
Two hand operation for Vaculex VL
Handle heavy loads between 30-250 kg
Versatile and can be customised to your application
Wide range of accessories and options available
Can be reconfigured for new tasks due to modular design
Very low maintenance and low service costs
Reliable machine that increases productivity
Available with intelligent energy saving devices to minimise power consumption
Additional Information
Why do you need Vaculex VL?
Our most heavy duty vacuum lifter could be yours! The Vaculex VL defies the law of gravity to deliver high performance results when moving heavy objects and loads. This Vaculex model is available in six lift tube sizes (varying between 100-200mm in diameter). Also available are several different vacuum pumps and suction cups that can be combined with a variety of accessories to configure the ideal solution for you. Vaculex is typically powered by an electric vacuum blower however a pneumatic vacuum generator (venturi or ejector) is available. The Vaculex VL provides maximum versatility for your organisation.
Lift a number of different objects

With the Vaculex VL Vacuum Tube Lifter you can lift almost everything! Ideal for boxes, sacks, drums, sheet metal, computers, crates, barrels, TVs, etc. – the list is practically endless! What you lift, how often and where defines the model of your Vaculex. Our technical sales team can help you identify the best solution. With Australia-wide sales and service and decades of experience, we've got you covered.

Robust design

This unit is incredibly adaptable! The Vaculex VL can be configured to suit your needs. The vacuum tube lifter is combined with a vacuum generator, suction supply hose, lift tube, control unit and suction head, but that is just the start. A comprehensive catalogue of standard components is supported by an extensive history of customised solutions. Got an unusual application? Chances are someone else has already solved the problem. Vaculex have distributors across the planet sharing ideas and applications so fair chance it has been done before. The unit can even operate in atmosphere below zero, making it ideal for cold rooms and freezers.

Incredibly Ergonomic

Vaculex systems increase productivity, work rates and workplace moral. An extremely ergonomic machine, these Vacuum Tube Lifters minimise exposure to manual handling hazards and reduce the risks of materials handling accidents that can injure the user and damage goods. The Vaculex VL is incredibly strong and a great investment. Heavy lifting doesn't have to be expensive, nor should it cost you in the long run. Vaculex lifters are guaranteed to improve lifting tasks in your organisation.
Watch the Vaculex VL in action!
Need to see it for yourself? Check out our videos below to see the Vaculex VL. A strong and robustly designed vacuum lifter that can move even the bulkiest of loads for you.
Technical Data
Maximum Lifting Capacity
250 kg
Lift Tube Sizes
100-200 

Ø

Electrical Vacuum Pump
415V 3phase
Vertical Movement (stroke)
2,5 m lift tube [standard]
1,7 m
3,0 m lift tube
2,1 m
4,0 m lift tube
2,7 m
Installation Height
2,5 m lift tube
2,9 m
3,0 m lift tube
3,4 m
4,0 m lift tube
4,2 m
Safety Factor (suction force vs lifting force)
2.5 minimum
A number of accessories are available!
To help customise your Vaculex VL to your requirements, a number of accessories are available. These include a wide variety of suction heads (to help with all sizes and shapes), angle adaptors, swivels, control units, release valves, energy saving devices, remote controls and more. Contact our sales team to see how we can adapt our Vaculex VL unit to suit your business.
Need to know more?
For more information regarding the Vaculex VL, visit the Vaculex website or alternatively view our large range of Vaculex vacuum lifting devices.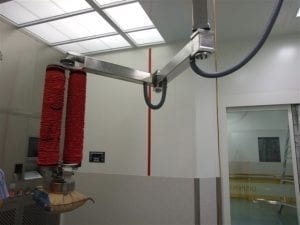 Click the PDF button to learn more.