Look Out Dock Door Monitors
+ Add to Quote Request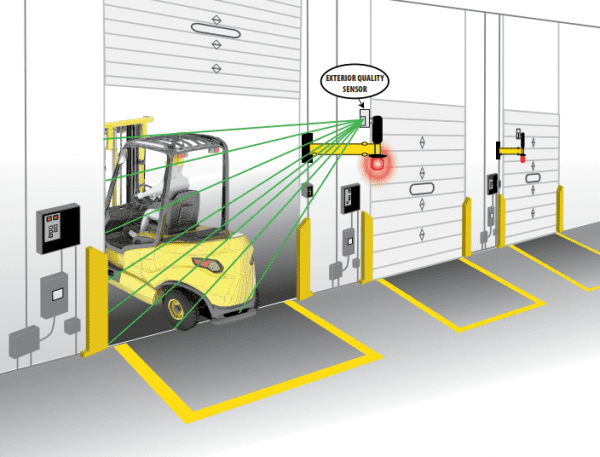 Look Out Dock Door Monitors are designed to alert forklift operators and pedestrians of potential dangerous encounters and collisions.  They create awareness by flashing LED lights when a sensor signals movement or activity.  These units are ideal at creating a safe working environment across all loading dock bays and inside trailers.
The unit is available as a singular package for either interior or exterior usage.  Installation is incredible quick as all the monitor requires is power – so simply plug into an outlet and you're ready to go.  Dock Door Monitors are a new addition to the Collision Awareness family and actively help improve processes making business activities more efficient and safe.
Additional Information
How does the Dock Door Monitor work?
Keep traffic secure, pedestrians alert and safety on the mind with the Look Out Dock Door Monitor!  The unit is mounted next to an overhead door, to monitor motion and activity.  As a forklift truck backs out into sensor ranger, a flashing strobe light warns fellow employees about the potential hazard. Dock Door Monitors have a swivel feature incorporated into the construction to allow the unit to monitor trailers as well.
What model will suit your workplace activities?
As mentioned, the Dock Door Monitor is available in only two models – either with an interior sensor for interior docks or with an exterior sensor for exterior docks.  The monitor comes complete with 1 light and 1 sensors.  Powered cords are sold separately.  Audible alarm sounds are not available for this unit.
Require a different system?
For other loading dock safety alert systems, try our Look Out Dock Watchers.  Alternatively, browse the entire Collision Awareness range to view a number of alternative solutions.  Look Out Collision Awareness products secure and protect your warehouse operations, whilst reducing potential accidents.
Click the PDF button to learn more.