Look Out Dock Watchers
+ Add to Quote Request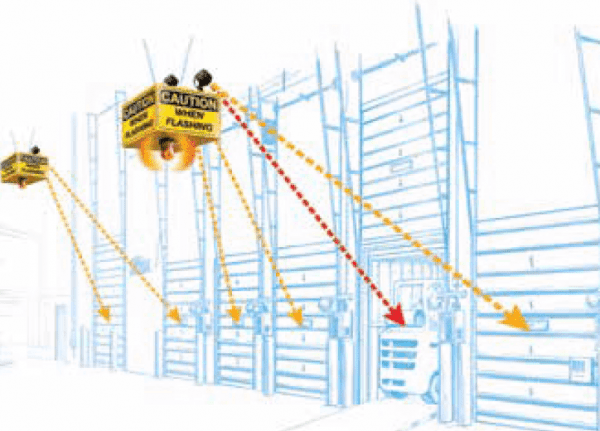 Our Look Out Dock Watchers are designed to monitor dock doors and potential hazards.  The units sense motion to warn forklift operators and pedestrians of impending danger and help create awareness of movement around the workplace.  When activated, LED lights flash to alert personnel to be aware, helping minimise collisions and improve safety processes.
A number of models are available with varying number of sensors.  It is recommended that the units are fitted with optional audible alarms to heighten the alarm even further.
Additional Information
Customise the ideal model to suit your organisation!
We have a variety of Dock Watchers available.  Each option can adhere to a number of workplace needs. Dock Watcher 1 is designed for 1-2 door applications.  It is hung high enough from the ceiling to allow traffic to clear through.  By including additional sensors you can create our other models Dock Watcher 2, 3 and 4. These options are used to protect 2-4 dock doors.  Sensors point directly at the doors to identify activity across the loading dock area.  The unit hangs from chains and optional cord lengths are available.
Dock Watcher 1 – 1 box, 1 light, 1 sensor
Dock Watcher 2 – 1 box, 1 light, 2 sensors
Dock Watcher 3 – 1 box, 1 light, 3 sensors
Dock Watcher 4 – 1 box, 1 light, 4 sensors
All units are available with optional audible sounding alarms.
Eager to browse some of our other products?
The Collision Awareness range offers a number of sensor units to help notify employees, pedestrians and operators in a warehouse of potential hazards. These unique monitors help reduce collisions throughout an organisation.  Learn more and see how these systems can improve your processes.
Click the PDF button to learn more.
Product Variations
Image
Description
Product Code
Price (excl. GST)

Dock Watcher 1
Lights – 1 strobe
Sensors – 2
Boxes – 1 ceiling mounted

DW1

Dock Watcher 2
Lights – 1 strobe
Sensors – 2
Boxes – 1 ceiling mounted

DW2