Protect-it MAXI – Structural Column Protection
+ Add to Quote Request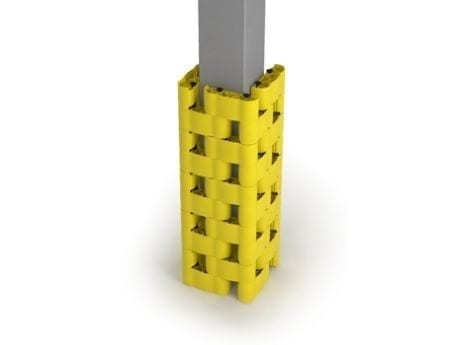 Protect-it MAXI™ improves workplace safety by providing revolutionary Structural Column Protection.
Trusted by organisations worldwide, these devices protect columns, racking and walls and effectively reduces damage to vehicles, if a collision was to occur. Not to mention, they drastically reduce injury risks and provide a cost-effective solution to maintaining building assets and structural integrity.
Minimise collision risks that result from forklift or vehicle impacts! The Protect-it MAXI™ Structural Column Protection securely fits to columns and racking of various sizing. The protection starts at 150 mm (and increases in 25 mm increments) to effectively suit any shape – square, round or rectangular – any size and any section of wall (H-sections, I-sections and even walls included).
Additional Information
An innovative barrier system with outstanding performance!
Impacts and collisions to columns, racking and personnel can cause major Occupational Health and Safety issues. The Protect-it MAXI™ Structural Column Protection aims to minimise such occurrences, by easily fitting to any column or racking system and by being designed in a highly recognisable colour.
A number of benefits to improve your Workplace Health and Safety processes. 
The Protect-it MAXI™ Structural Column Protection is sold worldwide and is proven to bring great results to your organisation. Costs to continuously repair and maintain damaged systems, vehicles or building assets are a thing of the past, as the protector improves safety and reduces risks of structures collapsing. Made from a durable unique patented design, the Protect-it MAXI™ is one of the best injection moulded column protectors on the market.
These devices are installed within minutes, as they securely grip columns with no extra fasteners required. They are ideal for a number of applications, including differing environments as they can retain their properties in cold stores as low as minus 40 degrees.
Features:
Fits any column size and shape
A unique modular design, with flexible height (from 500mm onwards)
Space-saving (only 78mm thick per side)
Compact
Simple to install and can be inspected easily
Fully tested and built in accordance with relevant safety standards
Low purchase and installation costs
Patented Modular Design
 Impact Test Results include:
No column damage to a 100UC-15 column after a 2.7 tonne forklift impact at 2 km/hour.
No column damage to a 200UC-59 column after a 2.7 tonne forklift impact at 6 km/hour. Provides even impact absorption from all directions.
Impact tested in Germany with proven results
Retains shape thanks to its innovative patented design features
The entire size range is derived from only one product called a MAXIPAC (20 Maxi's and 8 pins). For bigger columns purchase more MAXIPAC's and connect them.
Find other similar products…
For other products within this range, view our Park Sentry or Foam Filled Column Protector Cushions.
Product Variations
| | | | | |
| --- | --- | --- | --- | --- |
| | MAXIPAC of 20 Maxi's and 8 pins | S501 | | |