Bollards Surface Mount Cam-Lok
+ Add to Quote Request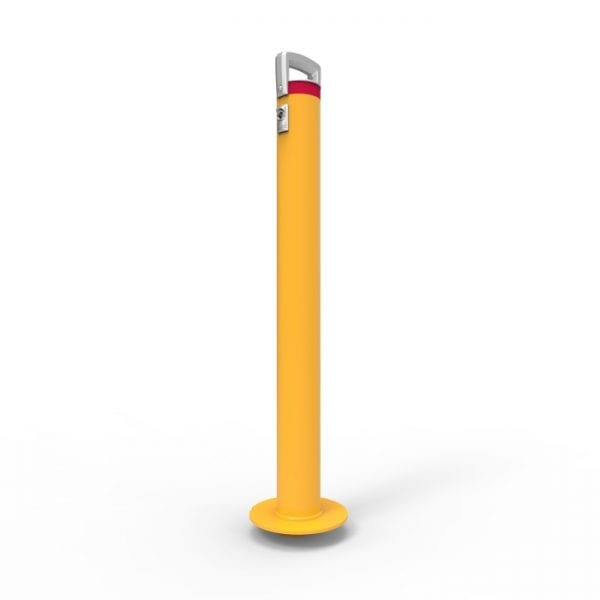 Our surface mount Cam-Lok is a high security key operated removable bollard. The operation is similar to our other Cam-Lok bollards except that it does not require core drilling into your slab floor. Surface mount Cam-Lok is designed for applications where the floor cannot be core drilled or penetrated, such as suspended or pre-stressed slabs or clean areas such as food preparation or pharmaceutical processing. This heavy duty bollard locks into the surface mounted receiver shoe via an internal locking system using high security cam locks with registered keys.
Additional Information
Surface mount Cam-lok is ideal where vehicle access needs to be denied and keyed security is an issue.
Receiver shoe can be relocated or use multiple shoes for changing locations
25 mm reflective band around top of post
Fixings for receiver shoe are inaccessible when post locked in
Specifications:
Material: Steel post 90mm diam with 5mm wall
Finish: Powder-coated standard safety yellow
Height: 950 mm post height – receiver shoe only 20 mm
Weight: Post 9.5 Kg – receiver shoe 2.5 kg
Installation: 4 x sleeve anchors
Options:
Extra keys and additional receiver shoes
Product Variations
| | | | | |
| --- | --- | --- | --- | --- |
| | Cam-lok Surface Mounted Removable Bollard 90mm – Galvanised and Powder Coated | SMCL | $679.00 | |
| | Cam-lok/Tee-lok Receiver Shoe – Zinc Plated and Powder Coated Yellow | SMCLH | $175.00 | |
| | Cam-lok Surface Mounted Removable Bollard 90mm – Stainless Steel | SMCL-SS | $1,032.00 | |
| | Cam-lok/Tee-lok Receiver Shoe – 316 Stainless Steel | SMCLH-SS | $389.00 | |
| | Cam-lok/Tee-lok Receiver Shoe – Zinc Plated | SMCLH-Z | $164.00 | |
| | Cam-lok Surface Mounted Removable Bollard 90mm – Galvanised | SMCL-G | $649.00 | |
| | Cam-lok Surface Mounted Removable Economy Lock Bollard 90mm – Galvanised | SMCLE-G | $354.00 | |
| | Cam-lok Surface Mounted Removable Economy Lock Bollard 90mm – Stainless Steel | SMCLE-SS | $750.00 | |
| | Cam-lok Surface Mounted Removable Economy Lock Bollard 90mm – Galv and Pow | SMCLE | $384.00 | |
| | Cam-lok Additional Registered Key | BCLKEY | $45.00 | |