Gantry Cranes Mobile Mobi-Trac
+ Add to Quote Request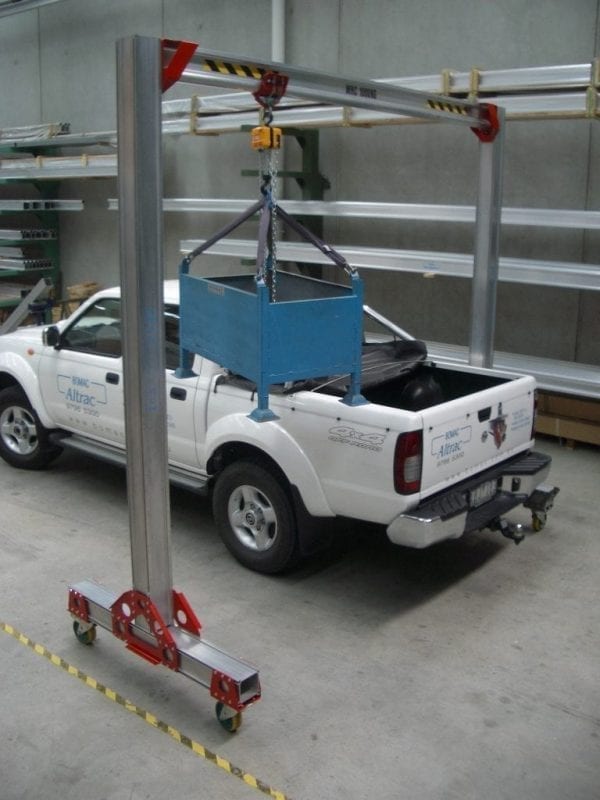 Mobi-Trac is a mobile, free standing, fully demountable, modular gantry. The designers looked outside the commonly referred to 'A Frame' structure to develop Mobi-Trac, a rugged yet lightweight system.
Does Mobi-Trac comply with Australia Standards?
Is Mobi-Trac lightweight?
Are we able to cover maximum span?
Is Mobi-Trac easy to manoeuvre?
Is Mobi-Trac easy to assemble?
Does Mobi-Trac come with a simple instruction manual?
Is it Australian Made?
Can you purchase Mobi-Trac to lift a Maximum Rated Capacity of 1000kg?
The answer to all the above is YES!
Mobi-Trac is a user friendly, stable design and offers greater clearance when lifting product due to its unique design. It is an easy to assemble system, lightweight and complies with AS1418 and yet packs flat for easy storage when not in use. The system has a Maximum Rated Capacity (MRC) of 1000kg and available in two versions, Dynamic (mobile) or Static.
Also, see our:
Product Variations
Image
Description
Product Code
Price (excl. GST)

Mobi-Trac mobile gantry
Height adjustable
Capacity 1000 kg
Span 3000 mm

LMD3

Mobi-Trac mobile gantry
Height adjustable
Capacity 500 kg
Span 4000 mm

LMD4

Mobi-Trac mobile gantry
Height adjustable
Capacity 250 kg
Span 5000 mm

LMD5

Mobi-Trac static gantry
Capacity 1000 kg
Span 3000 mm

LMS3

Mobi-Trac static gantry
Capacity 500 kg
Span 4000 mm

LMS4

Mobi-Trac static gantry
Capacity 250 kg
Span 5000 mm

LMS5