Forklift Jib / Lifting Frame – Bulk Bag
+ Add to Quote Request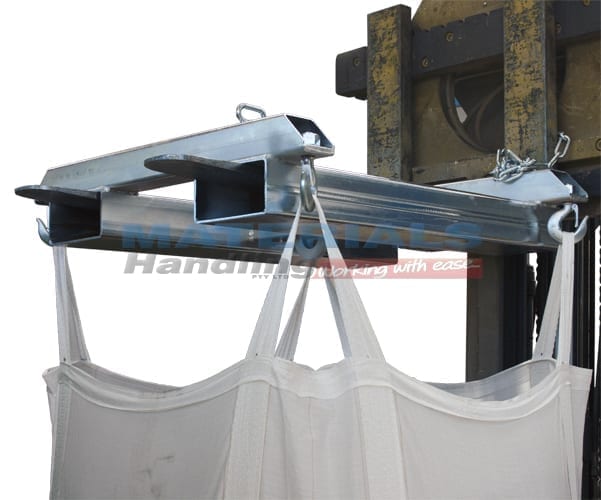 Ideal for overhead lifting, the Forklift/Crane Bulk Bag Jib has an incredibly versatile design for multi-use by forklifts or overhead cranes. This robust, zing-plated attachment handles a range of applications and is the perfect solution for those heavy lifting tasks.
Fitted with four safety swivel hooks and four lifting points, the Bulk Bag Jib (Code: MFBB300) is designed to suit standard bulk bags. Its swivel hooks allow for positive, one-handed connection between the bulk bag and easy disconnection of straps. The unit is built in accordance with relevant Australian Standards and comes complete with an instruction manual, serial plate, certification and risk assessment.
Additional Information
Use a Bulk Bag Jib for effective lifting, handling and transportation of bulk bags. This attachment improves safety procedures and ensures employees are working productively. It's versatile and innovative design allows the attachment to be used between both cranes and forklifts. No need to change the device over when working with different plant equipment, improving workplace efficiency.
Specificiations:
The Forklift/Crane Bulk Bag Jib's specifications are outlined below:
Pocket Size: 185 x 85mm
Pocket Centres: 500mm
Working Load Limit (WLL): 3000kg
Unit Weight: 85kg
Load Centre: 450mm
Hook Centres: 800mm
HCG: 450mm
VCG: -26mm
Durable Zinc Finish
Product Dimensions:
View our Bulk Bag Filling Hopper to learn more about some of our other solutions.
Click the PDF button to learn more.
Product Variations
| | | | | |
| --- | --- | --- | --- | --- |
| | Bulk Bag Lifting Frame- fork or crane | MFBB300 | $880.00 | |