Bulk Bag Filling Frame
+ Add to Quote Request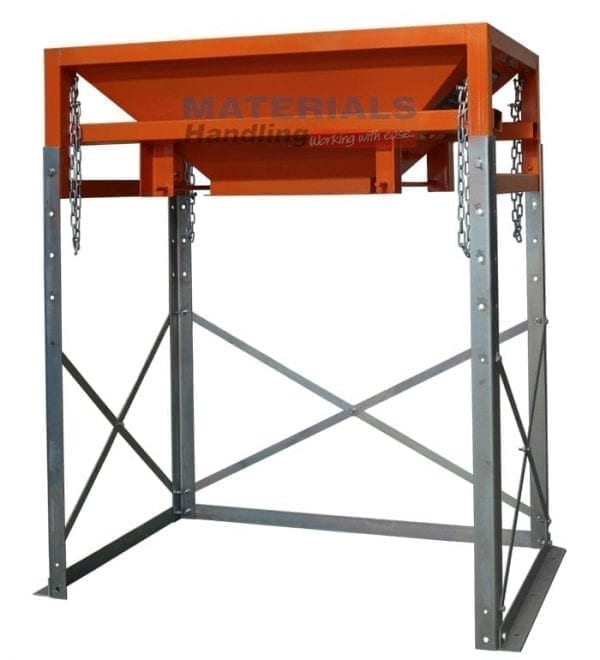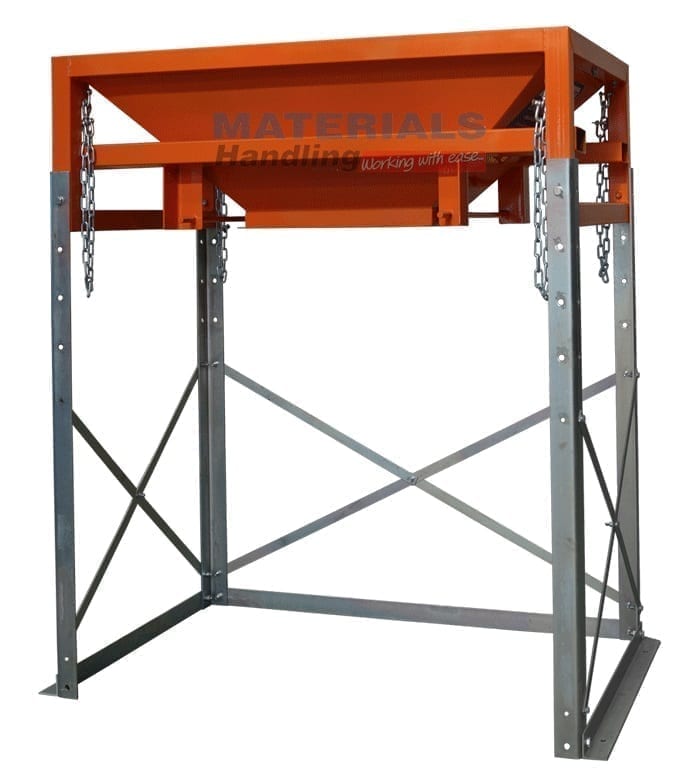 Reduce strenuous labour and protect employees from costly injuries with the MBFU250 Bulk Bag Filling Frame. Also known as a Bulk Bag Hopper Frame, these frames bring safety to the forefront as they are designed to keep one cubic metre of bulk bin bags open when filling heavy loads (of soil, sand, gravel, dirt, etc).
Employees no longer have to risk their safety by holding bags open or manually filling loads themselves. This Bulk Bag Filling Frame ensures your waste management processes are efficient as it holds the bulk bag open at four points. As a result, staff productivity improves and loads are bagged effectively, with limited side spillage. This product saves in time, manual effort and is a cost-effective waste management solution.
Additional Information
How does the Bulk Bag Filling Frame work?
Ideal for landscaping, building and construction industries, this unit easily fills one cubic metre of bulk bags with free-flowing bulk products. It features adjustable bag restraining chains that position the bulky bag at the correct height allowing the loader to easily discharge material into the hopper. With three adjustable height settings, optimal height requirements can be achieved and the unit can suit a variety of operational requirements. Fork pockets are also fitted for easy transportation of the bulk product.
The Bulk Bag Filling Frame hold bags over four corner support frames. It is a strong and robust design, finished in enamel paint. The support frame is entirely zinc plated.
Specifications of MBFU250:
Fork Pocket Size – 140 x 65 mm
Pocket Centres – 850 mm
Working Load Limit (WLL) – 1000 kg
Unit Weight – 270 kg
Load Centre – 900 mm
Paint finish to upper hopper assembly with a zinc finish to the frame
Add extras with your Bulk Bag Filling Frame!
An optional clamshell gate (code: MBFU250CS) is available to maximise material flow and control over the device. This gate is designed for the toughest applications and is commonly used for efficiency overflow rates. They are safe, reliable and increase the ability of your Bulk Bag unit. Another additional add-on is the spill guard (code: MBFU250SG). Exactly as the name implies, this option prevents excess materials from spilling over the edge during pouring. It also helps guide materials into the frame.
Other solutions are available!
View our other Bulk Bag products for some other alternatives to waste management and materials handling.
Click the PDF button to learn more.
Product Variations
| | | | | |
| --- | --- | --- | --- | --- |
| | Bulk Bag Filling Frame | MBFU250 | $2,440.00 | |
| | Optional clamshell | MBFU250CS | $1,340.00 | |
| | Optional spill guard | MBFU250SG | $1,250.00 | |
| | Bulk Bag Lifting Frame- fork or crane | MFBB300 | $880.00 | |