Drum Spill Pallet Rack
+ Add to Quote Request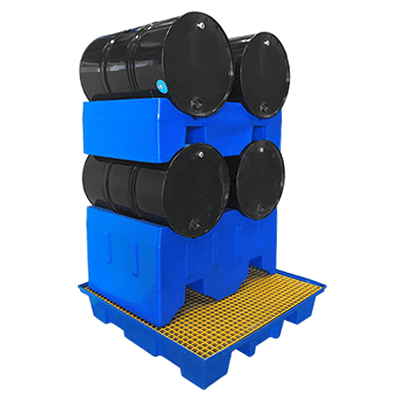 The Drum Rack Spill Pallet is a unique space-saving solution for handling drums. As a customised dispensing unit, it easily accommodates up to 4 x 205 L drums. By utilising this method, any spills, leaks and drips are safely contained. 
Featuring a bund capacity of up to 230 L it is simple to integrate this solution into any workplace. Safely connect our Drum Spill Pallet (also known as a Drum Bund, code: DMXP1002) with our base cradle unit (code: DMXP3003) and add another shelf cradle unit (code: DMXP3002). The entire system creates a safe and secure structure.
Additional Information
Create your own safe storage system with our Drum Rack Spill Pallet. 
It's incredibly simple to ensure your drums are safely stored and any potential leaks are easily contained. With the Drum Rack Spill Pallet, three bunded equipment combine to create an effective storage and spill containment solution.
Our four drum bunded pallet connects to the base cradle, which can safely store 2 x 205 L drums horizontally. By adding an additional shelf cradle unit, another 2 x 205 L drums can be stored on top of this structure. This system is made from tough, UV stable and chemical resistant polyurethane and handles most site conditions.
Please Note: Drums are not included. 
Require a different solution? 
View some of our other Drum Storage options.
Product Variations
| | | | | |
| --- | --- | --- | --- | --- |
| | 4 Drum Bunded Pallet | DMXP1002 | | |
| | Shelf Cradle – Drum Rack Spill Pallet | DMXP3002 | | |
| | Base Cradle – Drum Rack Spill Pallet | DMXP3003 | | |