Flex Impact Polymer Rack End Barriers
+ Add to Quote Request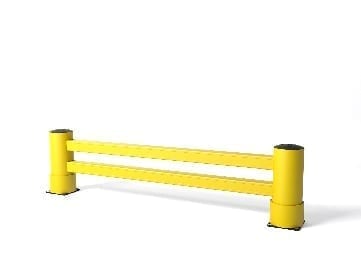 Protect your racking from collisions with our Polymer Rack End Barriers. Constructed with Flex Impact's innovative design, these rack ends are the perfect guarding system to corner uprights. They easily prevent valuable racks from collapsing if struck by a forklift or truck.
Situated at the end of your pallet rack construction, these barriers protect equipment from impacts. Damage to pallet racking can have a number of consequences, resulting in high costs to fix damages. Polymer Rack End Barriers prevent such scenarios and increase safety within any warehouse.
Rack End Barriers are available with option outer rotors for the end, corner posts.  View our two solutions below, in further detail. 
Additional Information
Flex Impact Polymer Rack End Barriers offer impact protection at the end of your racking systems!
Made from the same durable polymer base (like all Flex Impact systems), our Rack Ends easily retain their shape and form. Their built-in memory allows the Rack End protector to spring back into shape after a collision. They are suited to areas where there is frequent vehicle traffic and racking has a risk of impact.
Learn more about our Polymer Rack End options!
The Flex Impact polymer RE Rack End is the optimal protection for your rack ends. It features two bollards for optimal protection to your corner uprights. Warehouse operators who are often under severe time constraints tend to cut corners and this can result in accidents and collisions in a workplace. In some cases, the consequences can be severe – that is, rack collapse, damaged goods, and physical injury. Do not skip on safety where employee and operational safety are concerned. RE Rack End with Optional Rotors allows barriers to achieve their overall effectiveness.  If a vehicle collides with a corner post, the rotor will deflect the impact by spinning. This means racking and posts fo not take the full force of the collision. This is a great option for areas, which are frequented by high traffic.
RE Rack End Features: 
Made from polymer materials, with dynamic built-in memory that absorbs impacts and returns to original shape.
Light and easy to install.
Countersunk anchors avoid forks to shear them off.
Standard Lenght – 1200 mm (custom lengths are available up to 2400 mm).
Total Height – 560 mm
Anchors per post – 4 x )12 x 140 mm) countersunk
Standard Yellow Post and Rail colours
Optional Kick Plates and Stainless Steel Base Plates are available.
The RE Rack End with Support option is fitted with a bollard mid-post to make the system fully modular.  This option provides a fortified version of the existing RE Rack End, from the rack protection series in the Flex Impact family. The fortified mid-post provides extra support and robust reinforcement, protecting from collisions involving the ends of your racking. This option is particularly beneficial for Flex Impact systems that are longer and require additional stability. The additional support increases protection in your warehouse or factory.
Not what you're after?
View our entire Flex Impact range and see how this innovative barrier technology can help your workplace facility.
Click the PDF button to learn more.