Bollards High Security Removable Cam-Lok
+ Add to Quote Request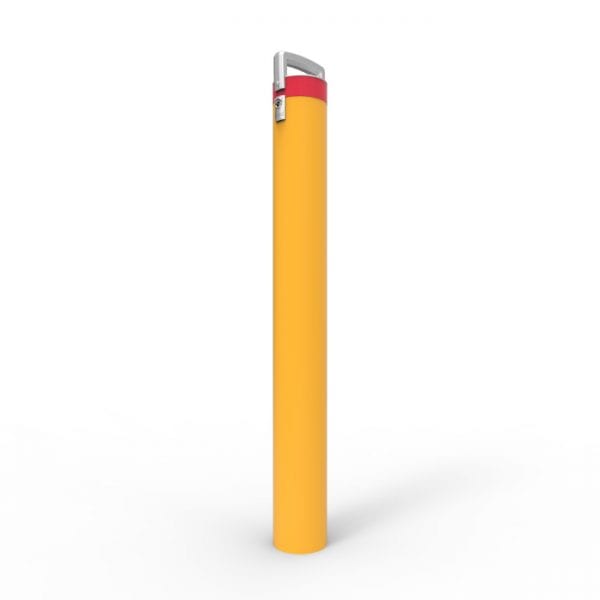 The Cam-Lok High Security Removable Bollard is a simple and effective device which is utilised extensively in the automotive industry. Its design prevents vehicle access in some areas, gives ram raid protection for shop fronts and ensures there is no illegal removal of vehicles from dealers yards.
One of the unique features of Cam-Lok is that it is operated by a key. The posts lock into the ground by their internal locking system. This system utilises high security cam locks with registered keys. With no rail joining each post, pedestrians can freely move in between the barriers.
Cam-Lok High Security Removable Bollards can be installed into existing or new concrete, bitumen or gravel surfaces. The posts can be easily lifted and removed via a non-slip handle. For added pedestrian safety, the in-ground sleeve is supplied with a hinged hole cap (meaning no loose covers) and there is a 25mm reflective band around the top of the post.
Additional Information
Product Specifications:
Material: Steel post with 5mm thick wall.
Finish: Safety Yellow is standard colour. However, other colours are available on request.
Height: Above ground is 950mm; Below ground 225mm.
Weight:

90mm post – 10.5kgs; it's sleeve is 3kg.
140mm post – 21kgs; it's sleeve is 4.5kg.

Installation: In-Ground sleeves are available in either core drilled or new concrete footing.
If you are interested in obtaining more information about this product or placing an order, we ask for you to outline your specifications. The Cam-Lok High Security Removable Bollard comes with a variety of options that you can also include in your package:
Surface mount or hanging post holders for the storage of idle posts (this is highly recommended).
Keyed alike locking (no charge option).
Additional In-Ground Sleeves for post relocation.
Extra keys.
Product Variations
| | | | | |
| --- | --- | --- | --- | --- |
| | Cam-lok Removable Bollard 140mm – Galvanised | BCL140-G | $780.00 | |
| | Cam-lok Removable Bollard 140mm – 316 Stainless Steel | BCL140-SS | $1,304.00 | |
| | Cam-lok Removable Bollard 140mm – 316 Stainless Steel with Handle | BCL140-SSH | $1,200.00 | |
| | Cam-lok Removable Bollard 140mm – Galvanised and Powder Coated | BCL140 | $822.00 | |
| | Cam-lok Removable Bollard 140mm Holder – Surface Mounted | BCL140H | $265.00 | |
| | Cam-lok Removable Bollard 140mm Core Drilled Sleeve | BCL140S-CD | $164.00 | |
| | Cam-lok Removable Bollard 140mm New Concrete Sleeve | BCL140S-NC | $239.00 | |
| | Cam-lok Removable Bollard 140mm Core Drilled Sleeve – Stainless Steel Lid | BCL140SS-CD | $215.00 | |
| | Cam-lok Removable Bollard 140mm New Concrete Sleeve – Stainless Steel Lid | BCL140SS-NC | $280.00 | |
| | Cam-lok Removable Bollard 90mm – Galvanised | BCL90-G | $597.00 | |
| | Cam-lok Removable Bollard 90mm – 316 Stainless Steel | BCL90-SS | $949.00 | |
| | Cam-lok Removable Bollard 90mm – 316 Stainless Steel with Handle | BCL90-SSH | $937.00 | |
| | Cam-lok Removable Bollard 90mm – Galvanised and Powder Coated | BCL90 | $604.00 | |
| | Cam-lok Removable Bollard 90mm Holder – Surface Mounted | BCL90H | $109.00 | |
| | Cam-lok Removable Bollard 90mm Rollerdoor – Galvanised | BCL90RD-G | $640.00 | |
| | Cam-lok Removable Bollard 90mm Rollerdoor – Galvanised and Powder Coated | BCL90RD | $679.00 | |
| | Cam-lok Removable Bollard 90mm Core Drilled Sleeve | BCL90S-CD | $94.00 | |
| | Cam-lok Removable Bollard 90mm New Concrete Sleeve | BCL90S-NC | $147.00 | |
| | Cam-lok Removable Bollard 90mm Core Drilled Sleeve – Stainless Steel Lid | BCL90SS-CD | $114.00 | |
| | Cam-lok Removable Bollard 90mm New Concrete Sleeve – Stainless Steel Lid | BCL90SS-NC | $174.00 | |
| | Cam-lok Additional Registered Key | BCLKEY | $45.00 | |
| | Wall mount bollard storage unit | BHH | $30.00 | |