Articulated Jib Crane
+ Add to Quote Request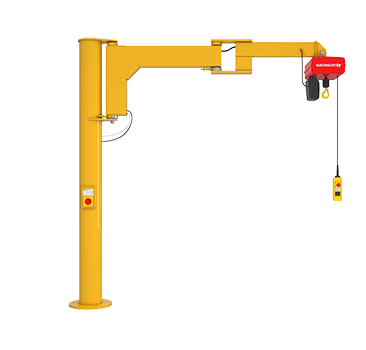 The knuckle joint design allows the jib boom to fold back on itself and even service behind the support column. Available in wall, column or ceiling mounted where the work area is a premium. Articulating Jibs can rotate up to 360° on the primary boom and 300° on the secondary boom. Capacities range from 50 to 500kg with spans of up to 4.8m.
This little task saver has low headroom and enables tools, vacuum tube lifters, balancers and hoists to be suspended and give absolute, infinite and effortless coverage over work stations and around obstructions.
Need a quote? Please let us know the required capacity, reach, height and what lifting device is required. We will be happy to provide a competitive solution.