Universal Lifting Clamp
+ Add to Quote Request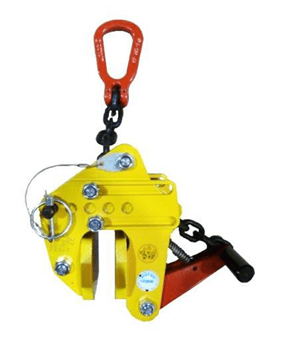 The Universal Lifting Clamp is versatile, safe and ideal for a variety of applications. It combines safety with integrity, in a reliable design that is easy to use for any operator. It can lift and revolve the workpiece up to a Maximum Capacity of 1500 kg.
Offering incredible efficiency during lifting applications, the clamp can be used singularly or in pairs. The large oval suspension ring avoids any linking components and it ensures there is no damage to the load. The jaws of the clamp are non-marking, polyurethane-coated and resistant to most chemicals. The large handle aids in manipulation (when using the manual lock).
The Universal Lifting Clamp features a range of safety benefits that will assist your lifting activities. Its licensed design supports its great abilities.
Additional Information
The Universal Lifting Clamp is reliable and efficient!
Perfect for fragile items, these devices feature automatic clamping and an intuitive design. The clamping action is proportional to the load being lifted and the construction has a permanently attached chain sling and oval suspension ring. Each unit is tested before shipping at 200% of the Working Load Limit as per Australian Standards.
The Universal Lifting Clamp suits a wide range of materials and applications. It can easily lift and tilt smooth or polished pieces such as stainless steel plates, aluminium, lacquered panels, wood, laminated sheets, marble, concrete, glass and plastic.
Important Universal Lifting Clamp Instructions: 
This clamp can be used for typical steels.
The plate or piece to be lifted must always be driven home into the throat of the clamp.
No limit regarding surface hardness of loads to be lifted.
Never use on greasy or oily workpiece.
Do not use the automatic grasping mechanism on fragile loads.
For safety, ensure the clamps are always unlocked when not in used (i.e. closed jaws).
The minimum weight of lifting load should be equal to 5% of the clamp's Working Load Limit (e.g. if the clamp has a WLL of 1000 kg, the minimum weight is 50 kg). This value is given for a clamp in perfect working order and while respecting conditions of use.
Lifting clamps are not suitable for creating permanent joints.
Never lift more than one plate at a time.
Apply the load depreciation if necessary.
Working temperature -20° to +80°C.
For further functioning requirements and dimensions, please download our brochure (available in the drop-down menu above).
Five Models Available: 
LNX05-0-20        – WLL 500 kg
LNXR05-0-100   – WLL 500 kg
LNXR05-20-120 – WLL 500 kg
LNXR054-0-140 – WLL 500 kg
LNX1.5-0-30       – WLL 1500 kg
Other Lifting Solutions are available!
Continue browsing our wide range of Lifting Attachments and Clamps.
Click the PDF button to learn more.
Product Variations
Image
Description
Product Code
Price (excl. GST)

Universal Lifting Clamp 500kg
Gripping range 0-20mm

LNX05-0-20

Universal Lifting Clamp 500kg
Gripping range 0-100mm

LNXR05-0-100

Universal Lifting Clamp 500kg
Gripping range 20-120mm

LNXR05-20-120

Universal Lifting Clamp 500kg
Gripping range 40-140mm

LNXR05-40-140

Universal Lifting Clamp 1500kg
Gripping range 0-30mm

LNX1.5-0-30