Rotacaster Omni-Directional Wheels
+ Add to Quote Request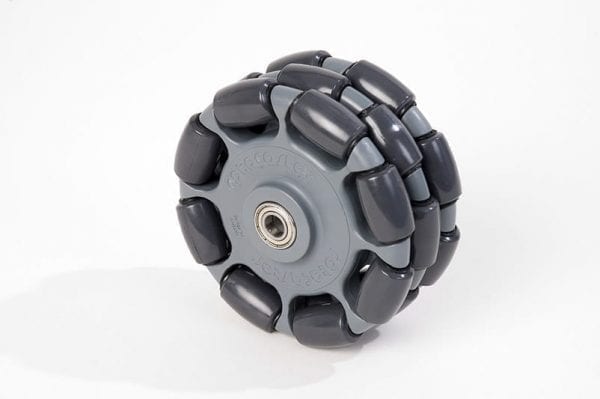 Rotacaster Wheels are a robust, high impact, multi-directional wheel that features a high load bearing capacity.  They have been designed and manufactured for both floor and conveyor transfer use and are light, durable and corrosive resistant. 
Rotacaster Wheels are omni-directional, which means they have 360° manoeuvrability. They provide a perfect alternative to both swivel castors and ball transfer units. The injection moulded frame (incorporates both hub and outer roller axles) and the over-moulded rollers means no pins, inserts or seams (to fall a part). In short, it's tough, robust and built to last (you'd have to wear it our or destroy it otherwise!). 
Also view our Ball Transfers our Omni Wheels as well as our Pop-Up Transfers.
Additional Information
Rotacaster Wheels are available in either 48 mm or 125 mm diameters. They are supplied in double or triple row units and can be combined to form free-turning or keyed driven rollers/wheels. The double and triple wheels are generally fitted with a castor frame, channel or rail mounts onto mobile trolleys, hand trucks and other handling equipment.
Rotacaster Wheels have a huge range of benefits!
These wheels are used for manual and powered conveyor transfer systems, flow rails, pipe rollers and workstation turntables. They are incredibly durable and supportive and offer a range of benefits for your materials handling application.
Stable and simple mounting capabilities – able to tilt or lever off the fixed wheel mounting.
Non-marking polyurethane rollers.
Increased load stability; static centre of load relative to wheel base.
Load Distribution is even as there is an ability to use multiple wheels without swivel offset resistance.
360-degrees capabilities without turning or swiveling wheels.
Better control and tracking when using.
Precise positioning without offset correction.
Minimal wheel space or housing requirements.
Robust and durable construction with wheel frame and roller axles providing a web-like structure (and over-moulded rollers).
Tough, long-lasting and rust free design with full polymer build and no steel pins.
Rotacaster Wheel Specifications:
Note: There are various shaft or bearing sizes other than nominated below. Please confirm when ordering. Download our product brochures (above) for more information!
Continue browsing our range!
View some of our other Castors and Wheels for alternative solutions.
Click the PDF button to learn more.
Product Variations
Image
Description
Product Code
Price (excl. GST)

125mm Double Row Poly Roller
Sealed Bearing 10mm

BRC2

125mm Triple Row Poly Roller
Sealed Bearing 10mm

BRC3

125mm double row castor in frame
With top plate

RMP2125

125mm triple row castor in frame
With top plate

RMP3125

Rotacaster 48mm Double 12.7mm keyed bore
Red 95A polyurethane Roller/Grey Body

R2-0484-9501