Powered Trolley Motorised 5th Wheel
+ Add to Quote Request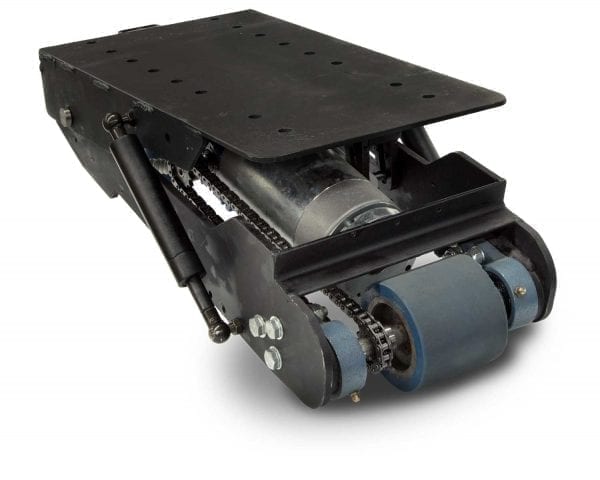 Turn your trolley or hospital bed into a powerful machine with the Motorised Fifth Wheel! This innovative solution helps convert manual push trolleys and hospital beds into power drive devices. Ergonomically designed, the wheel helps operators move heavy loads more efficiently and safely.
Solve manual handling problems by retrofitting this powerful device to an existing trolley or hospital bed. The Motorised Fifth Wheel is an incredible solution capable of moving up to 400 kg on a 6° incline and it eliminates physical strain often caused by manually pushing/pulling heavy loads. It is a handy solution that makes work easy and removes the risk of injury from manually pushing loads.
The Motorised Fifth Wheel kit includes a large polyurethane drive wheel, slide-out battery carriage, battery charger and an ergonomically designed hand grip. The powered system works collectively with the other four wheels to move heavy loads without effort. The handlebars on the human interface can be configured to adapt to almost any trolley or hospital bed.
Additional Information
Introduce a Motorised Fifth Wheel and start moving heavy loads faster!
Many companies seek a way to improve their manual handling activities. Employees who are pushing and pulling tall heavy trolleys numerous times a day can be exposed to repetitive injuries or strains. These stresses, caused by extensive physical labour tasks, can be catastrophic and approximately 60% of workplace injuries within the healthcare industry are directly associated with pushing/reversing trolleys, beds and wheelchairs (especially when moving up and down slopes and rough surfaces).
If your staff is at risk of manual handling injuries, then the answer is simple – motorise your trolleys and start working efficiently, effectively and productively. The Motorised Fifth Wheel is a retrofittable kit for converting hospital beds and trolleys into powered ones.
Features:
Capable of moving up to 400 kg on a 6° incline
Versatile options for control handle position
Smart charger for optimum operation and battery life
Slide-out battery carriage 24V DC power
Emergency stop button
Compact mounting height (minimum 150mm)
The Powered Drive Kit comes complete with:
A powerful motorised drive-wheel (retractable or non-retractable) 

Batteries, Slide Out Battery Shelf & Smart Charger 

Ergonomically Designed Grip/Hand Controllers

Wiring Looms and Connectors
A great solution for many trolleys!
The Motorised Fifth Wheel can work with just about any device as its handle clamps can be customised, ensuring compatibility with a wide variety of trolleys. Some suitable models include meal delivery systems, hotel luggage trolleys, stock trolleys, linen trolleys and even hospital beds.
Continue browsing!
View our Powered Trolleys range for some other safety solutions!
Click the PDF button to learn more.
Product Variations
Image
Description
Product Code
Price (excl. GST)

Retractable powered 5th wheel KIT with 'Gzunda' style control
A retrofittable kit for converting hospital beds into powered ones

MP5WB

Non-retractable 5th wheel KIT with horizontal control

MP5W-H

Non-retractable 5th wheel KIT with vertical control

MP5W-V

Retractable 5th wheel in carriage

MP5W-WHEELR

Non-retractable 5th wheel in carriage

MP5W-WHEEL

Gzunda-style two hand control unit for retractable powered 5th wheel

MP5W-CONTROL

Horizontally mounted control unit for powered 5th wheel

MP5W-CONTROLH

Vertically mounted control unit for powered 5th wheel

MP5W-CONTROLV

Slide out battery carriage

MP5W-BAT