Retractable Safety Barriers Pilot 10M
+ Add to Quote Request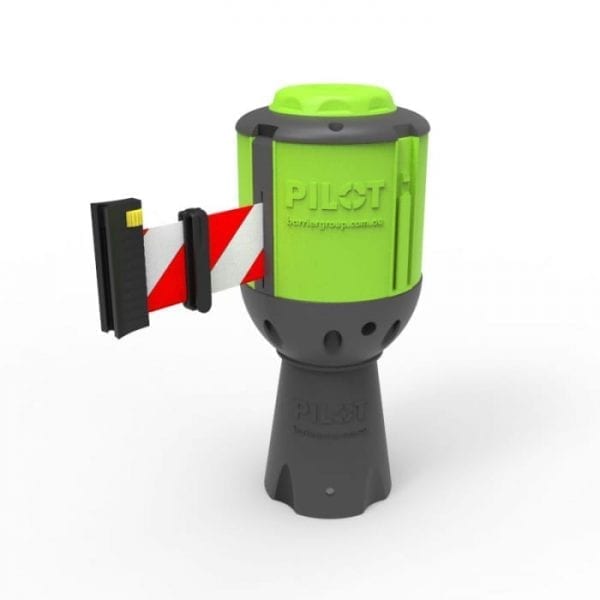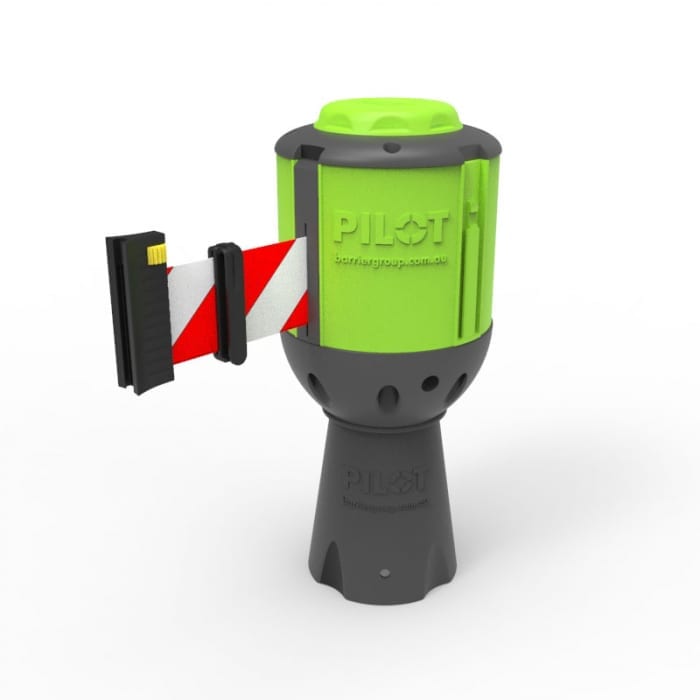 The Pilot Retractable Safety Barrier is a quick and innovative solution that easily secures areas. The system enables areas to be sectioned and closed off, increasing efficiency and allowing for safer management of pedestrian and vehicle traffic. It features a 10-metre braked-belt barrier.
Deploy the Pilot Retractable Barrier into any traffic, construction or warehouse application to easily control hazards and remove risks. This device is so versatile it comes with a huge range of supporting accessories. This means the Pilot can be adapted into any working environment, internally and externally. Some industries where it has been used effectively include airports, shipping and logistics, events, retail, warehouse and distribution centres, and so much more!
A highly functional and versatile option, the Pilot has been designed with a twist-lok mechanism, allowing for quick connection and ease of use. This feature allows the device to be moved and placed on a range of items, including posts, cones, and wall and Magna-mount holders.
Additional Information
How does the Pilot Retractable Safety Barrier work?
Pilot Retractable Safety Barrier has been designed as a complete integrated system. Simply fit the Pilot over the top of your cone or post and it is ready for use. If greater security is required, the Pilot can be screwed to a cone or supporting material or alternatively, an optional wall mount bracket is available.  The Pilot Retractable Safety Barrier can be used to block doorways, close off aisles or anywhere that requires a fixed barrier!
Control any hazardous environment with this innovative and flexible barrier system.  Not only is it a portable solution, but the system has so many benefits that your workplace will be functioning extremely efficiently.
Features:
Full 10-metre retractable belt unit with four-way connectivity.
Unique Twist-Lok quick connect system accepts a range of posts, cones, wall and Magna-mount holders.
Six standard belt colours
The pilot body comes complete with braked belt, locking clip, cone mount adaptor and locking wall receiver.
Huge range of accessories to tailor the design to your workplace needs.
The Pilot is the system you want in command!  It can be accompanied with a range of accessories to suit your application, including Mounting Systems, Sign Holders and Powered Solar Lights.  The Pilot is available with six standard belt colours – including black/yellow stripes, black/white stripes or solid black, blue, red or yellow. Special printed options can be customised to your requirement.
Specifications:
Pilot Belt Barrier with Cone Mount Adaptor.
Material – Plastic Housing
Tape Finish – Red, Blue, Black, Yellow, Red/White, Black/Yellow
Tape Length – 10 metres
Weight – 1.1 kg
Partner this Barrier Solution with a Pilot Solar Powered Hazard Light.
The Pilot can feature an optional switchable warning sensor light that's perfect for dark areas or after hours use (the light comes on when daylight ceases). Solar Powered Hazard Lights are available in red, green, white or amber colours. When fully charged, after exposure to sunlight, the lights will continue to function for many hours without the need for batteries. A built-in switch changes the light operation to completely off, flashing mode or static mode. They also use the unique twist-lok quick to connect the system to attach to the full range of posts, cones, wall and Magna-mount holders.
Other compatible accessories include 20 kg post and base, telescopic multi-post, 1-metre cones, hi-line post and base, removable or fixed in-floor posts, removable spike posts, wall mount bracket, Magna-mount bracket, sign holders, powered hazard light and high 5-hook.
Now available with a 25-metre extension!
The Pilot Jumbo incorporates all the great features of the 10-metre model, with a stronger design and a longer barrier tape extension. When paired with two Pilot Jumbo models, users can even reach up to 50 metres in tape protection.
View more barrier solutions!
We have an extensive range of Flexible Safety Barriers that will help you secure working zones and effectively segregate pedestrians from traffic!
Product Variations
| | | | | |
| --- | --- | --- | --- | --- |
| | Pilot 10m Belt Barrier – Red/White | PILOT-RW | $174.00 | |
| | Pilot 10m Belt Barrier – Red | PILOT-RED | $174.00 | |
| | Pilot 10m Belt Barrier – No Entry | PILOT-NE | $174.00 | |
| | Pilot 10m Belt Barrier – Black/Yellow | PILOT-BY | $174.00 | |
| | Pilot 10m Belt Barrier – Yellow | PILOT-YEL | $174.00 | |
| | Pilot 10m Belt Barrier – Caution | PILOT-C | $174.00 | |
| | Pilot 10m Belt Barrier – Caution No Entry | PILOT-CNE | $174.00 | |
| | Pilot 10m Belt Barrier – Do Not Enter | PILOT-DNE | $174.00 | |
| | Pilot 10m Belt Barrier – Green/White | PILOT-GW | $174.00 | |
| | Pilot 10m Belt Barrier – Blue | PILOT-BLU | $174.00 | |
| | Pilot 10m Belt Barrier – Black | PILOT-BLK | $174.00 | |
| | Pilot 10m Belt Barrier – Blue/White | PILOT-BW | $174.00 | |
| | Fixed In-floor Post for Pilot – Stainless Steel | PFIFSSP | $90.00 | |
| | UPVC Post for PILOT | PHLPVC | $117.00 | |
| | Co-Pilot 20kg Portable Post and Base with Handle | CO-PILOT20 | $482.00 | |
| | Pilot 10kg Cast Iron Base Weight to suit Co-Pilot | PILOT-BW10 | $202.00 | |
| | Pilot Magna-Mount Bracket with NMWR & NWR-LC | PILOT-MMB | $64.00 | |
| | Pilot Wall-Mount Bracket with NWR-LC | PILOT-WMB | $29.00 | |
| | Additional Wall Receiver Locking Clip | NWR-LC | $9.00 | |
| | Pilot-Caddy Magna Mount | PILOT-CMM | $40.00 | |
| | Pilot Caddy Wall Mount Bracket | PILOT-CWM | $10.00 | |
| | Pilot Caddy Dispenser – without bracket | PILOT-CADDY | $20.00 | |
| | Pilot 4 Way Receiver | PILOT-4WR | $20.00 | |
| | Pilot – Cone Mount Adaptor | PILOT-CMA | $19.00 | |
| | Pilot High 5 Hook Accessory | PILOT-H5 | $24.00 | |
| | Pilot 75mm Cradle | PILOT-PC75 | $9.00 | |
| | Pilot 75mm Cradle with Pump Bottle | PILOT-PC75B | $17.00 | |
| | Pilot Solar Powered Light – Amber | PILOT-LTA | $47.00 | |
| | Pilot Solar Powered Light – Green | PILOT-LTG | $47.00 | |
| | Pilot Solar Powered Light – Red | PILOT-LTR | $47.00 | |
| | Pilot Solar Powered Light – White | PILOT-LTW | $47.00 | |
| | Pilot Sign Holder – A4 | PILOT-A4SH | $49.00 | |
| | Pilot Sign Holder – A5 | PILOT-A5SH | $47.00 | |
| | Reflective traffic cone 1000mm – Hi-Vis Reflective | BTC1000R | $60.00 | |
| | Traffic Cone – 1000mm Reflective – Safety Yellow | BTC1000Y | $60.00 | |
| | Traffic Cone – 1000mm Reflective – Value Pack of 10 | BTC1000R-VP | $540.00 | |
| | Traffic Cone – 1000mm Reflective – Yellow – Value Pack of 10 | BTC1000Y-VP | $540.00 | |
| | Rubber Base Weight 6kgs to suit BTC1000R Traffic Cone | BTC1000B | $30.00 | |