Gas Cylinder LPG Storage Cages
+ Add to Quote Request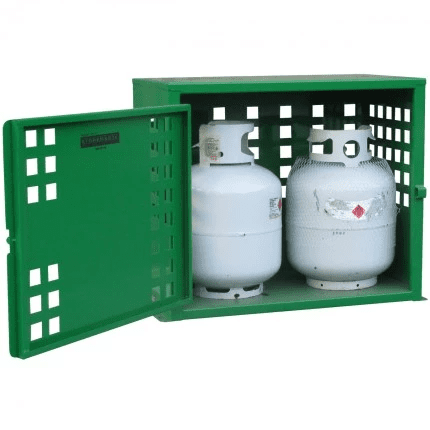 Designed to store a range of LPG cylinders, our unique LPG Gas Cylinder Storage Cabinets are built from heavy-duty steel with fully welded seams. With pad-lockable doors and a durable construction, they easily protect, store and secure cylinders in any warehouse. 
These cabinets are compact modules specifically suited for standard LPG cylinders, small LPG cylinders and general purpose cylinders. Complying completely with Australian Standards, they also feature chain restraints for individual control and natural ventilation. Forklift channels also allow the cabinet to be easily relocated.
Additional Information
Our LPG Gas Cylinder Storage cages are completely Australian Made. 
Available in a range of sizes, these gas bottle cages provide heavy-duty stores to suit 9 kg and 18 kg forklift LPG cylinders. They comply with the complete storage requirements as outlined by Australian Standards and they ensure the safe storage of Class 2.1 Flammable Gases. Built from sheet steel with fully welded seams, the frame is complete with a powder coat finish for quality and durability. Extra security features are also included like bolt-down plates, restraints and lockable doors.
Features: 
Heavy-duty construction and surface protection for outdoor use.
Complies with relevant Australian Standards.
Quality made and manufactured in Australia.
Forklift channels for easy relocation (empty lift only).
Pad-lockable doors and individual cylinder restraints for high security.
Natural ventilation.
Appropriate warning and safety signage that complies with Australian Standards.
A compact design suited for a range of LPG gas cylinders.
Different models are available to suit 9 kg LPG cylinders or 18 kg Forklift LPG cylinders (P size and T size).
Specifications: 
Code
Dimensions (mm) 
Weight (kg)
Storage Capacity
H
W
D

Heavy Duty Gas Stores to suit 9 kg LPG Cylinders

SGQA02
EXT
620
777
433
19.5
2 x P size LPG cylinders
INT
555
650
375
SGQA04
EXT
1191
777
433
48
4 x P size LPG cylinders
INT
552 x 2
650
375
SGQA06
EXT
1191
1086
433
63
6 x P size LPG cylinders
INT
552 x 2
967
375
SGQA08
EXT
1191
777
754
67
8 x P size LPG cylinders
INT
552 x 2
650
695

Heavy Duty Gas Stores to suit 18 kg LPG Cylinders

MGF02
EXT
1005
755
486
35
2 x T size LPG cylinders
INT
885
684
420
MGF04
EXT
1005
755
785
65
4 x T size LPG cylinders
INT
885
684
720
MGF06
EXT
1005
1104
785
95
6 x T size LPG cylinders
INT
885
1033
720
MGF12
EXT
1915
1104
785
182
12 x T size LPG cylinders
INT
877 x 2
1013
720
Note: Cylinders are not included. 
Need another type of dangerous goods store?
View our entire range of Gas Cylinder Handling and Storage solutions.
Click the PDF button to learn more.
Product Variations
| | | | | |
| --- | --- | --- | --- | --- |
| | LPG Store for storage of 2 x 9kg bottle | SGQA02 | $986.00 | |
| | LPG Store for storage of 4 x 9kg bottle | SGQA04 | $1,148.00 | |
| | LPG Store for storage of 6 x 9kg bottle | SGQA06 | $1,451.00 | |
| | LPG Store for storage of 8 x 9kg bottle | SGQA08 | $1,695.00 | |
| | Forklift LPG store – 2 Cylinder | MGF02 | $948.00 | |
| | Forklift LPG store – 4 Cylinder | MGF04 | $1,086.00 | |
| | Forklift LPG store – 6 Cylinder | MGF06 | $1,678.00 | |
| | Forklift LPG store – 12 Cylinder | MGF12 | $2,188.00 | |