Look Out Overhead Hazard Sensors
+ Add to Quote Request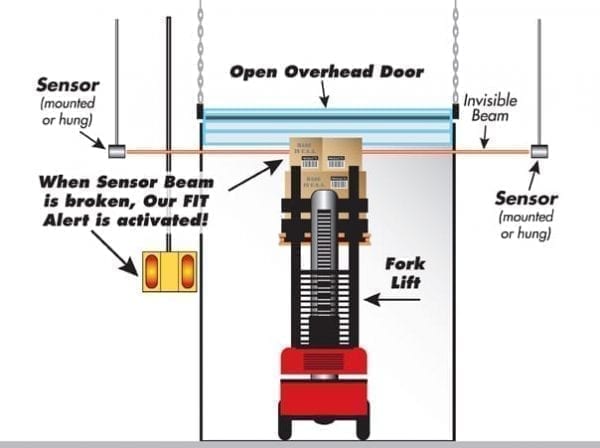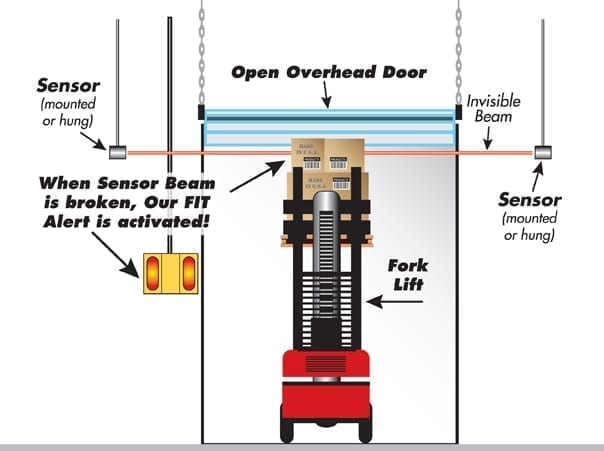 Look Out Overhead Hazard Sensors provide warnings to alert forklift truck drivers that an overhead obstacle is in their pathway. The units are activated when an operator moves a load or mast lifted at a dangerous elevated height that could potentially collide with a building asset. These Collision Awareness systems prevent damage to loads or buildings, accidents and personal injuries caused by such events.
Also known as 'Fit' Height Warning Sensors, our Look Out Overhead Hazard Sensors are ideal for a range of applications. They're perfect of alerting individuals regarding sprinkler heads above racks, overhead heaters, overhead lights, ceiling fans, rack tunnels, overhead storage, air handlers and interior doorways. The sensors make workplace operations more safe and efficient.
Additional Information
Protect your employees and building assets!
Look Out Overhead Hazard Sensors are designed to alert forklift operators of overhead obstacles, low hanging equipment and doorway openings. An invisible sensor beam is mounted before the obstacle and when broken, an alarm is activated notifying the employee of an upcoming hazard. This warning systems removes the possibility of collision, as an operator is aware of the looming height infringement.
Various models are available!
Find the right system for your workplace, as we have a number of different packages to accommodate your needs. Each option has various invisible beam amounts for various heights. When a beam is tripped, both lights and audible alarms continuously sound until the beam has been cleared. Find out more information regarding these models below:
FIT Package 1 (FIT1)
1 Box, 2 Lights and 1 Set of Sensors
Single beam: one invisible electric eye beam
Audible alarm is included
FIT Package 2 (FIT2)
1 Box, 2 Lights and 2 Sets of Sensors
Double beam: two invisible electric eye beams
Optional Hard Wired Universal Transformer available
Audible alarm is included
FIT Package 3 (FIT3)
1 Box, 2 Lights and 3 Sets of Sensors
Triple beam: three invisible electric eye beams
Audible alarm is included
Check out the rest of the range!
Collision Awareness products promote safety within the workplace. Browse the entire range and see out they can help your workplace prevent costly and dangerous accidents!
Click the PDF button to learn more.
Product Variations
Image
Description
Product Code
Price (excl. GST)

FIT 1 Height Warning Sensors
Lights – 2
Sensors – 1 pair
Boxes – 1

FIT1

FIT 2 Height Warning Sensors
Lights – 2
Sensors – 2 pairs
Boxes – 1

FIT2

FIT 3 Height Warning Sensors
Lights – 2
Sensors – 3 pairs
Boxes – 1

FIT3