Mezzanine Gate for Dock Forklift Safety
+ Add to Quote Request
Increase dock and forklift safety with our Dual-Action Mezzanine Gate. This innovative design eliminates access risks and fall hazards by ensuring protection at delivery points on mezzanine levels, elevated floors and loading bays. It easily secures work areas and promotes safe loading and unloading processes.
Geared with spring assistance and auto-latching, this Mezzanine Gate features two sets of opposed and interconnected arms. When one side is open, the other side is lowered to restrict access to an exposed edge. As such, it successfully separates traffic from working areas where forklifts are operated. It also prevents accidents and provides fall protection.
With a modular construction and stand out design, this gate simplify tasks, improves morale and increases safety for any warehouse team. Additionally, the gate can be tailored to specific needs. As standard, two mezzanine double boom gates are available with an opening width of either 1500 mm or 2000 mm.
Additional Information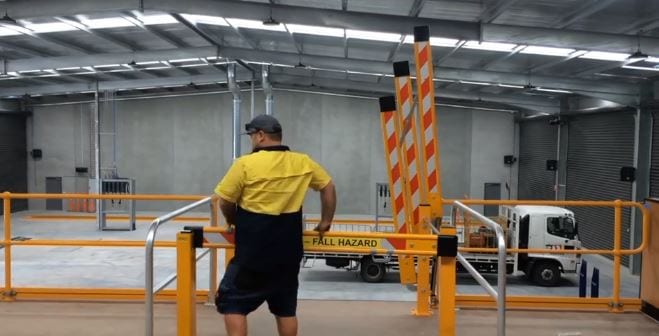 Promote safe delivery procedures in your workplace!
Designed to safely manage unloading/loading and delivery processes, the Mezzanine Gate excludes pedestrians from unprotected edges, by creating a barrier system that segregates zones. Its flexible design allows this gate to be counterbalanced – when one gate is open, the other side is closed. This provides safe and controlled access whilst products are being delivered.
Supplied in kits (that include posts, booms and hardware), this revolutionary system is essential in any loading dock area. The aluminium rails include reflective tape that alerts personnel of the barrier, and its kick rail has been designed in accordance with safety standards. The Mezzanine Gate's standard 1.5-metre opening suits most pallets, however, the construction can be tailored to meet special requirements.
Features: 
Dual-action safety gate.
Ensures safe loading and unloading procedures on elevated areas.
Reduces OH&S risks associated with loading docks, working at heights and loading/unloading procedures.
A spring-assisted operation and counterbalance system that ensures when one gate is open, the other is closed.
Ensures pedestrians are protected against edges and falls.
Innovative and modular design that can be tailored to requirements.
Standard 1.5 metre opening that suits most pallets.
Kick rail constructed in accordance with AS1657:2013.
High-visibility reflective tape along robust aluminium rails.
Kit includes all posts, booms and hardware.
Full installation service available.
Optional double U-Bar side rails with fixings are available.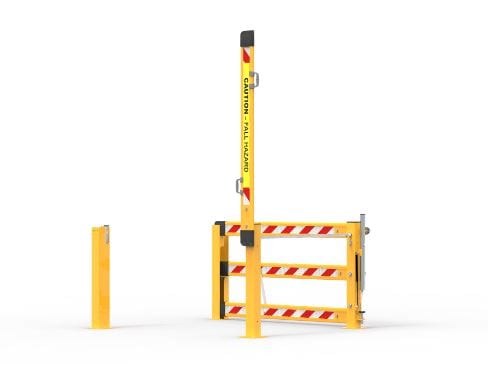 Technical Specifications: 
Operation – Geared with spring assistance.
Construction – Steel frame with aluminium boom arms.
Gate Swing – 90-degrees vertically.
Opening Width – 1500 mm (MZ1500-A); 2000 mm (MZ2000-A)
Overall Width – 2000 mm (MZ1500-A); 2500 mm (MZ2000-A)
Overall Depth – 1900 mm (both models)
Mounting Type – Surface Mounted
Rail Type – Powder-coated aluminium 145 mm x 40 mm
Overhead Clearance – Dependent on working width
Finish – Yellow powder-coated with reflective assets.
Gate Stop – Built-in; auto-latching.
Weight – 107 kg (MZ1500-A); 112.5 kg (MZ2000-A)
Compatible with any rail system.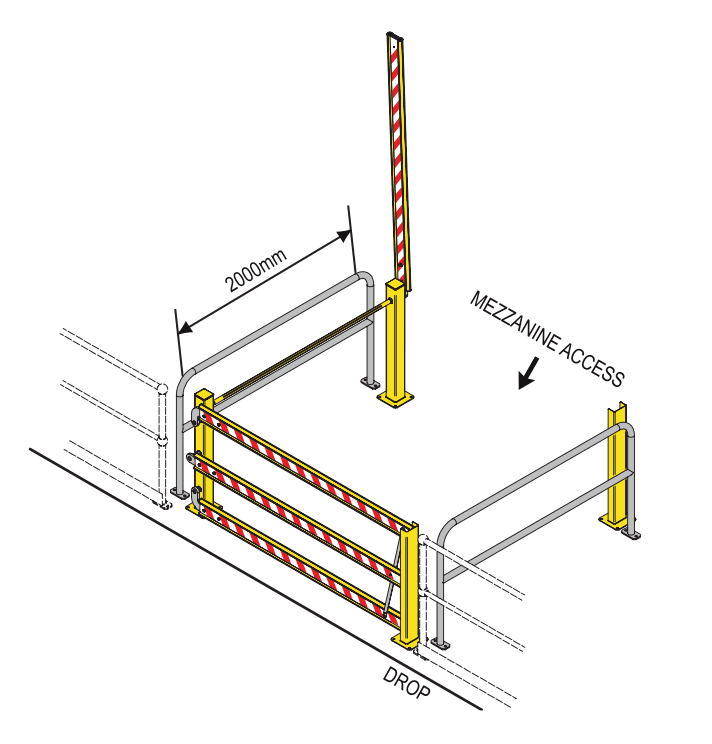 Need an alternative solution?
View our range of Safety Gates to find the right barrier solution for your workplace!
Click the PDF button to learn more.
Product Variations
| | | | | |
| --- | --- | --- | --- | --- |
| | Mezzanine forklift gate kit – 1500mm (125kgs) | MZ1500-A | | |
| | Mezzanine forklift gate kit – 2000mm | MZ2000-A | | |
| | U-Bar Double Rail 2m Surface Mounted – Galvanised | UBD200SM-G | | |