Order Picking and Access Platforms – Navigator
+ Add to Quote Request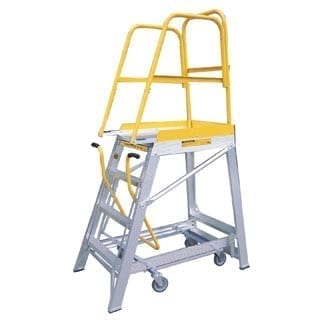 Our Navigator Platforms are a mobile warehouse ladder that allows stable access for order picking duties. Featuring an ergonomic design, the ladders are operated by a control handle, which raises to easily steer the device, transport it to loading areas and reposition for access requirements. When released, the ladder returns to its automatic default position, with four feet floor contact for complete stability.
Their unique operation ensures that the ladders are easy and fast to move around. Each device is designed and tested, in accordance with Australian and New Zealand safety standards, to support a load rating of 150 kg. Fitted with four swivel castors, the Navigator Platforms handles tight spaces. Equipped with two handrails, operators can safely climb up and down the rungs. The platform ladder has no springs within its construction, so there are no risks of the ladder rocking or swaying. It has been designed to be one of the safest access systems on the market! 
Additional Information
Reach new heights with the Navigator Access and Order Picker Platform!
Navigator Platforms are Mobile Warehouse Ladders with a difference.
When using the Navigator Access and Order Picker Platform, an operator is positioned away from the front of the ladder. This means they can maintain normal walking speed when moving to a new location and navigate the device with them. Its single control also allows the platform to move like a trolley for small loads. These systems require minimal effort and save time. They make applications more productive and profitable, as operators can easily use the device. One control does it all – there isn't a safer product on the market!
Navigator Platforms feature a modular design and components can easily be replaced (in the event of accidental damage). The ladder is constructed from high-grade materials and is built for long-lasting use. They are supplied with a Platform Safety Rail system (standard colour – not yellow powder coated) that enables set up from a choice of three configurations to provide improved ergonomics and access for a wide range of applications. When fitted with the optional safety gates, the operator is totally enclosed within the platform area to provide the safest and most possible, productive workspace. Navigator Platforms are also ideal as order and stock picker. 
Key Features: 
Lift and Steer Control – minimal operator effort to relocate the ladder

No Springs – eliminates rocking or swaying resulting in a safer ladder

Four Swivel Castors – perfect handling in tight spaces

Two Handrails – assists safe and easy climbing

Can be retrofitted to accommodate manual or electric lift tables

Complies with Australian, New Zealand, US and European Union Standards
Designed and tested to suit a 150 kg load rating
Complete with a safety railing system that can be adjusted to suit any task (Navigator Pro)
Equipped with an automatic closing gate at the platform entryway (Navigator Pro)
Upgrade to a Navigator PRO… 
Select one of our Navigator PRO models and you'll be further protected against accidental slips. The alternative models feature a fully automatic Auto-Gate, which allows your hands to be free to carry an item and still maintain a safe grip as you enter or leave the work-space. With the Navigator Pro, you also have access to the Rota-Gate which provides a gate access point at the side of the platform, which creates easy access for stock-picking, inspection and many other tasks. 
Choose the right model.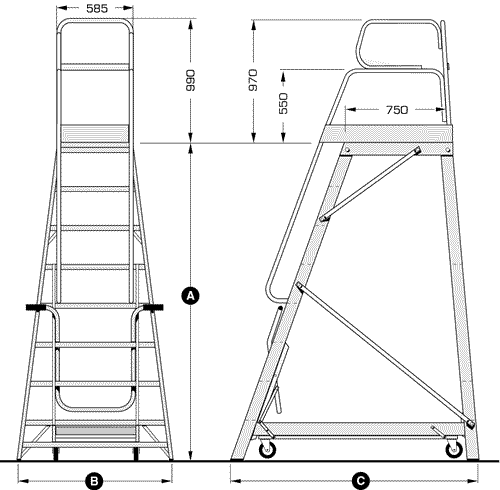 Product Code
Platform Height (mm)
"A"
Platform Width (mm)
"B"
Platform Length (mm)
"C"
SSMN4
1145
755
1295
SSMN5
1435
795
1425
SSMN6
1720
835
1555
SSMN7
2005
875
1685
SSMN8
2295
915
1815
SSMN9
2580
955
1945
SSMN10
2865
995
2075
SSMN11
3155
1035
2205
SSMN12
3440
1075
2335
SSMN13
3735
1115
2465
SSMN14
4015
1155
2595
Continue browsing our great range of ladders and platforms.  We recommend you check out our Tracker Step Through Access Platforms, Tracker Access and Order Picker Platforms and our Lift-Truck Order Picking and Access Platforms. 
Click the PDF button to learn more.
Product Variations
Image
Description
Product Code
Price (excl. GST)

Navigator
Platform height: 1145mm
Working range: 1400-2800mm

SSMN4

Navigator
Platform height: 1435mm
Working range: 1700-3100mm

SSMN5

Navigator
Platform height: 1720mm
Working range: 2000-3400mm

SSMN6

Navigator
Platform height: 2005mm
Working range: 2300-3700mm

SSMN7

Navigator
Platform height: 2295mm
Working range: 2500-3900mm

SSMN8

Navigator
Platform height: 2580mm
Working range: 2800-4200mm

SSMN9

Navigator
Platform height: 2865mm
Working range: 3100-4500mm

SSMN10

Navigator
Platform height: 3155mm
Working range: 3400-4800mm

SSMN11

Navigator
Platform height: 3440mm
Working range: 3700-5100mm

SSMN12

Navigator
Platform height: 3735mm
Working range: 4000-5400mm

SSMN13

Navigator
Platform height: 4015mm
Working range: 4300-5700mm

SSMN14

Navigator PRO
Platform height: 1145mm
Working range: 1400-2800mm

SSMNP4

Navigator PRO
Platform height: 1435mm
Working range: 1700-3100mm

SSMNP5

Navigator PRO
Platform height: 1720mm
Working range: 2000-3400mm

SSMNP6

Navigator PRO
Platform height: 2005mm
Working range: 2300-3700mm

SSMNP7

Navigator PRO
Platform height: 2295mm
Working range: 2500-3900mm

SSMNP8

Navigator PRO
Platform height: 2580mm
Working range: 2800-4200mm

SSMNP9

Navigator PRO
Platform height: 2865mm
Working range: 3100-4500mm

SSMNP10

Navigator PRO
Platform height: 3155mm
Working range: 3400-4800mm

SSMNP11

Navigator PRO
Platform height: 3440mm
Working range: 3700-5100mm

SSMNP12

Navigator PRO
Platform height: 3735mm
Working range: 4000-5400mm

SSMNP13

Navigator PRO
Platform height: 4015mm
Working range: 4300-5700mm

SSMNP14

Auto-closing safety gate
Standard on PRO units

SM-AUTOGATE

Rota-gate RH side gate folds down
Provides better order picking access
Standard on PRO range

SM-ROTAGATE