Order Picking and Access Platforms – Tracker
+ Add to Quote Request
Our Tracker Access and Order Picker Platforms are an all-terrain, versatile mobile access platform ladder. With two large diameter wheels, these ladders move easily over sealed/unsealed surfaces and slopes, making it ideal for both indoor and outdoor use.
Featuring a tilt, steer and brake control it is fast and easy to move to the job. Release of the control automatically returns to the stationary mode where it is braked and totally stable. Fitting of the optional shelf places a toolbox or clipboard at the ideal working height. Tracker ladders are also ideal as a functional order and stock picker.
Additional Information
Tracker Work Platforms can access all types of terrains.
Our Tracker Ladders are a safe and easy-to-use work platform! 
Featuring a completely modular design, Tracker ladders are manufactured from high-quality materials and are built to last. Parts can easily be replaced in the event of accidental damage. The units comply with all relevant Australia, New Zealand and international standards for safety.
Using only one control, Tracker ladders do it all. When moving the platform, an operator is positioned away from the front to allow for normal walking speed. The device requires no additional set-up and ensures everyday work activities are completed in less time to increase productivity.
Key features of our order picker platform
Completely mobile
When you're on the job you often need to be on the move too. The Tracker Access and Order Picker Platforms from Materials Handling provides complete and uncompromised mobility. With an easy-to-use tilt mechanism for optimal control, a simple brake control for fast and easy access, and ergonomic design to aid in steering, you can relocate the platform wherever you need.
Large wheels
Thanks to the large wheels attached to the platform, you don't have to worry about the surfaces you're travelling over either. Each wheel is manufactured to high quality specification with durability and strength to keep up with your work movements. Most surfaces are safe for travelling over, making this order picker platform the leading choice for workplace flexibility.
Easy to reposition
Unlike other platforms on the market, which may be easy to move but not easy to set up, the Tracker requires no additional set-up. It's easy to reposition the platform how and where you like. This means that you'll be able to benefit from safe access wherever you need without worrying about lost time or productivity.
Tilt and steer control
Ladders and platforms need to be sturdy and secure to ensure workplace health and safety. But there's no reason why this should make them hard to move. The unique tilt and steer control on our order picker platform means that minimal effort is required by an operator to achieve mobility and replace the ladder.
Double handrails
Two handrails assist with the safe and easy climbing onto the platform. Designed to provide comfort and assistance, the handrails start at a convenient ergonomic height to maximise accessibility without adding unnecessary weight to the structure.
Load rating
The Tracker platform is designed for a high load rating of 150 kg safely without compromising the structural integrity or stability of the operator. This allows for plenty of weight for workers to access the platform with any tools or equipment they need to get the job done without a hassle.
Industry compliant
Safety is the number one priority. The order picker platform complies with the strictest of Australian standards and authority requirements. Additionally, it adheres to international and industrial standards and regulations as well. There's no need to worry about your workers' safety with the Tracker.
Safety railing
The uniquely designed safety railing allows for a secure working area with adjustable heights. This means any operator will both feel and be safe while carrying out their job. Please note, this feature is on the Tracker Pro platform only.
Auto closing gate
Part of the Tracker commitment to safety is the inclusion of an automatic closing gate. As an extra safety feature, this provides peace of mind for operators and managers. This is a feature on the Tracker Pro platform only.
Auto stationary mode
When the order picker platform is not being moved, the manual release of the tilting and steering control automatically engages the default stationary mode. This mode is completely stable with the brake totally re-engaged for extra safety and security.
Optional shelf
The Tracker platform comes with an optional shelf for placing toolboxes, equipment or a clipboard. Designed to sit at an optimal working height, it's not just convenient to have, it's comfortable to use.
Upgrade to a Tracker Pro… 
Tracker Ladders are supplied with a Platform Safety Rail system (standard colour – not yellow powder coated) that enables set up from a choice of three configurations to provide improved ergonomics and access for a wide range of applications. Upgrade to a Tracker Pro model and you are protected against accidentally stepping off the front of the platform. Select either an Auto-Gate or Rota-Gate to improve access and completely enclose a worker within the platform.  With the fully automatic Auto-Gate, your hands are free to carry an item and still maintain a safe grip as you enter or leave the work-space. Alternatively, the Rota-Gate which provides a gateway at the side of the platform creating easy access for stock-picking, inspection and many other tasks. 
Choose the right model for your task.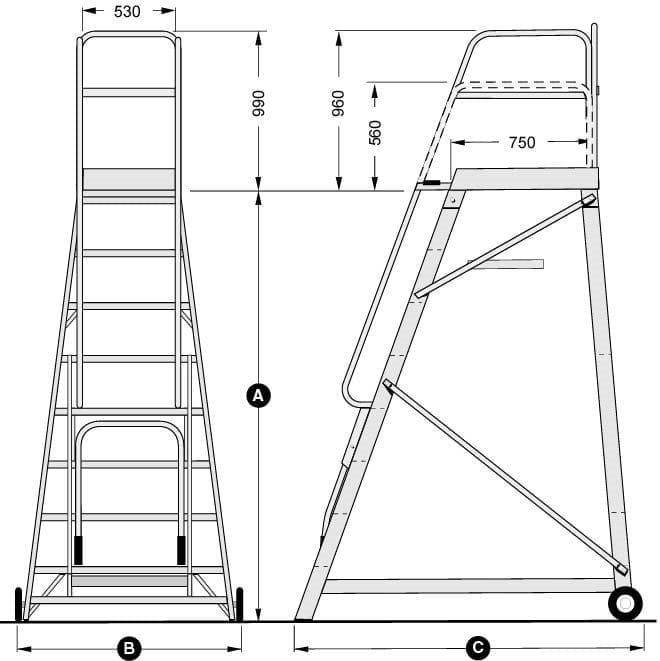 | | | | |
| --- | --- | --- | --- |
| Code | "A" (mm) | "B" (mm) | "C" (mm) |
| SSMT3 | 860 | 840 | 1210 |
| SSMT4 | 1145 | 895 | 1340 |
| SSMT5 | 1435 | 935 | 1470 |
| SSMT6 | 1720 | 975 | 1600 |
| SSMT7 | 2005 | 1015 | 1730 |
| SSMT8 | 2295 | 1055 | 1860 |
| SSMT9 | 2580 | 1095 | 1990 |
| SSMT10 | 2865 | 1135 | 2120 |
| SSMT11 | 3155 | 1175 | 2250 |
| SSMT12 | 3440 | 1215 | 2380 |
| SSMT13 | 3725 | 1255 | 2510 |
| SSMT14 | 4015 | 1295 | 2640 |
All units above are in millimetres.
Tracker ladders require space for an operator to move left or right of the unit. This is in order to maintain steering capabilities in confined spaces. When using the ladder always check the height of doorways and overhead structures, space for turning at the end of storage bays and space for movement in the aisle and between machinery, equipment or fixtures.
View other ladders like our Tracker! 
We recommend our Navigator Access Platform, Tracker Step Through Ladders or our Lift-Truck model as alternative access and order picking devices. 
Click the PDF button to learn more.
Product Variations
Image
Description
Product Code
Price (excl. GST)

Tracker
Platform height: 860mm
Working range: 1100-2700mm

SSMT3

Tracker
Platform height: 1145mm
Working range: 1400-2800mm

SSMT4

Tracker
Platform height: 1435mm
Working range: 1700-3100mm

SSMT5

Tracker
Platform height: 1720mm
Working range: 2000-3400mm

SSMT6

Tracker
Platform height: 2005mm
Working range: 2300-3700mm

SSMT7

Tracker
Platform height: 2295mm
Working range: 2500-3900mm

SSMT8

Tracker
Platform height: 2580mm
Working range: 2800-4200mm

SSMT9

Tracker
Platform height: 2865mm
Working range: 3100-4500mm

SSMT10

Tracker
Platform height: 3155mm
Working range: 3400-4800mm

SSMT11

Tracker
Platform height: 3440mm
Working range: 3700-5100mm

SSMT12

Tracker
Platform height: 3735mm
Working range: 4000-5400mm

SSMT13

Tracker
Platform height: 4015mm
Working range: 4300-5700mm

SSMT14

Tracker PRO
Platform height: 860mm
Working range: 1100-2700mm

SSMT3P

Tracker PRO
Platform height: 1145mm
Working range: 1400-2800mm

SSMT4P

Tracker PRO
Platform height: 1435mm
Working range: 1700-3100mm

SSMT5P

Tracker PRO
Platform height: 1720mm
Working range: 2000-3400mm

SSMT6P

Tracker PRO
Platform height: 2005mm
Working range: 2300-3700mm

SSMT7P

Tracker PRO
Platform height: 2295mm
Working range: 2500-3900mm

SSMT8P

Tracker PRO
Platform height: 2580mm
Working range: 2800-4200mm

SSMT9P

Tracker PRO
Platform height: 2865mm
Working range: 3100-4500mm

SSMT10P

Tracker PRO
Platform height: 3155mm
Working range: 3400-4800mm

SSMT11P

Tracker PRO
Platform height: 3440mm
Working range: 3700-5100mm

SSMT12P

Tracker PRO
Platform height: 860mm
Working range: 1100-2700mm

SSMT13P

Tracker PRO
Platform height: 1145mm
Working range: 1400-2800mm

SSMT14P

Auto-closing safety gate
Standard on PRO units

SM-AUTOGATE

Rota-gate RH side gate folds down
Provides better order picking access
Standard on PRO range

SM-ROTAGATE