Access Platforms – Step Thru Tracker
+ Add to Quote Request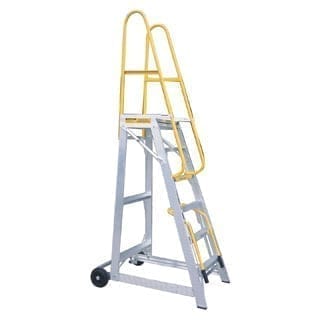 Our Tracker Step Thru Access Platform is very versatile and easy to use. Its design ensures the ladder is fully mobile and able to navigate across all types of terrains. With two large diameter wheels, it moves easily over sealed or unsealed surfaces and slopes making it ideal for indoor or outdoor use. 
The Tracker Step Thru eliminates dangerous risks associated with accessing heights by providing a stable 'stepping-off' platform and side safety rails for firm support. An operator can climb up and down the platform with ease and perform required duties safely. The device is made in accordance with relevant safety standards and is more than just a platform ladder.
Additional Information
Provide safe mobile access with the Tracker Step Thru Access Platform! 
Tracker Step Thru Ladders moves quickly and easily. 
These innovative ladders feature mobile, indoor and outdoor access with fast relocation. Completely Australian made, it features a tilt, steering control and brake control that is fast and easy to move to the job. Release of the control automatically returns Tracker Step Thru to the stationary mode where it is braked and totally stable. Fitting of the optional shelf places a toolbox, equipment or clipboard at the ideal working height.
The Tracker access, stock and order picker units allow step through access to:
Transport vehicles
Raised storage areas
Loading docks
Elevated work levels
They feature oval grab rails for the safe transfer of personnel. They are safe, stable, mobile and easy to use.  Their stable stepping off platform ensures a worker can easily transition to access containers, mezzanine floors and similar places. The ladders are manufactured with high-quality materials and built for longevity. The Tracker Step Thru reduces exposure to potential access risks.
Key Features: 
Stepping through access that's safe and mobile
Three-point contact enabled at all times
Moves easily over all terrains including sealed and unsealed surfaces
Moves quickly to where you need the ladder
Designed and tested with a load rating of up to 150 kg
Meets Australian, New Zealand, US and European standards
Range of available sizes to meet your required needs.
A variety of models available!
| | | | |
| --- | --- | --- | --- |
| Code | A (mm) | B (mm) | C (mm) |
| S3ST | 860 | 780 | 900 |
| S4ST | 1145 | 820 | 1005 |
| S5ST | 1435 | 860 | 1110 |
| S6ST | 1720 | 900 | 1215 |
| S7ST | 2005 | 940 | 1330 |
| S8ST | 2295 | 980 | 1460 |
| S9ST | 2580 | 1020 | 1590 |
| S10ST | 2865 | 1060 | 1720 |
Please note: All dimensions above are in millimetres. 
Require an alternative ladder?
View our wide range of Access Platforms to find the right solution for your application!
Click the PDF button to learn more.
Product Variations
Image
Description
Product Code
Price (excl. GST)

Platform height: 860mm
Service height: 900-1185mm

S3ST

Platform height: 1145mm
Service height: 1185-1475mm

S4ST

Platform height: 1435mm
Service height: 1475-1760mm

S5ST

Platform height: 1720mm
Service height: 1760-2045mm

S6ST

Platform height: 2005mm
Service height: 2045-2335mm

S7ST

Platform height: 2295mm
Service height: 2335-2620mm

S8ST

Platform height: 2580mm
Service height: 2620-2905mm

S9ST

Platform height: 2865mm
Service height: 2905-3150mm

S10ST