Tracker Step Through Access Platforms
+ Add to Quote Request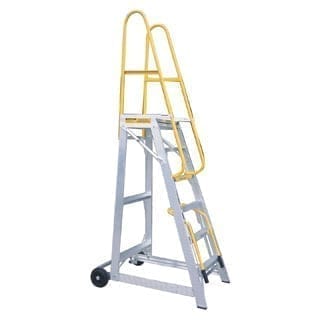 Stockmaster Tracker Step Through is an all terrain, very versatile and easy to use mobile platform access ladder. With two large diameter wheels it moves easily over sealed or unsealed surfaces and slopes making it ideal for indoor or outdoor use. Featuring a tilt, steer and brake control it is fast and easy to move to the job. Release of the control automatically returns Tracker to the stationary mode where it is braked and totally stable. Fitting of the optional shelf places a tool box or clip board at the ideal working height.
The Tracker access, stock and order picker units allow step through access to:
Transport vehicles
Raised storage areas
Loading docks
Elevated work levels
They feature oval grab rails for the safe transfer of personnel. They are safe, stable, mobile and easy to use.
Product Variations
Image
Description
Product Code
Price (excl. GST)

Platform height: 860mm
Service height: 900-1185mm

S3ST

Platform height: 1145mm
Service height: 1185-1475mm

S4ST

Platform height: 1435mm
Service height: 1475-1760mm

S5ST

Platform height: 1720mm
Service height: 1760-2045mm

S6ST

Platform height: 2005mm
Service height: 2045-2335mm

S7ST

Platform height: 2295mm
Service height: 2335-2620mm

S8ST

Platform height: 2580mm
Service height: 2620-2905mm

S9ST

Platform height: 2865mm
Service height: 2905-3150mm

S10ST