Electric Chain Hoists – Hitachi
+ Add to Quote Request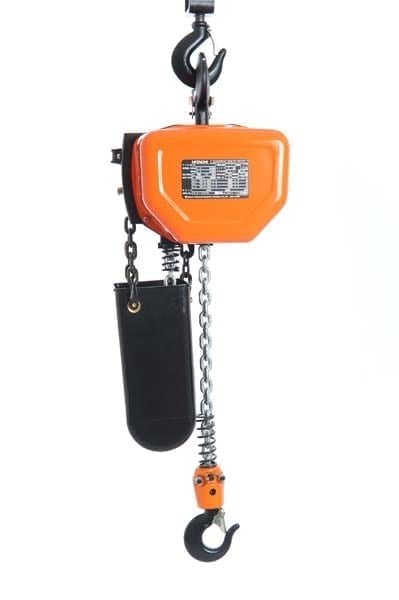 The Hitachi Electric Chains Hoists are efficiently constructed. Their robust design make them a first choice for many customers all over the globe. Every unit is equipped with mechanical overload limit and an electro-magnetic brake system. They operate proficiently and are extremely quiet. Their rugged steel plate build ensures every unit is safe to use outdoors and in a variety of environments. Furthermore the push button pendant controll benefits users with safe operation.
A range of hoist speeds are available. Wireles remote control technology can be included. Push, geared or electric trolleys can be coupled with these devices upon request.
These hoists are available in 415V three phase or 240V single phase power supply and a choice of single speed or dual speed lift.
Product Variations
Image
Description
Product Code
Price (excl. GST)

250kg Chain Hoist Single Speed 10m/min 415v 50Hz

L14S

250kg Chain Hoist Single Speed 5m/min 240v 50Hz

L14S1

250kg Chain Hoist Two Speed 7.2 & 1.8m/min 415v 50Hz

L14SN

500kg Chain Hoist Single Speed 7.2m/min 415v 50Hz

L12S

500kg Chain Hoist Single Speed 3.6m/min 240v 50Hz

L12S1

500kg Chain Hoist Two Speed 7.2 & 1.8m/min 415v 50Hz

L12SN

1000kg Chain Hoist Single Speed 7.1m/min 415v 50Hz

L1F

1000kg Chain Hoist Single Speed 4.6m/min 415v 50Hz

L1S

1000kg Chain Hoist Single Speed 2.3m/min 240v 50Hz

L1S1

1000kg Chain Hoist Two Speed 4.6 & 1.2m/min 415v 50Hz

L1SN

2000kg Chain Hoist Single Speed 6.8m/min 415v 50Hz

L2F

2000kg Chain Hoist Two Speed 6.8 & 1.7m/min 415v 50Hz

L2FN

2000kg Chain Hoist Single Speed 2.3m/min 415v 50Hz

L2S

2000kg Chain Hoist Single Speed 1.1m/min 240v 50Hz

L2S1

2000kg Chain Hoist Two Speed 2.3 & 0.6m/min 415v 50Hz

L2SN

3000kg Chain Hoist Single Speed 4.1m/min 415v 50Hz

L3F

3000kg Chain Hoist Two Speed 4 & 1m/min 415v 50Hz

L3FN

5000kg Chain Hoist Single Speed 2.8m/min 415v 50Hz

L5F

5000kg Chain Hoist Two Speed 2.8 & 0.7m/min 415v 50Hz

L5FN

1 tonne Electric Trolley Single Speed 10.5m/min 415v 50Hz
Suits 75 – 125mm width beams

L1ET

1 tonne Electric Trolley Two Speed 21 & 5.3m/min 415v 50Hz
Suits 75 – 125mm width beams

L1ETN

2 tonne Electric Trolley Single Speed 10.5m/min 415v 50Hz
Suits 100 -150mm width beams

L2ET

2 tonne Electric Trolley Two Speed 21 & 5.3m/min 415v 50Hz
Suits 100 -150mm width beams

L2ETN

3 tonne Electric Trolley Single Speed 10.5m/min 415v 50Hz
Suits 100 -150mm width beams

L3ET

3 tonne Electric Trolley Two Speed 21 & 5.3m/min 415v 50Hz
Suits 100 -150mm width beams

L3ETN

5 tonne Electric Trolley Single Speed 10.5m/min 415v 50Hz
Suits 125 -175mm width beams

L5ET

5 tonne Electric Trolley Two Speed 21 & 5.3m/min 415v 50Hz
Suits 125 -175mm width beams

L5ETN