Girder Trolleys-Push
+ Add to Quote Request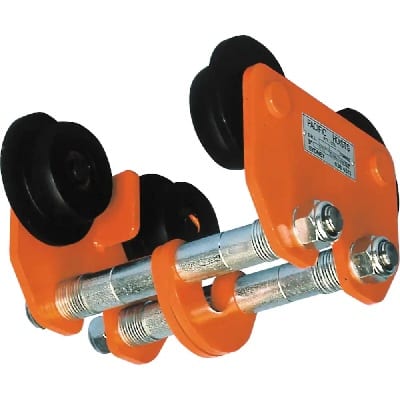 A strongly constructed, fully adjustable trolley available in single and dual pin versions. Designed to fit the flanges of both RSJ's and universal beams.
All girder trolleys are manufactured to comply with AS4991.
Fully adjustable to suit various beam widths.
Fitted with anti-drop plates for improved safety and compliance.
High-grade, fully sealed bearings for maintenance free extended life.
Also see our range of Geared Girder Trolleys and our Electric Girder Trolleys
Product Variations
Image
Description
Product Code
Price (excl. GST)

Girder Trolley Push Type Twin Pin
0.5T 62-172mm Beam Width

LPPT105

Girder Trolley Push Type Twin Pin
1T 76-204mm Beam Width

LPPT110

Girder Trolley Push Type Twin Pin
2T 90-216 mm Beam Width

LPPT120

Girder Trolley Push Type Twin Pin
3T 126-210mm Beam Width

LPPT130

Girder Trolley Push Type Twin Pin
5T 126-210mm Beam Width

LPPT150

Girder Trolley Push Type Twin Pin
10T 125-310mm Beam Width

LPPT160

Girder Trolley Push Type Single Pin
0.5T 50-152 mm Beam Width

LPPT305

Girder Trolley Push Type Single Pin
1T64-203 mm Beam Width

LPPT310

Girder Trolley Push Type Single Pin
2T 88-203 mm Beam Width

LPPT320

Girder Trolley Push Type Single Pin
3T 100-203 mm Beam Width

LPPT330

Girder Trolley Push Type Single Pin
5T 114-203 mm Beam Width

LPPT350