Gas Cylinder Storage Cages
+ Add to Quote Request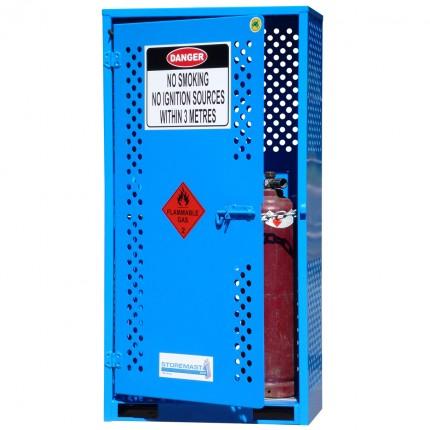 Our Gas Cylinder Storage Cages are heavy-duty, relocatable goods stores that are designed for the restraint, protection and transport of various gas cylinder sizes. They are commonly used within a number of industries, including manufacturing, construction, hospitality, medical, maintenance and warehousing.
These cages comply with relevant Australian Standards and can be trusted to provide a safe and secure enclosure for gas cylinders. A range of sizes and configurations for each cage are available, with options like single-side, open or dual access, trolleys and crane lift-able features. They are suited to non-flammable, flammable, non-toxic, poisonous gas and oxidising gas bottles.
Additional Information
Gas Cylinder Storage Cages have many safety benefits!
Our wide-range of dangerous store units includes a wide variety to accommodate most applications. Capacity varies from D, E, F and G sizes (acetylene and industrial). Made with a heavy-duty construction with high-security pad-lockable doors, these cages perfectly protect cylinders. They also feature individual cylinder restraining chains for economical transport and storage.
Features: 
Natural ventilation that complies with relevant Australian Standards.
High-security build with a pad-lockable door.
Forklift channels for easy relocation (empty lift only)
Complies with relevant Australian Standards.
Heavy-duty construction and surface protection for outdoor use.
Individual cylinder restraints that allow each gas cylinder to be secured.
Appropriate warning and safety signage.
Manufactured in Australia.
Suitable for storage of Class 2.1, 2.2 and 2.3 dangerous gases.
Specifications: 
Gas Cylinder Storage Cages – 
Code
External Dimensions (mm)
Weight (kg)
H
W
D
MG1SS
1760
554
585
70
MG2SS
1760
855
585
96
MG4SS
1905
855
955
134
MG6SS
2046
1360
985
295
MG12SS
2046
1760
1205
406
MG24SS
2046
3670
1205
710
MG04D
2046
880
990
80
MG06D
2046
1250
990
95
MG04DS
2046
880
1030
110
MG06DS
2046
1250
1030
130
Please Note: Gas Cylinders are not included.
Additional accessories are available. 
Easily move gas cylinders around the workplace with our GTR10 Gas Cylinder Trolley. Ideal for single high-pressure industrial cylinders (any size), this robust trolley is lightweight, easy to navigate and features a strong construction. The GTR10 has solid rubber tyres, plus restraint straps that grip the cylinder and is designed in accordance with Australian Standards.
Alternatively, our GCL10 Crane Liftable Oxy/Acetylene Trolley stores and moves cylinders into safe and secure locations. It is equipped with fork channels, crane lifting attachment, adjustable handles and solid soft cushioned wheels, making it incredibly mobile – even by forklift, excavator or crane. The GCL10 has a Safe Working Load Limit of 300 kg and a high-build powdercoat finish.
Store Gas Cylinders effectively!
We have a wide range of Dangerous Stores solutions. Try our LPG Gas Cylinder Storage Cages that helps protect other sized gas bottles.
Click the PDF button to learn more.
Product Variations
| | | | | |
| --- | --- | --- | --- | --- |
| | Gas storage – single sided access | MG1SS | | |
| | Gas storage – single sided access | MG2SS | | |
| | Gas storage – single sided access | MG4SS | | |
| | Gas storage – single sided access | MG6SS | | |
| | Gas storage – single sided access | MG12SS | | |
| | Gas storage – single sided access | MG24SS | | |
| | Gas storage – dual sided access | MG04D | | |
| | Gas storage – dual sided access | MG06D | | |
| | Gas storage – dual sided access | MG04DS | | |
| | Gas storage – dual sided access | MG06DS | | |
| | Single Gas Cylinder trolley | GTR10 | | |
| | Crane liftable Oxy /Acetylene trolley wi | GCL10 | | |
| | Crane Liftable Gas Cylinder Cage | GCL20 | | |
| | Vehicle Gas Cylinder Stores | GVC04 | | |
| | Vehicle Gas Cylinder Stores | GVC06 | | |
| | Vehicle Gas Cylinder Stores | GVC08 | | |
| | Crane liftable Gas Cylinder Stillage | GCL15 | | |