Flex Impact Traffic Barrier Plus
+ Add to Quote Request

Flex Impact Traffic Barrier Plus is a safe solution that combines the technologies of our polymer Traffic Barrier and Handrail barriers.
The Traffic Barrier Plus adds the strength of our Flex Impact Handrail with a low height tubular Traffic Barriers. This ensures the ultimate protection within hazardous working zones and incredible pedestrian and traffic segregation. Our testing procedures have demonstrated that these barriers can resist the impact of a 3.5-tonne forklift collision. After this, the unit springs back into shape and fasteners are not torn from the floor. No damage to the concrete, people, vehicles or structures.
Flex Impact Traffic Barrier Plus has been specially designed to protect building assets, machinery and pedestrians from potential vehicle collisions. The modular design contributes to its success and allows workplaces to create safe operating zones, where pedestrians can walk freely.
Additional Information
Flex Impact Traffic Barrier Plus offers more strength than ever before!
Flex Impact Traffic Barrier Plus is ideal for walkway protection and traffic navigation, as the impact height matches the barrier height of both factors. Prevent unnecessary damage to your property and protect personnel, valuable machinery/equipment and wayward vehicles. The barrier system clearly identifies traffic routes with a physical barrier you can trust and notice at first glance. 
These systems are easy to install, lightweight and extremely impact resistant. After a collision, the structure retains its original shape, appearance and properties. It can be modularly adapted to your business requirements.
Build an amazing protection zone to suit your workplace!
The TB Plus barrier is one of our most popular traffic barriers on the market. As an extension of our TB 400 single, tubular barrier, it adds a double handrail to offer an incredible solution to workplace protection.
TB Plus Specifications:
Demarcation of areas for vehicles and pedestrians with impact risk
Modular, standard – 1600mm (L) x 1100mm (H) – sizes up to 2000mm; with fasteners
Post colour is black
Rail colour is yellow
Optional available accessories including corners, stainless steel versions, skirting-boards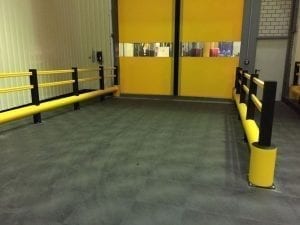 Invest in Flex Impact products and reap a number of rewards. View our full range from handrails, traffic barriers, bollards and much more!
Click the PDF button to learn more.
Product Variations
| | | | | |
| --- | --- | --- | --- | --- |
| | | 1004/0001 | | |
| | | 1004/0003 | | |
| | | 1004/0020 | | |
| | | 1004/XXXX | | |