Flammable Safety Storage Cabinets
+ Add to Quote Request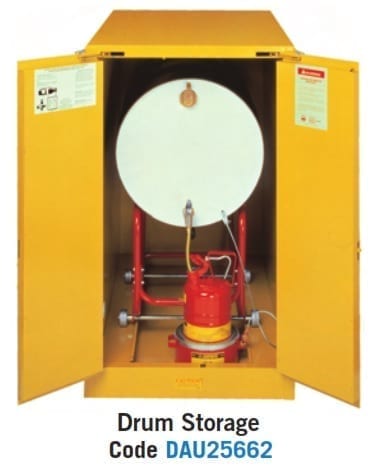 Our Flammable Safety Storage Cabinets ensure hazardous chemicals are stowed and secured in a protected space.  They increase productivity by keeping product close to working areas.  Time taken to collect units from outside storage facilities is both consuming and risk of worker injury is high.
These cabinets have been fire test and also meet relevant codes and standards like AS1940 The Storage and Handling of Flammable and Combustible Liquids.  Many cabinets sold across Australia do not comply with these regulations and it is important you know what you're getting.  We ensure our Flammable Safety Storage Cabinets are manufactured with quality and precision.
Our cabinets are manufactured in a fully welded construction that has a 1.2mm steel and double wall, with 40mm thermal barrier.  They are finished in an electrostatic powder coat which is in safety yellow.
Other Specifications:
Dual vents with built in flash arresters.

Close fitting, sequential self-closing and latching doors with 3 point locking mechanisms.

They are leak-proof with fully welded, 150mm deep, containment sump.

Shelves contain built-in troughs to contain leakages.

They feature adaptable height shelves which increase storage space.

Adjustable levelling feet to stop doors binding.
Product Variations
Image
Description
Product Code
Price (excl. GST)

Capacity: 60 Litre
Shelves: 2
Doors: 1 FM
Weight: 59kg
HxWxD (mm): 1005x595x465

DAU25712

Capacity: 30 Litre
Shelves: 2
Doors: 1 FM
Weight: 45kg
HxWxD (mm): 800x595x465

DAU25714

Extra shelf for DAU25714 & 25712

D25995

Capacity: 100 Litre
Shelves: 2
Doors: 2 FM
Weight: 86.1kg
HxWxD (mm): 800x920x565

DAU25748

Capacity: 160 Litre 6×20 Litre drums FM
Shelves: 2
Doors: 2
Weight: 104kg
HxWxD (mm): 1230x1100x465

DAU25302

Extra shelf for DAU25302 & 25452

D25901

Capacity: 250 Litre 9×20 Litre drums FM
Shelves: 3
Doors: 2
Weight: 142kg
HxWxD (mm): 1760x1100x465

DAU25452

Capacity: 350 Litre 15×20 Litre drums FM
Shelves: 3
Doors: 2
Weight: 177kg
HxWxD (mm): 1760 x 870 x 870

DAU25602

Capacity: 207 Litre horizontal drum
Shelves: –
Doors: 2
Weight: 168kg
HxWxD (mm): 1385x 765x 1225
Drum trolley ordered separately-code D08800

DAU25662

Extra shelf for DAU25602

D25909

Capacity: 207 Litre vertical drum
Shelves: –
Doors: 2
Weight: 192kg
HxWxD (mm): 1760x870x870
With rollers

DAU25701

Capacity: 207 Litre vertical drum
Shelves: –
Doors: 2
Weight: 192kg
HxWxD (mm): 1760x870x870
For waste products

DAU25701W

Capacity: 110 Litre Slim Line
Shelves: 2
Doors: 1 FM
Weight: 95kg
HxWxD (mm): 1230x670x465

DAU25304

Capacity: 170 Litre
Shelves: 3
Doors: 1 FM
Weight: 135kg
HxWxD (mm): 1760x670x465

DAU25308