Drum Tumbler Mixer
+ Add to Quote Request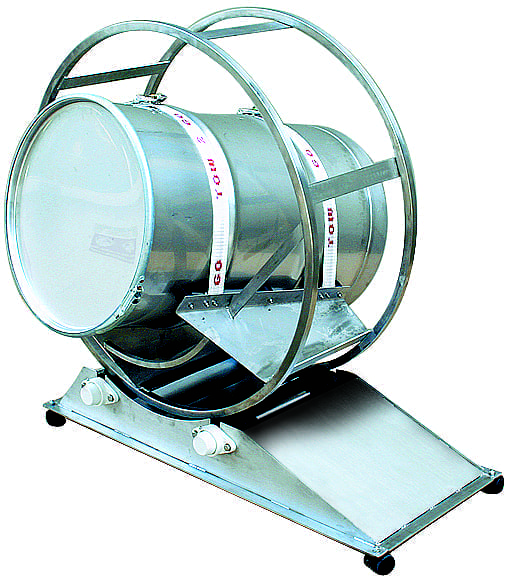 This Drum Mixer/Tumbler facilitates the mixing of powders or liquids in 205 litre steel or plastic drums. It assists operators to fill, seal, mix and store all in the container, making sure there is no cross contamination and double handling of product. The tumbling action rotates the product over and the tumbling eliminates the need for drum baffles. Drums can be safely moved from an upright position into and out of the mixing station without effort.  It is exceptionally suited  for the cosmetic, food, pharmaceutical and chemical industries. The tumbler will mix and blend wet and dry slurry, powders, supplements, granules, etc. The tumbler is all stainless steel construction.
Loading is easy. The hoop is placed over the drum and clamped into position with adjustable toggles. The hoop containing the drum is rolled up the ramp of the motorised base into the mixing position where  mixing can then occur. Reverse this procedure to unload. The motorised base is fitted with rollers to accept the hoop and drum.
Also see our Drum Roller mixer click here.
The drum is not included. Click here for drums.

Product Variations
| | | | | |
| --- | --- | --- | --- | --- |
| | Stainless Drum Tumbler Mixer | DT205 | | |