Forklift Mounted Manual Drum Dumper
+ Add to Quote Request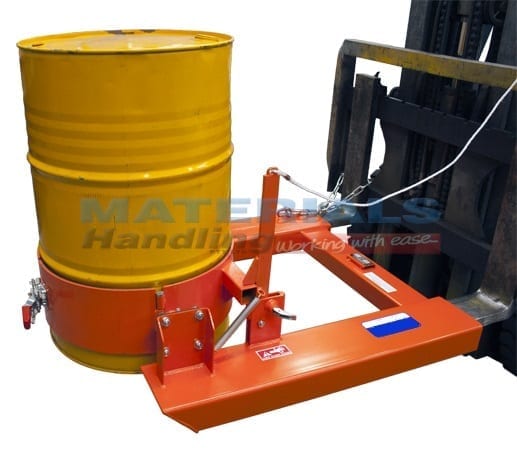 The DDRU50 Manual Drum Dumper safely empties 205-litre steel drums. Perfect for waste and scrap products, the device quickly fits to a forklift and is ready for use within minutes. It has been designed for fast and economical emptying of heavy materials.
The Manual Drum Dumper is secured with a sturdy belly strap and locked into place via an over-centre catch and locking pin. This eccentric locking mechanism ensures security and user control. The forklift operator activates the tipping function with a manual rope pull-cord. When pulled, this dumps the drum, without the driver having to exit their seat. The drum rotates a complete 180°.
This device is a great solution for a range of drum handling activities as it ensures environmental protection through innovative waste disposal.
Additional Information
Easily empty waste with the Forklift Mounted Manual Drum Dumper!
The Manual Drum Dumper is forklift mounted and quickly connects to a forklift as a slip-on attachment. It is fitted with an accidental release lock, to prevent premature emptying, which is especially useful when driving over bumpy surfaces. The attachment is finished with enamel paint and features a Working Load Limit (WLL) of 500 kg.
DDRU50 Forklift Mounted Drum Dumper Specifications: 
Working Load Limit (WLL) – 500 kg
Unit weight – 85 kg
Rotational ability 180 degrees
Load centre – 950 mm
Fork pocket size – 185 x 60 mm
Fork Pocket centres – 840 mm
Horizontal C of G – 685 mm
Continue browsing our Drum Handling range!
We are happy to provide a number of Forklift Mounted Drum Lifters and Rotators for a range of handling activities.
Click the PDF button to learn more.
Product Variations
| | | | | |
| --- | --- | --- | --- | --- |
| | Forklift Mounted Drum Dumper | DDRU50 | | |